Rediff reader Usha Mani tells us how to make this traditional delicacy of spicy rice dumplings in milk.
I learned how to make Paal Paniyaaram from a friend who is from Chettinad, Tamil Nadu.
Here's the recipe for it: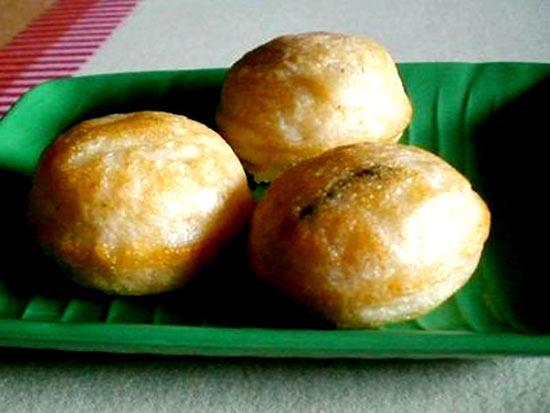 Ingredients
1 cup raw rice
1 cup white urad dal
1 litre milk
Method
Boil the milk for a few minutes with sugar to thicken it slightly and flavour it with saffron strands.
Pour this into a deep bowl.
Soak the rice and dal for four hours.
Grind into a fluffy paste.Add a teaspoon of maida and a pinch of soda bicarb. (The traditional followers will skin me alive if they read this, as maida and soda are a taboo! But I tell you, this makes the paniyaarams spongy). Blend well with the fluffy paste.
Wet your palms and take a little paste and drop it into hot (not fuming) sizzling oil.
Drop three or four at a time. Deep fry and remove and place on a colander to let the oil drain. Now soak these in the warm milk.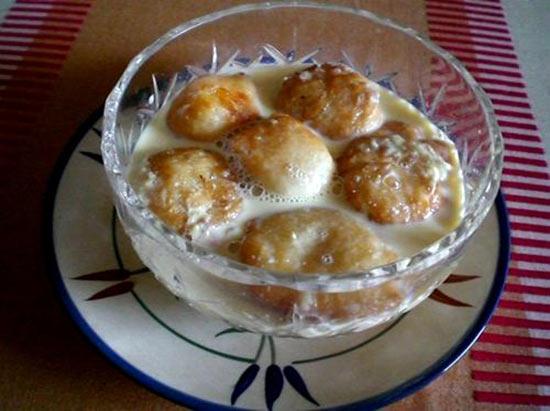 Thick coconut milk laced with cardamom powder can also be used instead of pure milk. This will give you a different flavour.
You can put away half the batter, add chopped curry leaves, asafoetida and salt and make spicy paniyaarams too and serve with coconut chutney.
Image: Usha Mani/Grandma's Kitchen
Reader Invite
Do you have an interesting recipe that you'd like to share with our readers?
Simply e-mail your recipe to getahead@rediff.co.in (subject line: 'Recipes') with your name, hometown and any interesting details about the origin of the recipe, along with a photograph, if possible.
We will publish the best preparations right here on Rediff.com.