Kolkata-based food blogger Urmimala shares a traditional recipe of flat beans cooked in a tangy tamarind gravy. You can share yours too!
Sheem with dhonepata and tetul (Flat beans cooked in coriander and tamarind curry) is a traditional Bengali dish, says Urmimla.
It is tangy and spicy, and goes well with rice, she adds.
Here's the recipe:
Sheem with Dhone and Tetul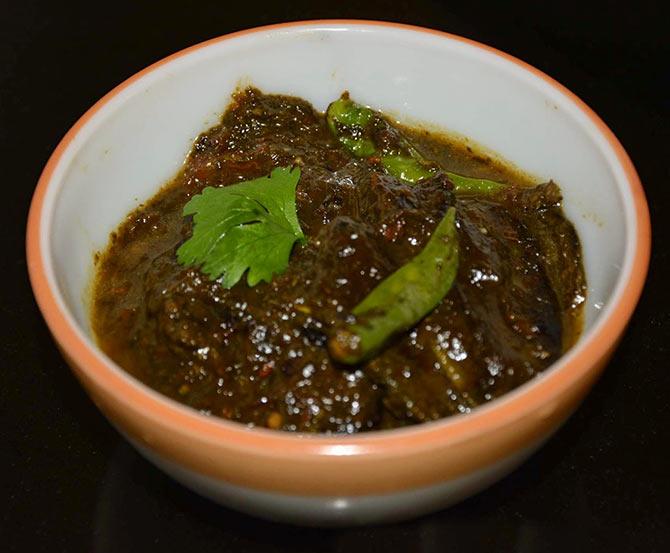 Ingredients
5 to 6 sheem (flat beans) cut into small square pieces
2 tbsp tamarind paste
1 bunch of dhonepata (coriander leaves)
2 to 3 green chillies
Sugar to taste
Salt to taste
2 tsp vegetable oil
Method
Soak the tamarind pods in warm water.
When they become soft, separate the pulp using a sieve.
Blend coriander leaves into a paste.
Heat 2 tsp oil in a kadai. Stir fry the sheem pieces.
Add green chillies.
Add the coriander and tamarind paste. Add sugar and salt per your taste.
Add some water if required and cover the kadai.
Cook till sheem pieces become tender.
The resulting curry should not be too dry.
Serve hot with steam rice.
Photograph: Urmimala
Want to share your favourite recipe? Simply e-mail your recipes to getahead@rediff.co.in (subject line: My Fav Recipe) with your name, hometown and any interesting details about the origin of the recipe, along with a photograph of the recipe, if possible. We'll publish the best preparations right here on Rediff.com.