Reshma Aslam lists out these really easy-to-make delicacies.
The holy month of Ramzan is here and we begin with our special series of Ramzan recipes.
Reader Reshma Alam shares three recipes today.
You too can contribute to this series!
Simply write an email to getahead@rediff.co.in (subject: Ramzan recipes) along with pictures of the dishes and we will publish select recipes right here on Rediff.com!
But for now, we begin with:
1. Shami Kebabs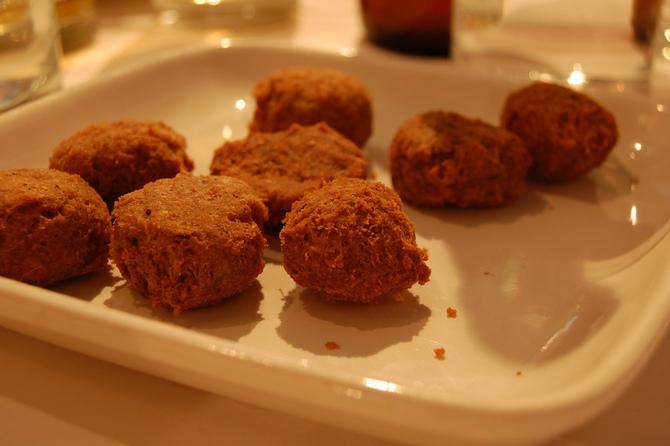 Ingredients:
500 gm minced mutton
Soaked 1 cup chana dal (baby chickpeas)
1 tsp ginger garlic paste
1 tsp chilly powder
1 tsp all spice powder (garam masala)
1/2 tsp turmeric powder
2 eggs
Bread crumbs
Oil for frying
Salt to taste
Method:
Take the minced mutton in a bowl. Wash it properly and drain out the entire water. Press the minced mutton using palms of both hands to remove left water.
Add ginger garlic paste, chana dal, turmeric powder and salt to the bowl containing minced mutton.
Cover with lid and cook till dal and minced mutton is done. When done, no water should remain.
Grind it in a mixie to make smooth dough. Do not add water. Now add chilly powder, garam masala powder, to the dough and mix it well.
The dough for Shami Kebabs is now ready.
In a plate, spread bread crumbs. These bread crumbs will be used to coat the kebabs before frying.
In separate bowl, whisk two eggs for the kebabs will have to be dipped in the eggs for the purpose of frying.
Using hand, form small flat balls of kebabs.
Now coat the kebabs with bread crumbs from plate and dip the same in the bowl of eggs. and deep fry it till the kebabs turn golden brown.
Once the kebabs are fried, remove it from oil and keep it on tissue paper to remove excess oil.
Now the kebabs are ready for serving and can be served with green chutney or tomato sauce depending on the choice.
Note: Shallow frying of kebabs
Kebabs can be shallow fried also without coating with breadcrumbs and eggs.
Just make small flat balls , take a flat tawa or a non stick frying pan, with very little oil, you can fry these kebabs.
These kebabs are now ready to be served with chutney.
Photograph: Stu Spivack/Creative Commons
---
2. Chicken Harisa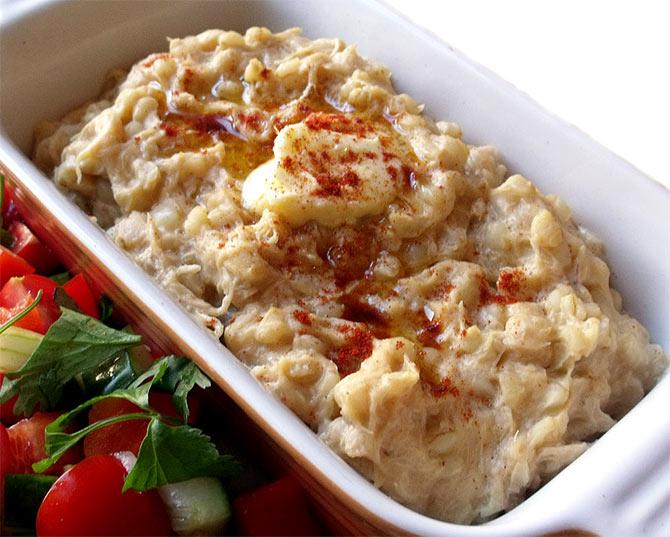 Ingredients:
1/2 cup wheat daliya. Soaked overnight
500 grams chicken with bones
3 chopped onions
4 to 5 green chilies paste
1/2 cup chopped coriander leaves
2 bay leaves
3 to 4 cloves
1 tbsp ginger garlic paste
4 to 5 pepper corns
2 inch cinnamon stick
1 tsp all spice powder (garam masala)
1 tsp cumin seeds (jeera)
1/2 cup Oil
Cut lemon wedges
Brown onions
Salt to taste
Method:
Take the chicken; boil it with 3 to 4 cups of water adding half the ginger garlic paste and salt. Boil for 30 minutes.
When cooled, shred the chicken into small pieces and keep it aside. Keep the stock of the chicken also aside.
Put soaked daliya into a pressure cooker with the chicken stock and cook it till two or three whistles.
Pour oil in a vessel. Put cumin seeds, bay leaves, pepper corns, cinnamon sticks and let it crackle.
Put the chopped onions and fry till they get transparent. Put the chilly paste, coriander, half ginger garlic paste and all spice powder. Add the shredded chicken to the mixture.
When it mixes well, put the boiled daliya and stir it by keeping the flame of the gas low.
Now the harisa is ready, and it turns out like a thick broth.
When done, remove it in a bowl and garnish it with chopped coriander leaves, brown onions and lemon wedges.
Photograph: Rediff Archives
---
3. Shahi Tukda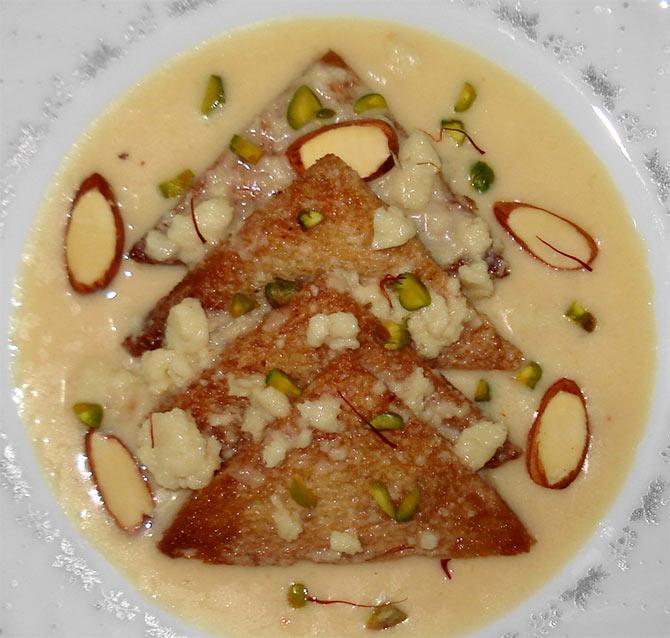 Ingredients:
1/2 packet of any bread
1/4 kg ghee
1/4 kg unsweetened khoya
1/2 litre milk
1/2 kg sugar

For garnishing
Sliced Almonds
Raisins
Yellow edible colour
Silver varaq
Method:
Cut the edges of the bread and keep aside.
Heat ghee in a deep bottom pan.
Fry all the bread slices in ghee till they turn golden brown. (Fry all the slices separately so it should not remain raw.)
In another bowl, mix milk and sugar and put unsweetened khoya in it. Mix it well.
Keep it on the gas and keep on stirring it till the quantity of the mixture reduces to half. Now add yellow colour mixed with little water.
Remove it from the gas and let it cool for sometime.
Arrange bread slices which are fried earlier in a tray.
Pour the milk mixture on the slices of breads.
Now the Shahi tukda is ready and needs to be garnished.
For that purpose, spread the sliced Almonds, raisins and decorate it with silver varaq.
Now it's ready to be served.
Photograph: Rediff Archives
You too can share your special Ramzan recipes!
Simply write an email to getahead@rediff.co.in (subject: Ramzan recipes) along with pictures of the dishes and we will publish select recipes right here on Rediff.com!