Kolkata is known for its grand colonial architecture, art galleries, cultural festivals and some famous street foods.
Don't forget to take the poll given below and vote for your favourite street food.
---
Kathi Roll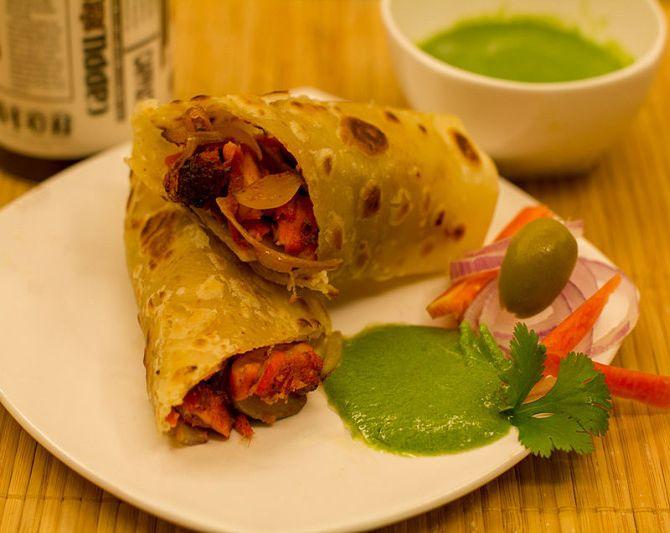 Photograph: Vivekpat30/Wikimedia Commons
These mouth-watering rolls from Kolkata find a place in every foodie's heart.
The egg-coated phulkas -- with a delicious filling of chicken, mutton or veggies -- are served with mint chutney.
Looking for a quick bite? Then head to Zaika, which is situated on Park Street. It is famous for its Kathi Rolls.
Luchi - Alu Dum
Photograph: Subhankar Chatterjee/Wikimedia Commons
Luchi is very similar to puri, but the only difference is that it is made of maida.
Alu Dum is the Bengali synonym for Dum Aloo.
Luchi can be served with Begun Bhaja (fried eggplant slices), Aloo Bhaja (thin strips of potato fried) or Cholar Dal.
But Luchi with Alu Dum is a favourite among Kolkata foodies.
Fairlie Place, the central business district of Kolkata is famous for Luchi Alu Dum and other quick bites like Chilla, Dal Pakori and Dahi Chaat.
Phuchka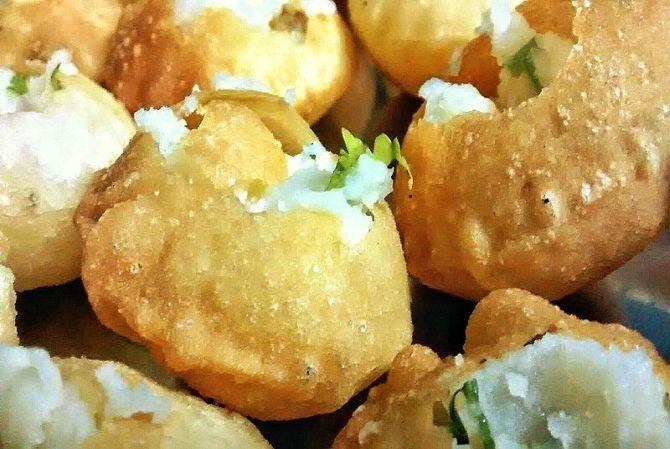 Photograph: Saurabhdas/Wikimedia Commons
It's called Paani Puri in Mumbai, Golgappe in Northern India and Phuchka in Kolkata.
Wondering where to hop in for great Phuchka? Head to Maharaja Chaat Centre situated on the Southern Avenue.
Mughlai Paratha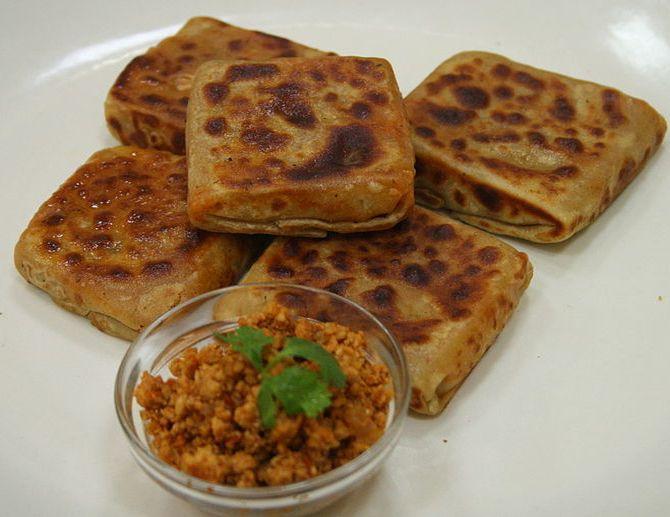 Photograph: Vsigamany/Wikimedia Commons
There can be different varieties of stuffing, which go into the parathas found on the streets of Kolkata.
Head to Anadi Cabin situated on Jawaharlal Nehru Road for parathas stuffed with generous chicken kheema or broken cutlets, onions and eggs.
Mughlai Parathas are a speciality of Anadi Cabin. There are also lesser and cheaper versions of Mughlai Parathas.
Telebhaja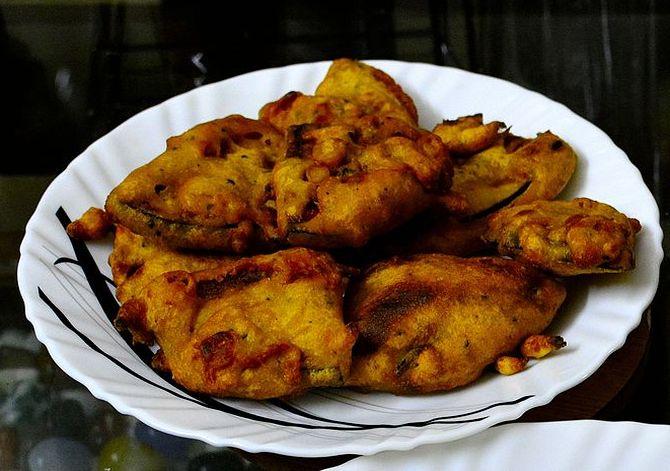 Photograph: Kajori.p/Wikimedia Commons
As the name suggests, it is a deep fried snack and the streets of of Kolkata are dotted with shacks and stalls selling Telebhaja.
Head to Gariahat and Fairlie Place for Bengal's favourite Telebhaja.
Daal Pakori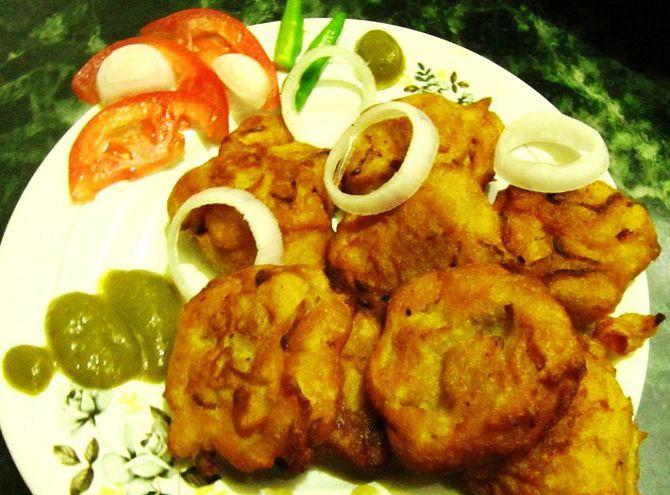 Photograph: Kay 2015/Wikimedia Commons
These crispy fried fritters, usually made from Bengal gram, are one of the favorite tea-time snacks.
The best way to enjoy them is with a bowl of green chutney.
Fish Fry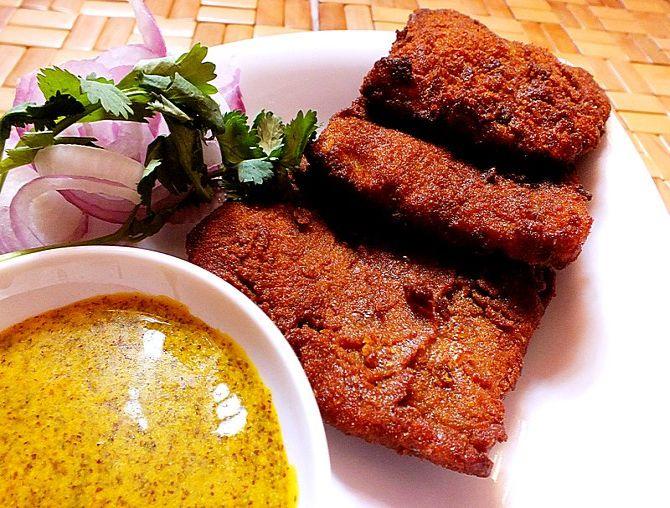 Photograph: Riya Chattopadhyay/Wikimedia Commons
This Bengali snack is not the ordinary fish fry we find in hotels and restaurants across India.
These Fish Fillets are marinated with spices, then dipped in a thick batter, coated with bread crumbs, deep fried and served hot with green chutney.
Golpark Crossing is famous for its Fish Fry.
Doi Bora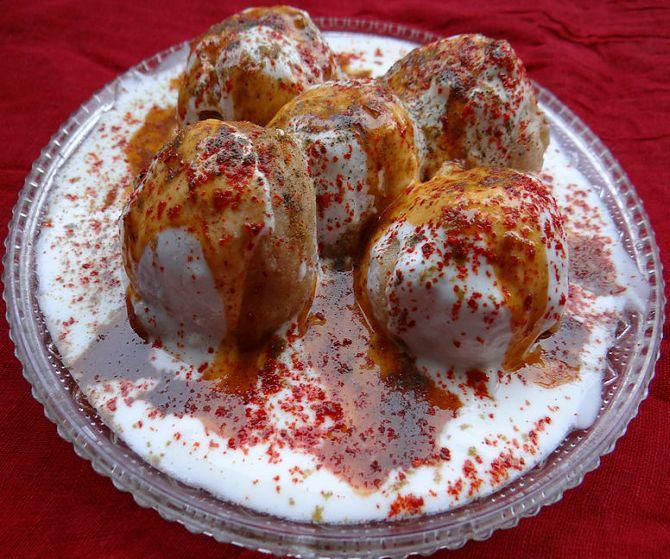 Photograph: Mdsmds0/Wikimedia Commons
Traditionally known as Dahi Wada across Northern India, the Bengali version is called Doi Bora.
This dish is prepared by soaking vadas (fried flour balls) in thick dahi (yogurt).
Samosa or Shingara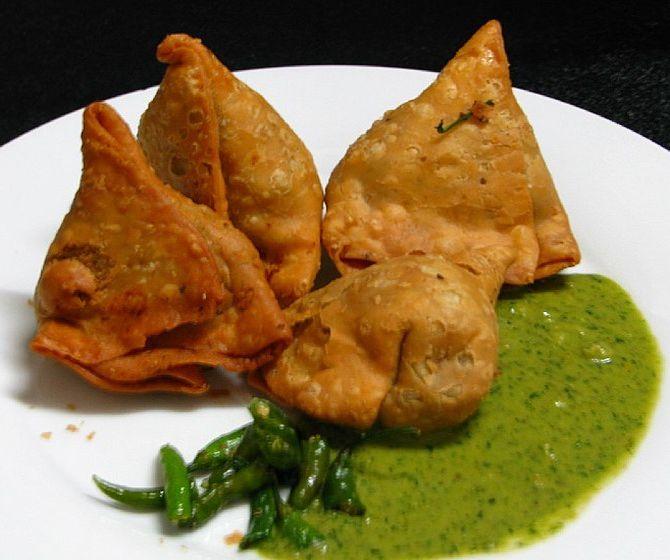 Photograph: kspoddar/Wikimedia Commons
In Kolkata, samosas are called Shingara.
The shape is the same, but the taste may vary depending on the filling of cauliflower, potato and crushed peanuts.
Head to Tiwari Brothers situated at Burrabazaar for the best Shingaras.
Fish Fingers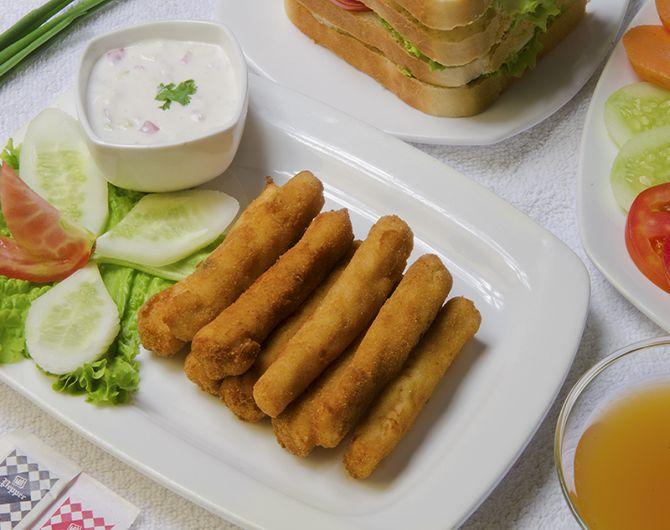 Photograph: LIghtartfoto/Wikimedia Commons
This is a great appetiser and can be cooked according to one's preference -- baked, grilled, shallow fried or deep-fried.
Already drooling after going through our list? Then it's time you cast your vote!
Take the poll given below and vote for your favourite street food.