Avantika Bhuyan meets some of the new generation of culinary philosophers.
In case you missed it: She is India's bartending champ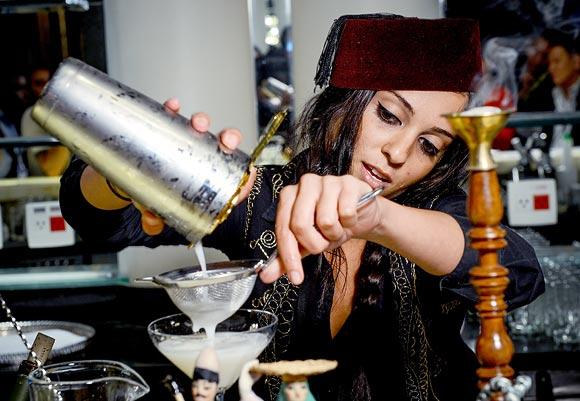 Representational photograph: Ian Gavan/Getty Images
Rahul Raghav
Bar manager, Hunger Inc Hospitality (The Bombay Canteen and O Pedro)
Each cocktail at Hunger Inc has a story to tell -- whether it is of the beautiful art deco architecture of Mumbai, cool local lingo, or the regional ingredients used across the country. Raghav draws from childhood memory and experience to create unique concoctions such as the Dilli Banta, at The Bombay Canteen, using vodka, kala namak and cumin.
His approach to the cocktail programmes at both restaurants is one of collaboration. The entire team tastes and tests the drinks to ensure that a seamless narrative runs through the food and beverage menu at the two eateries.
For instance, kokum finds a place in Cashew-In-Spirit, at O Pedro, where it is used to infuse the rum. Or the Goan toddy vinegar, traditionally used as a souring agent in the sunshine state, which Raghav combines with a raspberry shrub for sweetness.
"The cocktail should be approachable. It should feel nice, relaxing and balanced to the guest, without making him or her realise the complexity that has gone into creating the drink," he says.
A new concept is considered every six-to-eight months, as part of which unique collaterals are created to add a new dimension to the menu. There's a cool calendar to go with the second edition of the Canteen Cocktail menu, which is a tribute to all things Bambaiya -- with drinks such as Jhakaas, crafted with vodka, cardamom syrup orange, pineapple, ginger and lime.
---
Kevin Dias
Head Mixologist, KA Hospitality (Nara Thai, Yauatcha, Hakkasan, CinCin)
Versatility marks Dias's culinary practice, working with authentic Asian ingredients at Nara Thai and Yauatcha and Italian ones at CinCin, a new Venetian bacari-inspired bar and kitchen.
He can put together a Mamuang Sour with whisky and raw mango shrub or a To-My-Tina, a gin-based drink with aperol, barbieri and in-house San Marzano mix with equal ease.
Dias is a storyteller at heart, offering anecdotes and nuggets about each drink.
"At Nara Thai, there is a drink called Lakhon, made with infused white wine, Martini Blanco, green apple juice and passion fruit, which is inspired by Thailand's famous dance form," he says. "It is these stories that make a guest come to the cocktail."
---
AJ Snetler aka The Tattooed bartender
Mixologist, House of Nomad, Taj Land's End
"Innovation first" is the mantra that defines Snetler's approach to mixology.
Custodian of the cocktail menu at The Twankey Bar at the Taj Cape Town, Snetler is currently in Mumbai to create his signature drinks at the House of Nomad.
"In terms of ingredients, I definitely lean towards the culinary side, experimenting with roasted peppers, foraged ingredients, herbs and spices," he says.
An example of this is the La Familia, a guest favourite, made with tequila, lime, roasted capsicum and pineapple juice.
The other drink that is the perfect embodiment of his creative streak is The Company Gardens, which he perfected at The Twankey Bar, and is made with local burnt rosemary, gin, lime and a citrus oil extracted from waste fruit skins.
---
Claudio Gabriel Zarlenga
Mixologist, Hong Kong Club, Andaz Delhi
Being a bar chef keeps Zarlenga constantly on the lookout for fun, creative ideas. The Argentinean believes in giving full rein to his curiosity, but while getting the basics right.
"At the Hong Kong Club, we use a lot of Asian ingredients, that are not just inspired by our Cantonese theme, but also by ingredients such as Miso syrup, yuzu, Pu'er tea, ylang ylang and clove liquor made in-house," he says.
Some of his creations include shaken ones like Sun Wu Kong, stirred such as Eclipse and built like Snake Byte.
"The mixology scene in India is booming right now. Spirits like gin, tequila and mezcal have been the flavour of the season globally and continue to be in vogue," he says.
---
Nick Harrison
Bar chef and co-owner, Slink & Bardot
Harrison likes to keep it simple, steering clear of the gimmicky and the ostentatious.
A Canadian who trained at Le Cordon Bleu, Paris, he likes to treat the bar like a kitchen.
"Everything is made in-house, from the bitters, shrubs and infusions. We even do our own tonic water and it has been a runaway success," he says.
So too, the ginger beer. Making everything from scratch dramatically improves the quality and flavour profile.
Since everything on the food menu is largely French, the cocktail menu complements that theme.
Smoking, a technique which is becoming quite a favourite of Indian mixologists, can be seen on the menu, with a smoked hazelnut Manhattan. "In Johnnie Under Pressure, I use chocolate bitters, made in-house, instead of Angostura bitters. These are created using cocoa nibs from Tamil Nadu," says Harrison.