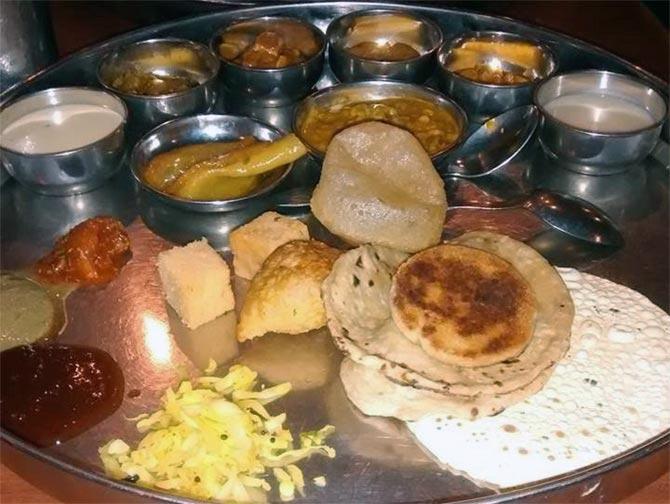 When was the last time you stumbled upon a meal that brought a smile to your face; one that lingered on long after you had polished off the plate?
It could have been just an extraordinary ingredient, a heartwarming dish or a delicious meal that left a beautiful memory in your mind.
It's time you shared those food memories with us. Read on to find out about Anshika Gupta and Rahul Bhan's memorable meals.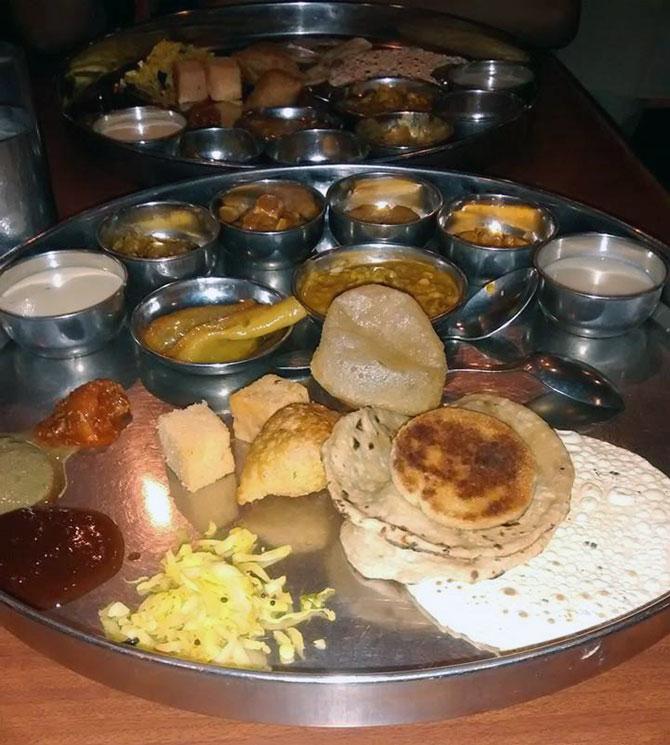 Photograph courtesy: Anshika Gupta
When foodie Anshika Gupta visited Ahmedabad, Gujarat, she craved to have a special thali.
On a friend's advice she visited Sasuji (Singaporean Avenue, opposite Lal Bungalow, C G Road, Ahmedabad) and returned captivated by the sheer amount of delicious food that was offered in the thali.
"When the thali arrived, I was astounded by its size. I had never seen such a huge spread in a thali in my life. There was so much food for Rs 270.
"For a few minutes, I just stared at it wondering where to begin.
"Trust me! I polished off the thali because the food was too good to be wasted. Name the dish and you'd find it; there was dal, kadhi, roti, puri, three sabjis, khichidi, farsan, puran poli, etc."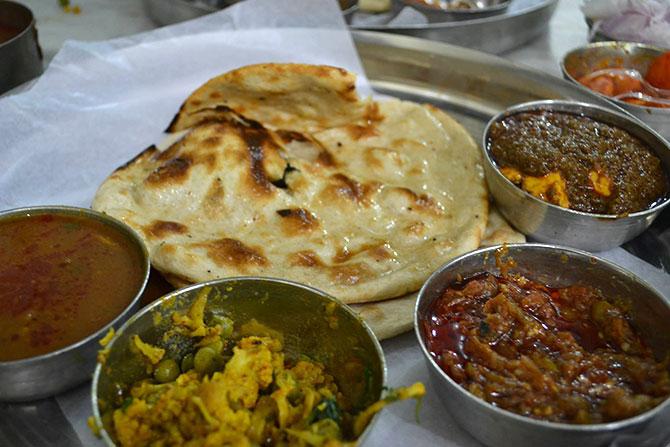 Photograph Courtesy: Rahul Bhan
During his trip to Amritsar, Rahul Bhan stumbled upon Kesar Da Dhaba (Chowk Passian, Near Telephone Exchange, Amritsar Cantt) where he got to taste authentic Punjabi food, one that has been etched in his mind till date.
"A trip to Amritsar is incomplete without a visit to Kesar Da Dhaba -- the shrine incarnate for the foodies."
"It was established in 1916 in Lahore (now in Pakistan), and post the partition, the family moved to India and set up the dhaba in Amritsar (Punjab, India). Kesar Da Dhaba has seen innumerable people -- famous and commoners go past its doors and enjoy the food. Yet the taste, purity and freshness of the food has remained constant.

"I ordered aloo mutter gobi, rajma masala, baingan ka bharta, palak paneer and maa ki dal. After 10 to 15 minutes what we got was enough to half clog our arteries. Everything was made in pure desi ghee.

"We devoured our rotis with this super tasty meal, and ended with a glass of cool chhaas. This made for a memorable experience thanks to the food, the friendly nature of the staff who treat you with genuine love and live up to its legendary name. Kesar Da Dhaba is one of the best places to have North Indian dhaba food. And all this cost us just Rs 500."
Have a similar experience to share? Then write to us and tell us about your special meal -- it could be something you ate at a roadside dhaba or a meal you were introduced to during a trip -- if possible we would want to hear how it's prepared.
We are asking you, dear readers, to share memories of the most memorable meal you had, with a short description of the dishes and the place you had it from.
If you have pictures, send us those as well. Mail us at getahead@rediff.co.in (subject: memorable meal) and we will feature the best entries on Rediff.com and India Abroad.
Don't forget to mention your NAME, AGE and the place where you LIVE.