We'd asked you, dear readers to share your favourite monsoon recipes.
From tasty cheesy snacks to crunchy bites, monsoon calls for yummy food.
Here are four easy-to-make recipes that our Rediff reader Reshma Aslam shared with us.
Don't forget to share yours too!
Cheesy Chicken Lasagne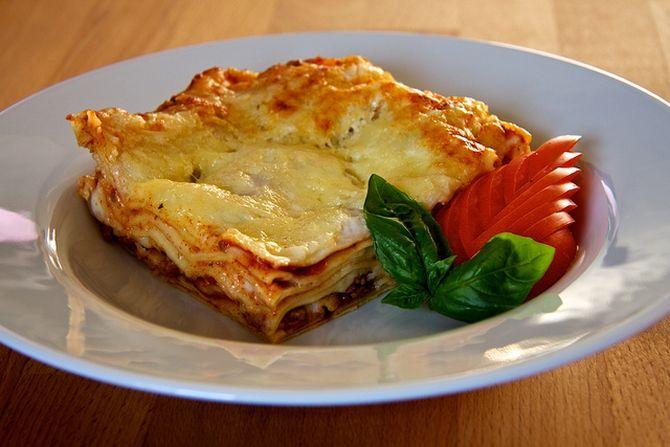 Photograph: Pierre Wolfer/Flickr.com
Ingredients
1/2 kg chicken (minced)
6 tbsp all purpose flour
6 tbsp butter
1 cup milk
1/2 cup water
2 tsp white pepper powder
2 cup cheddar cheese
6 to 8 lasagne sheets
2 tomatoes (chopped)
1 medium sized onion (chopped)
1 tbsp ginger garlic paste
2 tsp red chilli powder
Few garlic flakes (chopped)
1 cup boiled pasta
2 tbsp oil
Salt as per taste
Method
For white sauce
Heat a pan and add butter.
Once it's half melted, add flour and fry until golden in colour.
Add milk slowly and keep stirring with a whisk. Make sure that no lumps form.
Add water and pepper powder.
When a nice thick consistency is obtained, switch off the gas.
Add salt and a cup of cheddar cheese. Stir well and keep the white sauce aside.
For chicken lasagne
Take oil in a pan and heat it. Add chopped onions and fry it well until soft and pink.
Add chopped tomatoes and fry. When tomatoes are soft, add ginger garlic paste and fry.

Add minced chicken. Let it cook on low flame.

Add chilli powder and cook for about 15 minutes. Add cooked pasta and mix well.

Take a nice oven proof flat bowl. Spread the minced chicken evenly over it.

Add white sauce and spread it well.
Add cheddar cheese and cover it with two lasagne sheets.
The sheets should cover everything which we have spread in the bowl
Repeat the process the same way -- chicken, white sauce, cheese and lasagne sheets until chicken is used completely.
Once done, top it up with cheese.
Preheat oven at 180 degrees Celsius for 10 minutes.
Bake it for 15 minutes on 200 degrees Celsius.
Cut and serve hot.
Note: The number of lasagne sheets depend on the size of the bowl.
---
Onion rings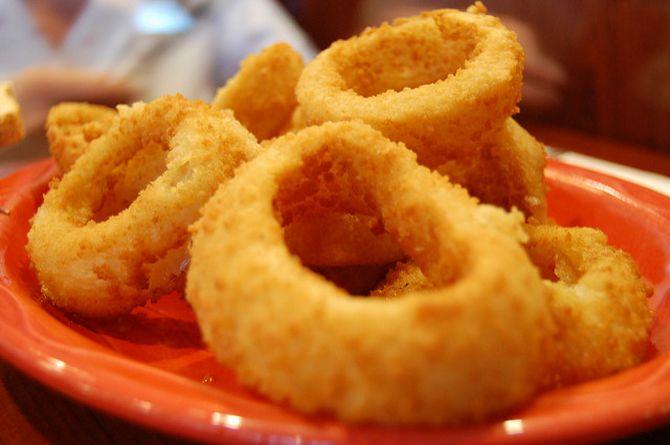 Photograph: stu_spivack/Flickr.com
Ingredients
3 large white onions
1 cup bread crumbs
1 cup all purpose flour
2 eggs
Salt as per taste
1 tsp red chilli powder
1 tsp lemon juice
Oil for deep frying
Method
Peel the onions and cut them round. Make about three round cuts of each onion.
Separate the onion rings.
Add them in a mixing bowl with salt and lemon juice. Mix well.
Add chilli powder and mix. Refrigerate for 10 minutes.
After 10 minutes, pour oil in the pan for deep frying. Heat it.
Remove the onions from the fridge and coat each onion ring with flour.
Dip it in beaten egg and coat it with flour again.
Dip it in egg and coat it with bread crumbs.
Deep fry in hot oil until golden in colour.
Serve hot.
---
Baked Jacket Potato
Photograph: secretlondon123/Flickr.com
Ingredients
3 to 4 large potatoes
2 to 3 tbsp butter
1/2 cup cheddar cheese (grated)
1 tbsp pepper powder
1 tbsp oil
Salt to taste
Method
Wash the potatoes well.
Pat them dry and prick them with a fork on all sides.
Apply salt and rub some oil all over.
Preheat the oven at 180 degrees Celsius for around 10 minutes.
Place the potatoes on the oven tray. Bake for 25 minutes at 200 degrees Celsius.
Once done, remove the potatoes. Make cuts like a cross on them.
Cut the potatoes half way and not throughout.
Add butter in the cuts made on the potatoes.
Add grated cheese all over it.
Add pepper powder. Serve hot.
---
Chatpata Chicken Tortillas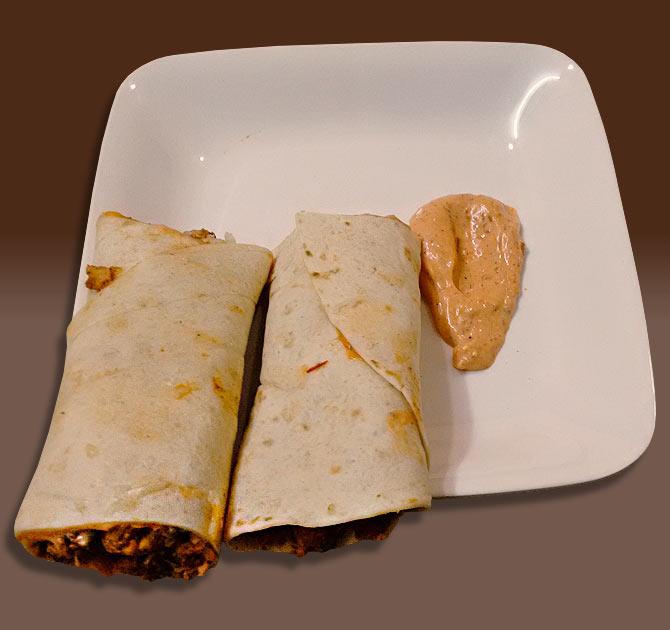 Photograph: Kind Courtesy Reshma Aslam
Ingredients
1/2 kg chicken (boneless)
1 medium size onion (chopped)
2 tbsp tomato puree
1 tbsp ginger garlic paste
1 tbsp red chilli powder
1 tsp garam masala powder
1/2 tsp turmeric powder
2 tbsp tomato sauce
1 tbsp chilli sauce
6 tbsp mayonnaise
6 to 7 ready tortillas
2 to 3 cubes cheese (grated)
Salt as per taste
Water if needed
Method
Wash and drain chicken well.
Cut the chicken into very small pieces.
Heat oil in a pan. Add chopped onions and fry until soft.
Add tomato puree and ginger garlic paste. Fry for two minutes.
Add salt, red chilli powder, garam masala powder,

half teaspoon of tomato sauce

and chilli sauce and little water if needed. Fry the mixture for five minutes.
Add chicken and fry again
Cover the pan with a lid and let it cook. You can add some water if required or you may not need to add water as the chicken will give off water while it cooks.
Cook it for over good 15 to 20 minutes.
If there is some water left in the chicken, cook it on high flame for the water to dry out.
Once done, switch off the flame. Let the chicken masala which we have prepared cool.
Warm the tortillas on the tawa. Keep aside.
Take mayonnaise in a small bowl and add tomato sauce in it. Mix well.
To assemble
Apply the mayonnaise and tomato sauce mixture on the tortillas. Spread it well.
Place the chicken masala in the centre and some grated cheese on top.
Roll the tortillas and serve.
ALSO SEE
Monsoon recipes: 5 scrumptious snacks
Monsoon Munchies: Pull Apart Dabeli and Baked Vada
Monsoon recipes: Onion pakoda, apple pasta and more
Do you have interesting monsoon recipes to share?
Mail the details of your recipes to getahead@rediff.co.in (Monsoon recipes) along with your NAME, AGE, and LOCATION, if possible.
We'll feature the best ones right here on Rediff.com and India Abroad.