Mita Kapur has an irresistible love affair… and she's willing to do anything to keep it going.
When we talk about the F-word, we mean food.
Nothing can stand between Mita Kapur and her first love.
She can do anything for it, even pen a droolworthy book or two.
More importantly, she's always looking for a bite to eat :)
She's candid about her love for food. "A crisp malpua made at home cannot be matched with what you get in a mithai (sweet) shop. I'm spoilt when it comes to food."
Eating and creating food is a "way of life" for Mita. She comes from a family of food fanatics, so it's "rather natural for her to talk food, eat and plan the next meal".
A fan of traditional Indian food, she grew up listening to stories from her mother and trying her hand in the kitchen. While some of her attempts have been fruitful, her failures have been interesting… cricket ball-sized gulab jamuns, flopped souffles and irregular rotis!
In fact, she says, she's still to make the perfect round roti.
But that doesn't stop her from introducing people to the joys of eating -– and cooking of course!
Her obsession with food has resulted in Chillies And Porridge, a food anthology with essays on food by passionate food lovers. (Read an excerpt here)
In a conversation with Anita Aikara/Rediff.com, she discusses – what else? :) -- food, childhood food memories, cooking for her children and a food book that's close to her heart.
How did Chillies And Porridge come about?
The idea came up in a discussion with Karthika VK of HarperCollins. We both loved the thought of a contemporary food anthology since no such book has been released since Nilanjana Roy's A Matter Of Taste and Oxford University Press's The Table Is Laid.
We felt it was time to revisit this theme since there is so much more happening with food now -- with the explosion of television food shows, Instagram, Pinterest, international food chains coming in, vibrancy in the growth of restaurant culture and also the fact people are experimenting with food in all senses.
And how did the title come about?
It was the result of a brain storming session -- we wanted it to be fun, refreshing and eye-catching.
How crazy are you about food? Do you cook as well?
Ha ha ha, a lot! Yes, that's what people tell me -- that I cook well.
I have had plenty of successes and failures in the kitchen… from cricket ball-sized gulab jamuns, to burnt chocolate cakes, to miserable praline, flopped souffles and misshapen rotis (I still can't do this).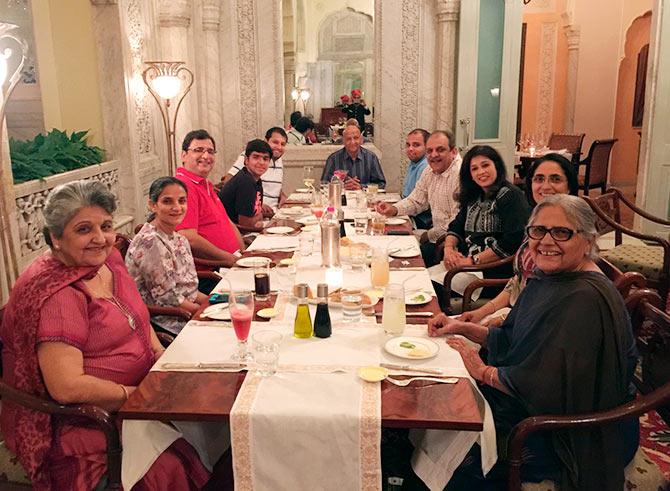 Mita's 'big fat' family
Any fond food-related childhood memories?
Childhood reminds me of my mom's gur and atta halwa, meethi roti and mutton curry.
I love traditional Indian food. A kebab made with fresh roasted masalas, mince prepared on a sil batta (grinding stone), the perfect balance of ingredients so that each flavour gets enhanced… it's not just tasty but also fascinating.
I still love hearing the stories I grew up listening to from my mother; and now from my mother-in-law.
A crisp malpua made at home cannot be matched with what you get in a mithai shop. I am spoilt when it comes to eating.
As for my favourite food, well, that will need another book!
What do you think about the term 'foodie'?
Overdone and overused… we should come up something creative and out-of-the-box now.
What's the influence of television and the Internet on the cooking and eating habits of Gen X?
It has a great impact on what we eat and cook. There is a change, though only slight, in the domestic sphere.
There is a move away from sticking to traditional home food, which is not welcome at all since we are losing out on an inheritance that is invaluable.
The good part is the openness towards experimenting, cooking and eating new flavours and cuisines, which is great fun.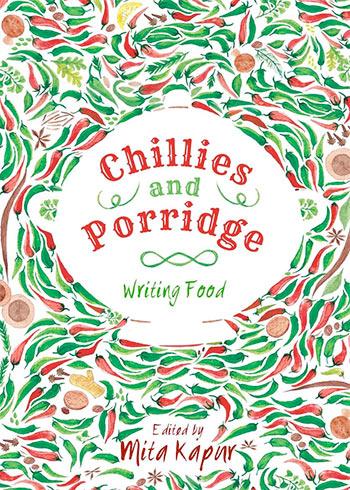 Coming back to Chillies And Porridge… how did you shortlist the writers?
I'd been following some of the writers and knew they felt as passionately about food as I did.
The list grew from there rather organically. I work instinctively.
I did give them a brief, but also told them they were free to play around with the idea.
I wanted this book to be a happy book -- a go-to for food experiences, memories, etc.
Every parent has a favourite child :) Which is your favourite chapter in the book?
Each chapter is precious because each one of them makes the book whole.
It was interesting to note that the staples of the Dalit kitchen – which finds a mention in the book Chillies And Porridge -- fail to find a mention in mainstream discussions.
That's not true. Devdutt Pattanaik has been talking about this on and off, for long.
But yes, it needs a lot more attention since it's a complex, layered, fascinating narrative.
It will need a few volumes to cover such a vast arena.
You used to devour 'one book of food writing after another'. How long did that journey last?
This journey will never end. I will continue to read food books since I love eating and creating. It's a way of life for me.
I have recently read Ruth Reichl's Delicious. One of my favorites is Secret Ingredients, the New Yorker food anthology, but there are so many more food writers that one keeps going back to.
There is K T Achaya's Indian Food; My Bombay Kitchen by Niloufer Ichaporia King; One Spice, Two Spice by Floyd Cardoz; How To Bake A Perfect Life by Barbara O' Neal and The Table Is Laid -- the Oxford anthology.
There's also Nilanjana Roy's A Matter Of Taste; Esther David's Book Of Rachel; The Pondicherry Kitchen by Lourdes Tirouvanziam-Louis; Are You Going To Eat All That by Robb Walsh; and Peter Mayle's books.
The Four Kitchens by Lauren Shockey; Garlic And Sapphires by Ruth Reichl -- all of her books in fact; Curry by Lizzie Collingham; Pomegranates And Roses by Ariana Brundy; Drinking, Smoking, Screwing by Sara Nickles, just to name a few. There are so many more, the list is endless…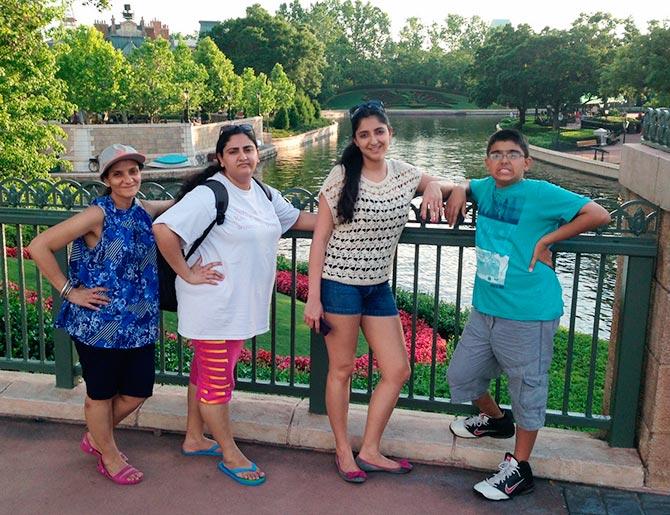 Mita with her children
Could you name some of your cooking inspirations?
Both my mothers, my sister and my kids are all my inspiration.
My kids don't cook yet. Just trying to make them eat a balanced diet pushes me to keep trying recipes.
We are a family of food fanatics. It comes rather naturally to talk about food, eat, and plan the next meal.
What is the importance of food in India and our culture?
Each chapter in our country's history is linked with food and how it reflects the culture of a period or an era. When you look at a culture, its people, their folk traditions, beliefs, art, you will find that food is a unifying thread.
It mirrors the change in society. Eating and cooking habits speak a lot for a particular region.
Given our range of geography, climate and natural produce, our fasts and festivals, our endless rounds of rituals, celebrations and remembrances, age-old tradition, modern fusion and new urban subcultures, there really is no end to the way food is a denominator of all sorts.
Also see
Food confessions from a fashion designer