Plan to throw a Thanksgiving party this weekend?
These delicious recipes from MasterChef Australia will come handy.
Roast Turkey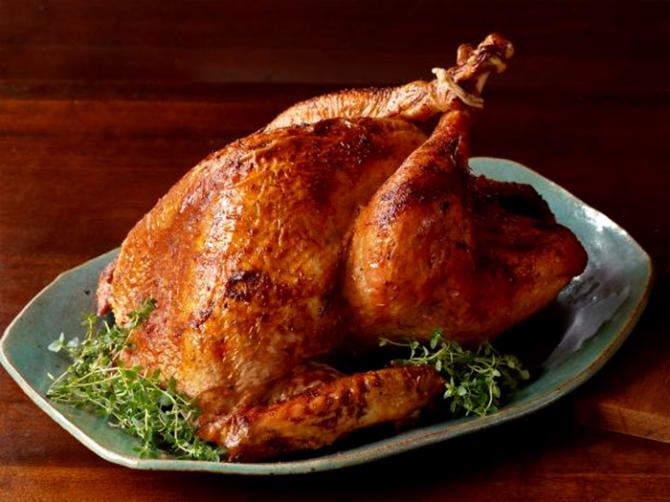 All photographs: Courtesy MasterChef Australia
Recipe by Heston Blumenthal
Ingredients:
1 turkey (4 kg- 4.5 kg)
800 gm salt
200 gm unsalted butter, at room temperature
3 onions, sliced
2 carrots, sliced
3 leeks, sliced (white and pale-green parts only)
50 ml dry white wine
15 gm rosemary
15 gm thyme
For the gravy
2 tbsp peanut oil
225 gm unsalted butter
Reserved turkey neck and wings
1 onion, thinly sliced
1 garlic clove, crushed
250 gm button mushrooms, thinly sliced
250 ml dry white wine
500 ml chicken stock
2 sprigs thyme
1 sprig rosemary
1 bay leaf
1 tsp Sherry vinegar
Method:
Chop the wing tips off the turkey and reserve, along with the neck, for the gravy.
Mix the salt and 10 litres of water in a clean container and stir until dissolved. Submerge the turkey in the brine, cover and refrigerate for 9 hours or overnight. Remove the bird from the brine and submerge in cold water for one hour, changing the water at 15 minute intervals. Dry the turkey well with kitchen paper.
Preheat the oven to 210˚C. With clean hands, work the skin away from the flesh of the bird and rub 100 gm butter between the skin and flesh, being careful not to tear the skin. Rub any remaining butter over the skin. Season with salt and black pepper. Put onions, carrots and leeks in a roasting tray, set the bird on top, add the wine and cook for 30 minutes to colour the skin.
Melt the remaining 100 gm butter in a pan and add the rosemary and thyme.
Reduce the oven to 130˚C. Baste the turkey with the herb butter and cook until the thickest part around the neck or thigh reaches 70˚C, basting every 45 minutes (when the butter is finished, use the cooking juices in the roasting tray). Cooking time should be 3-3½ hours, depending on the size of the turkey and type of oven. Check the turkey is cooked by cutting into the thickest part (between the breast and thigh) and ensure none of the meat is pink, and the juices run clear.
Remove the turkey from the oven and rest for at least 30 minutes before carving. Reserve the pan juices and vegetables for making the gravy.
To make the gravy, heat the peanut oil and 125 gm butter over medium heat. When the butter begins to foam, add the turkey neck and wings and brown on all sides for 8-10 minutes. Remove from the pan and set aside.
Cook the onion, garlic and mushrooms in the same pan until soft.
'Increase the heat and add the wine to the pan, scraping up any bits caught on the bottom. Bring to a simmer, then reduce until nearly all the liquid has gone.
Add the stock to the pan along with the turkey neck and wings and reserved vegetables and juices from the turkey-roasting tray. Simmer for 30 minutes, then strain into a clean pan.
Meanwhile, gently heat the remaining 100 gm butter in a pan until it's brown and smells nutty. Strain through a fine sieve.
Use a hand-blender to whisk 50 ml of the brown butter into the gravy (keep any remaining butter for another use). Add the herbs and allow to infuse for 10 minutes, then remove them. Add the vinegar and salt to taste; keep warm before serving with the turkey.
---
Apple and Bacon Crumble with Maple Semi Freddo and Pecans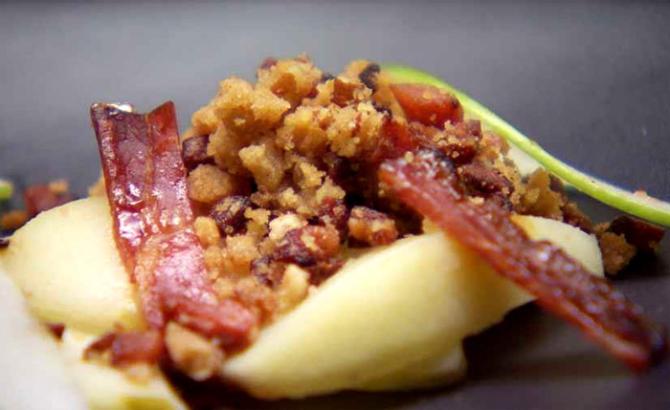 Recipe by George Barnes
Ingredients:
For the semi fredo:
2 eggs and 3 egg yolks
160 g sugar
125 ml maple syrup
300 ml cream, whipped
1/4 tsp cinnamon
For the crumble:
75 g plain flour
35 g brown sugar
50 g slated butter
1/2 tsp ground cinnamon, chopped
65 g pecans, toasted and crushed
25 g bacon, finely diced
Method:
For the semi fredo:
Combine eggs, egg yolks and sugar in a medium bowl. Whisk well to combine.
Place over saucepan of simmering water and whisk until light and fluffy. Remove bowl from heat and place over an ice bath to cool.
Gently fold maple syrup, whipped cream and cinnamon through and transfer to a shallow container, cover and place in freezer to set for 2 hours or until firm.
For the crumble:
Combine flour, sugar, butter, cinnamon and pecans in a small food processor and blend to a fine, sand-like texture.
Sprinkle onto a paper lined baking tray and bake for 10 mins until golden. Remove from oven and set aside.
Meanwhile, place bacon into a cold frying pan and place on a high heat. Fry for 3 to 4 minutes until fat is rendered and bacon is golden and crisp. Add cooked crumb and stir to combine. Set aside.
Place bacon onto a paper-lined baking tray and spoon maple syrup over each slice. Turn to coat and place tray in oven to bake until bacon is crisp and caramelised, about 15 minutes. Remove from oven and set aside.
For the apples:
Add ¾ of the apples to a small saucepan with 125 ml water, sugar and cinnamon stick. Bring to boil and then reduce to simmer and cook until just tender. Drain and set aside.
Slice remaining apples into thin matchsticks and coat with lemon juice.
---
Mac n Cheese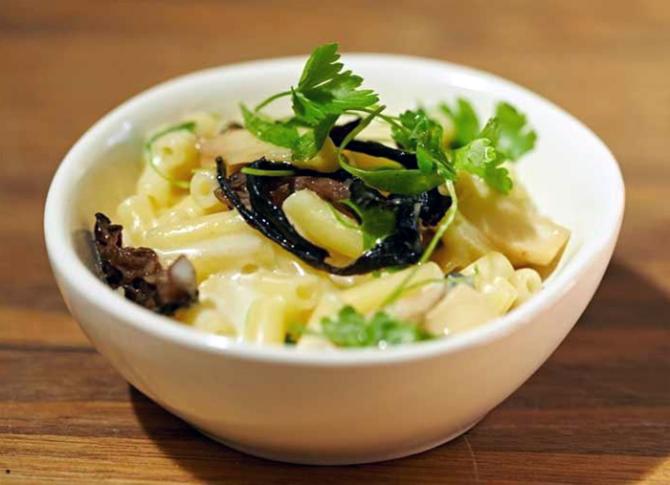 Recipe by Marco Pierre
White ingredients:
500 gm macaroni
30 gm flour
30 gm butter
500 ml milk
500 ml cream
250 gm cheddar, finely grated
3 tbsp clarified butter
45 baby king brown mushrooms, sliced finely
1 shallot, ground to a paste
1 clove garlic, ground to a paste
50 gm parmesan finely grated
Salt and pepper to taste
Method:
Bring 5 litre salted water to a boil over high heat. Add macaroni and cook until almost al dente (cooked firm).
Meanwhile, melt butter in large pan over medium heat. Add flour and whisk to cook out roux for 3 to 4 minutes.
Gradually add cold milk while whisking, allowing mixture to come to a boil. Add cream and cheese and stir to combine.
When pasta is cooked, drain and add to cheese sauce. Season with salt and pepper.
Meanwhile, melt clarified butter in a frying pan over medium heat. Add king brown mushrooms and fry until golden. Add shallot and garlic and cook until fragrant. Add soaked mushrooms and stir to combine. Remove from heat and stir into macaroni mixture with grated parmesan.
---
Red Wine Cranberry Sauce with Honey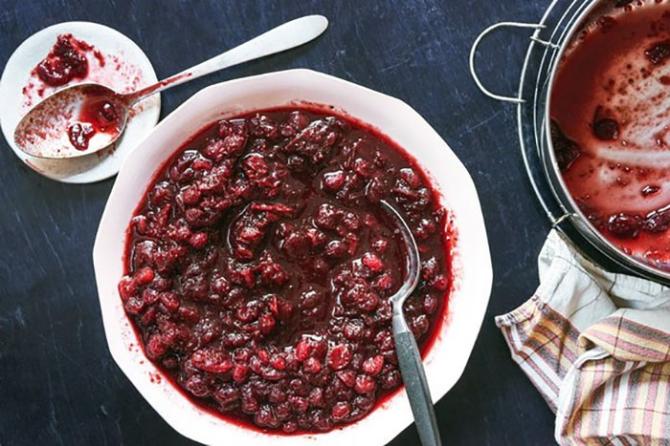 Recipe by Gary Mehigan
Ingredients:
6 cups fresh cranberries
1¾ cup dark brown sugar
1 cup dry red wine
3 tbsp honey
4 (¼ inch thick) slices of fresh ginger root, smashed
Pinch of kosher salt
½ teaspoon black pepper
Method:
In a medium pot over medium heat, combine the cranberries, sugar, red wine, ½ cup water, honey, ginger and salt.
Simmer gently until most of the cranberries have popped and the sauce is thick and syrupy. Stir in the black pepper.
Chill thoroughly before serving.
---
Balsamic Sweet Potatoes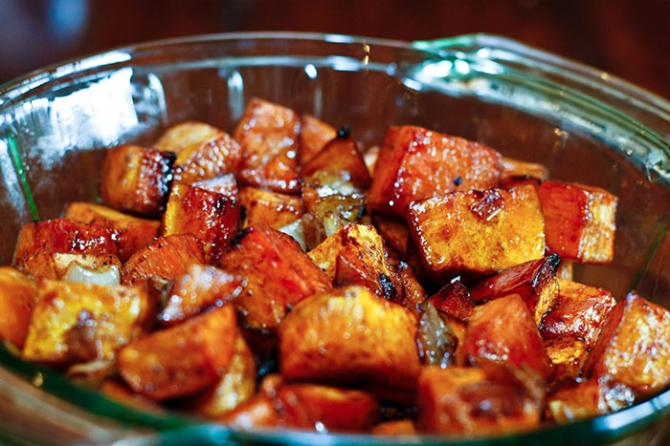 Recipe by Jules Allen
Ingredients:
125ml (½ cup) balsamic vinegar
55 g (¼ cup) caster sugar
3 (about 1.5 kg) sweet potatoes, peeled, quartered lengthwise
Method:
Preheat oven to 180˚C.
Combine vinegar and sugar in a large bowl, stirring until sugar dissolves. Season to taste with salt.
Add sweet potato to bowl and toss to coat.
Wrap four pieces of sweet potato in a large piece of foil to make three parcels.
Place on a large baking tray, and roast for one hour or until cooked through.
Serve on a platter as part of a shared meal.