We'd asked you, dear readers, to share your favourite Diwali recipes.
Here Kumudini Shetty shares some traditional recipes.
Khara Shankarpali
A crispy, salty deep fried snack made from all purpose flour, milk and sugar.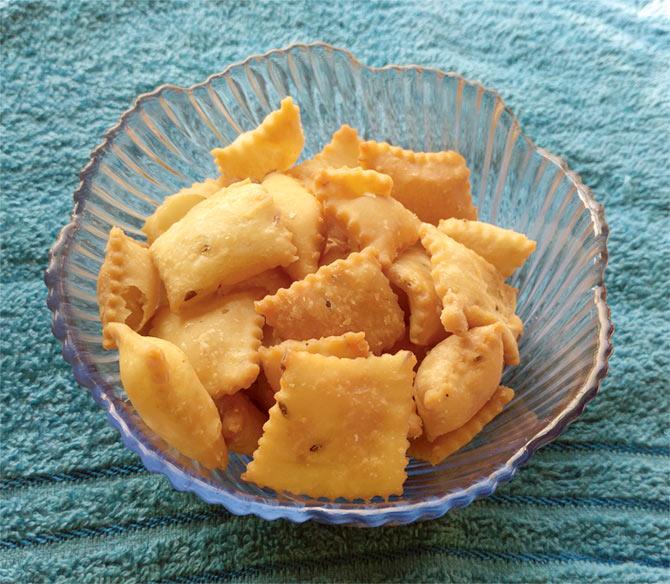 IMAGE: Khara Shankarpali All photographs: Divya Nair/Rediff.com
Ingredients
1 and 1/2 cup maida
2 tbsp small rava
2 tbsp butter/ghee
1 tbsp salt
1/4 cup milk or warm water
Oil for deep frying
Method
In a bowl, mix flour, sugar, rava, milk, salt, butter and knead into a thick dough. Cover and keep aside for 20 minutes.
Make small balls from the dough and roll them into thick rotis.
Using a knife, cut out small diamond pieces from the roti.
Heat oil in a deep pan and slowly, slide the diamond pieces in batches.
Fry till golden brown.
Remove and drain the excess oil using a kitchen napkin.
Once they cool down, store them in an air tight container.
Poha Chivda
A salty snack made from flattened rice.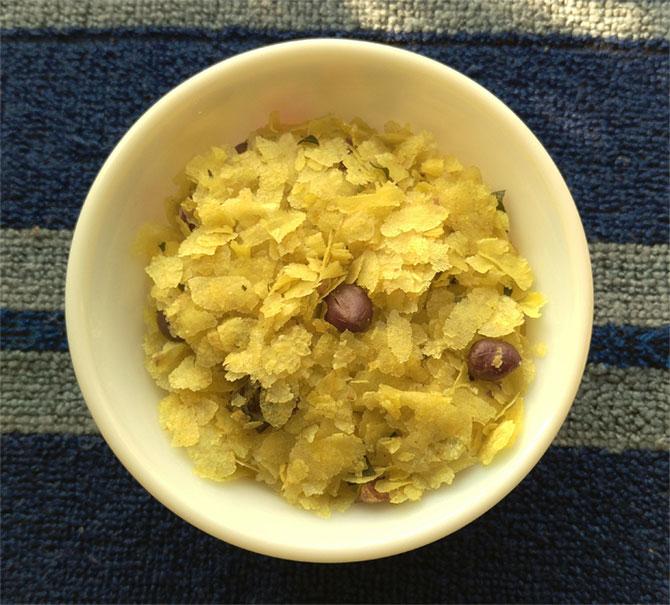 IMAGE: Poha Chivda
Ingredients
1 kg thin poha
1 cup peanuts
2 green chillies
8 to 10 curry leaves
8 to 10 pieces thinly sliced dry coconut (copra)
1/2 tsp turmeric powder
1/2 tsp lemon juice
2 tbsp oil
Salt as required
A pinch of sugar
Method
Heat a kadai and dry roast the poha on medium heat for 2 minutes. Keep aside.
Heat oil in a kadai. Add curry leaves, coconut and peanuts. Add salt.
Add turmeric, sugar and lemon juice. Mix well and switch off the flame.
Add poha while the kadai is still hot and mix well. Add more salt if necessary.
When it cools, store in an air tight container.
Butter Chakli
A salty crunchy snack made from rice flour and butter.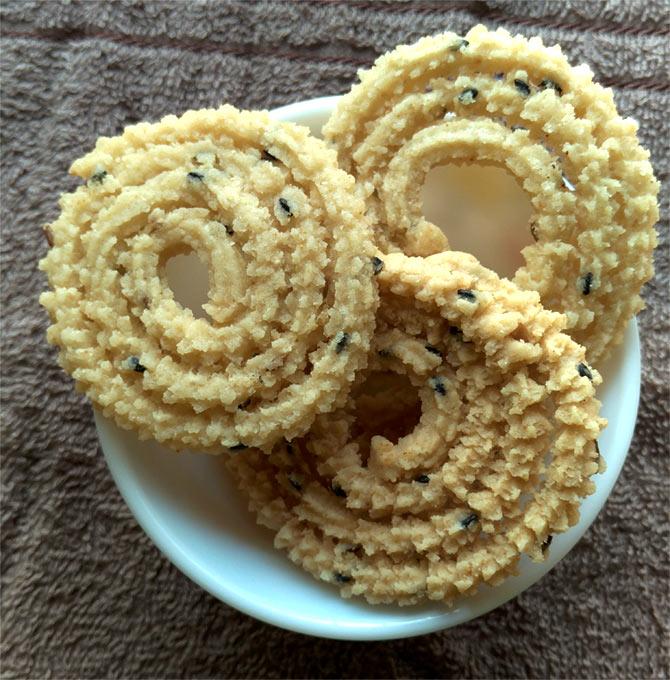 IMAGE: Butter Chakli
Ingredients
2 cups rice flour
1/2 cup unsalted butter
2 tsp jeera
1 tsp black sesame seeds
Salt as required
Warm water as required
Chakli maker with single star mould
Method
Knead rice flour, butter, jeera, sesame seeds and salt in a thick dough using warm water.
Stuff this mixture in a chakli maker with a star mould.
Make round-shaped chakli -- minimum 3 to 4 rounds without leaving much gap between two circles.
Heat oil in a kadai and slide the chaklis one by one.
Fry the chaklis in batches.
Turn the sides and fry till they are cooked well.
Drain the excess oil and store in an air-tight container.
Dear readers, do you have interesting Diwali recipes to share?
Simply e-mail your recipes to getahead@rediff.co.in (Diwali Recipe) along with your NAME, AGE and the place where you LIVE. We'll publish the best ones on Rediff.com.