Some of India's top chefs have shared these festive recipes. You can share yours too.
Chocolate Kaju Katli
Recipe by Nitish Chopra, sous chef, Aloft New Delhi Aerocity
Ingredients
2 1/4 cups cashew nuts
1 cup sugar
100 ml water
1 cup milk chocolate, or dark chocolate
Method
Grind the cashew nuts in a blender to make a fine powder.
Take a heavy bottomed pan, add the sugar and water to it.
Place it on medium heat and bring it to boil.
Once the sugar has dissolved completely, turn the heat down and allow the mixture to boil for a few minutes till it reaches a one-string consistency.
To test if it has reached the right consistency, transfer a few drops of the syrup on a clean plate, allow it to cool for 15-20 seconds and test it for the formation of a single thread between your thumb and index finger.
If the syrup has reached single thread consistency, transfer the ground cashew nut powder into the syrup and stir continuously for 4 to 5 minutes. The mix will gradually turn into a thick paste.
Take the mixture off the heat and allow it to cool to room temperature.
Grease your palms with a dash of ghee and start kneading the mix. Knead till it is smooth, uniform and like a dough.
Spread a sheet of butter paper on the counter top. Place the dough on it and roll the dough out with a rolling pin to a thickness of 5-6 mm, evenly.
Heat water in a saucepan. Place a heatproof bowl over it and melt the dark chocolate.
The heat generated in the boiling water beneath will melt the chocolate gradually. Ensure that the boiling water does not touch the heatproof bowl.
When the chocolate has melted properly, pour it over the rolled kaju katli dough and spread it evenly with the help of a spatula.
Allow it to cool for some time.
Transfer it to a surface and refrigerate it for 15 to 20 mins.
When the chocolate has set, you can make intersecting diagonal lines and cut them so they form diamond shapes.
Gulkhand Gulab Jamun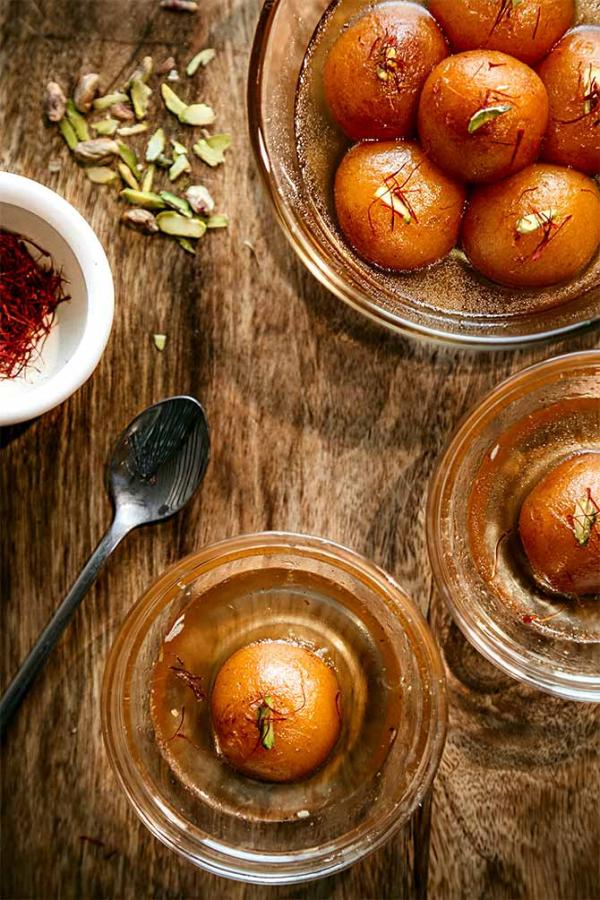 Recipe by Mukesh Sharma, executive chef, Sheraton Grand Chennai Resort & Spa
Ingredients
1 kg khoya (reduced milk)
200 gm flour
5 gm cardamom powder
250 gm gulkhand
1 kg sugar (syrup)
850 gm water(syrup)
2 lt ghee (clarified butter)
Method
Make dough with khoya, flour and cardamom powder and keep a side.
Take a small ball sized dough and make balls stuffed with gulkhand (rose petal compote)
Make sure there are no cracks on balls. Else there are chances for jamun to break while frying.
Heat ghee (clarified butter) in medium heat and slowly pour the balls in a ghee for frying.
Fry the balls on low flame stirring in continuously.
Fry until the balls the golden brown for 12-15 minutes.
Drop the hot Gulkhand gulab jamuns into the warm sugar syrup.
Cover the lid and rest for 2 hours and served hot.
Motichur ke Ladoo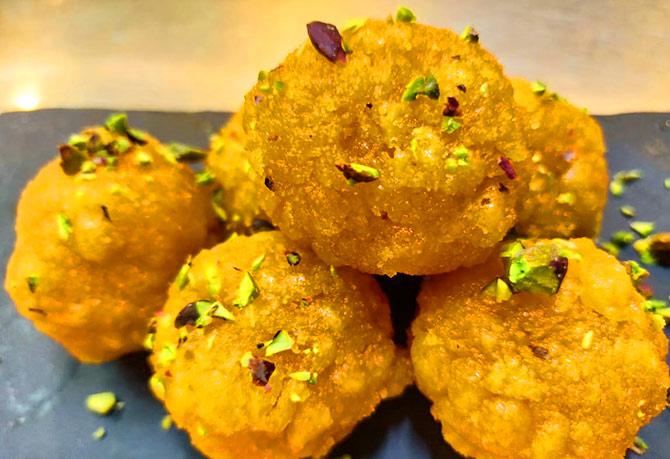 Recipe by Sidharth Bhardwaj, executive chef, JW Marriott Mussoorie Walnut Grove Resort and Spa
Ingredients
100 ml ghee (clarified butter)
20 gm pistachios (pista)
10 ml orange colour
10 gm raisins
10 gm baking powder
60 gm sugar
150 gm besan
Method
Sieve gram flour with baking powder so that it mixes well.
Mix ghee and enough water to make a batter of thick consistency.
Heat up ghee in a kadhai and with a perforated (holes) spoon drop boondis in ghee.
Rub the batter on the spoon with holes (slotted spoon) so that small drops of batter drop in oil. Simultaneously tap the spoon on the rim of kadhai also.
Fry boondis till golden brown. Remove and keep aside.
Meanwhile make three string consistency sugar syrup mix in color.
Put the fried boondis in this syrup, mix in the raisins and cut pistachios.
When mixture cools down slightly use buttered hands to make ladoos.
Gujiya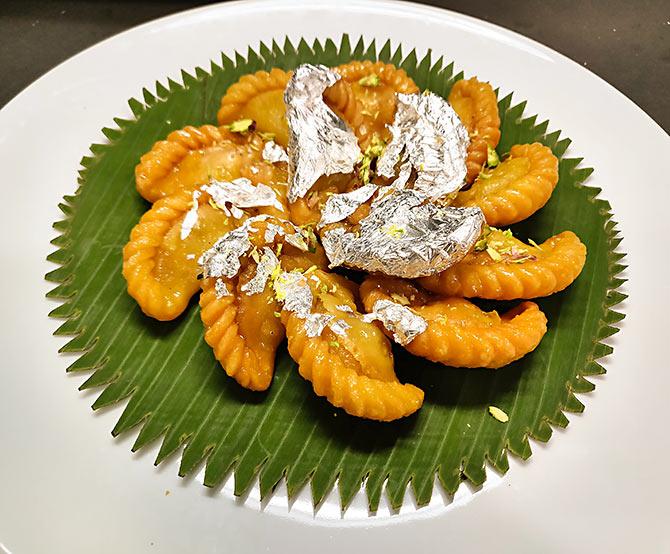 Recipe by Mahesh Padala, executive chef, The Westin Hyderabad Mindspace
For the dough
1 kg maida
50 gm sooji
1 tsp baking soda
250 gm ghee
For gujiya mix
200 gm dessicated coconut
200 gm crumbled mawa
50 gm fine sugar
10 gm raisins
10 gm almonds
5 gm pistachios
10 gm cashew pieces
1 tsp green cardamom powder
Saffron strands

For sugar syrup (optional)
1 kg sugar
250 m water
1 pinch green cardamom powder
Few pieces of saffron strands
Method
For gujiya dough
In a big bowl combine all the ingredients listed under 'for the dough'.
Take lukewarm water and knead a soft pliable dough. The dough should be firm.
Cover the dough and let it rest for 30 minutes
For the mixture
Take gujiya filling. Assemble all the ingredients
In a heavy bottom pan add mawa, dry coconut and toast them on low heat.
Toast for 15 minutes on a low flame, when the mixture turns light brown in color, add saffron strand. Mix and take it off the flame.
In a separate kadhai add nuts and toast them on a medium flame.
Make rough powder Add this nutty mixture to the mawa mixture along with raisins.
Stir it well. Add sugar, milk and mix until everything is well- blended.
This mixture should be moist.
How to make gujiya without mould
Roll it in a thin circle. In the half fold, place some gujiya mixture.
Fold gujiya into half.
Apply water along the edges and seal it tight.
Using a fork secure the edges by making imprints of the fork.
Gujiya is ready for frying.
For frying gujiya
Heat oil in a pan. Lower the flame and fry gujiyas until golden brown in color. Gujiyas should be fried in a medium hot oil for a crispy layer.
Remove from oil and drain it on the paper towel.
Gujiyas are ready.
To make the syrup
Combine all the ingredients in a pan and on a medium flame bring it to a boil.
Scum will start forming on top of the liquid. Using a spoon, collect and discard.
Touch the syrup with your finger and if it coats your finger it has reached its first string consistency.
Drain the hot syrup.
Dip each gujiya in this syrup for 2-3 minutes and set it on a clean plate.
Sugar glazed gujiyas are all set and ready to be eaten.
---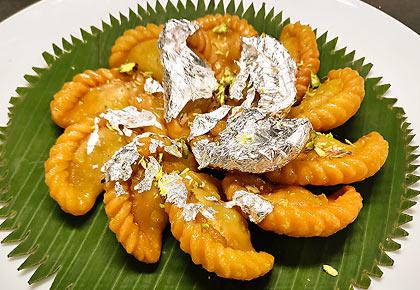 Readers, you can share your best Diwali recipes on getahead@rediff.co.in (Diwali Recipes) along with your NAME, LOCATION, and details of the recipe.
Also, please send us your original photograph/s of the recipe/s. We'll carry the best ones right here on Rediff.com.