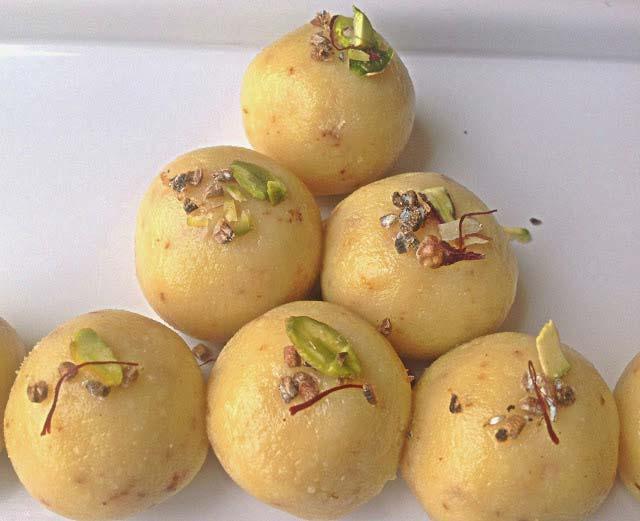 Why wait for Diwali, or a shaadi or spend time in an ATM queue to enjoy your favourite laddoo? Sample these all time-favourite recipes.
There are perks of demonetisation too!
The latest: Delhi supporters of the Bharatiya Janata Party are distributing laddoos to reward those who stood in long ATM lines in the capital.
Please see: Get a laddoo from Delhi BJP for standing in a bank, ATM queue
What if you don't want to stand in a queue, but still want some mouthwatering laddoos?
Presenting five super-hit laddoo recipes just for YOU from Rediff.com's archives.
Besan Laddoo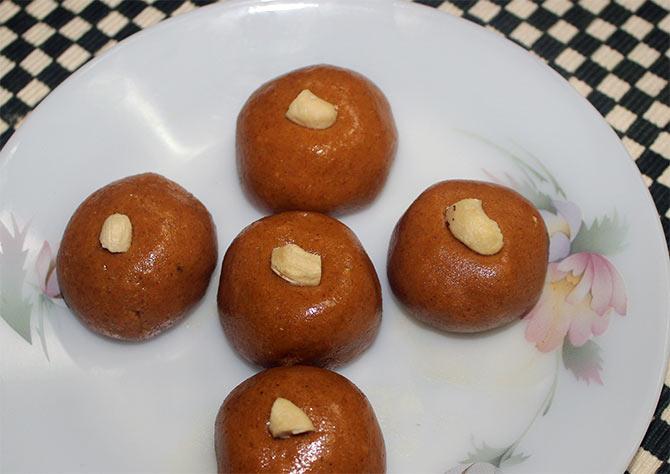 Recipe and image: Kind courtesy Charu
Ingredients
1½ cup gram flour or besan
3/4 cup powdered sugar
½ cup ghee
½ tsp cardamom powder
Cashewnuts for garnish
Method
Heat ghee in a pan.
Add gram flour and roast, stirring continuously, on a medium flame, till you get the aroma of roasted besan and the colour changes to a slight golden brown. This may take 10 to 15 minutes.
The besan mixture will be semi liquid. Pour into a bowl. Let it cool a bit before adding powdered sugar, cardamom powder. Mix well.
Grease your palm with ghee and take some warm besan mixture and shape into laddoos of your desired size.
Garnish each laddoo with a cashew.
Store in an airtight container. The laddoos can be stored for 2 to 3 weeks.
Cooking Tip: While roasting the besan mixture, keep stirring continuously to prevent burning. Roast on a low or medium heat otherwise the mixture will not cook properly.
Rava Ladoo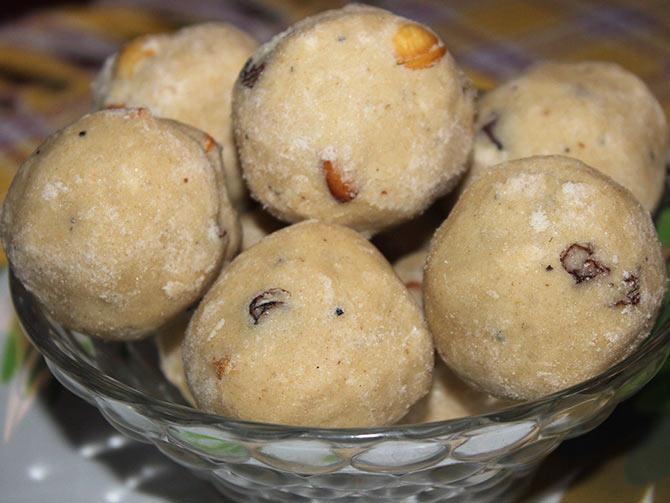 Ingredients
1 cup semolina or rava
1 cup sugar
¼ cup ghee
3 to 4 tbsp milk
¼ tsp cardamom powder
¼ cup cashewnuts and raisins
Method
Heat 1 tsp ghee in a kadai.
Roast the rava on low flame till the raw smell goes away. Take care to not overcook or brown the rava.
Pour the roasted rava on a plate. Allow it to cool completely before grinding into a fine powder. Keep aside again.
Grind sugar into a fine powder.
Mix powdered rava and powdered sugar.
Heat 2 tbsp ghee in a pan. Add cashewnuts and raisins and roast till golden brown.
Add roasted cashewnuts, raisins, cardamom powder and the remaining ghee to the rava mixture. Mix well.
Add milk and mix well till the laddoo dough comes together.
Make laddoos of your desired size using your hands. Add few drops of milk if the mixture is too dry. Milk helps in binding the mixture.
Rava laddoos can be stored for 2 to 3 days if stored in an airtight container.
Tips: You can adjust the sugar according to your taste. Roast the rava on low to medium heat and ensure that the rava does not get burnt at the bottom. If you prefer firm laddoos or soft laddoos add milk accordingly.
Malai Laddoo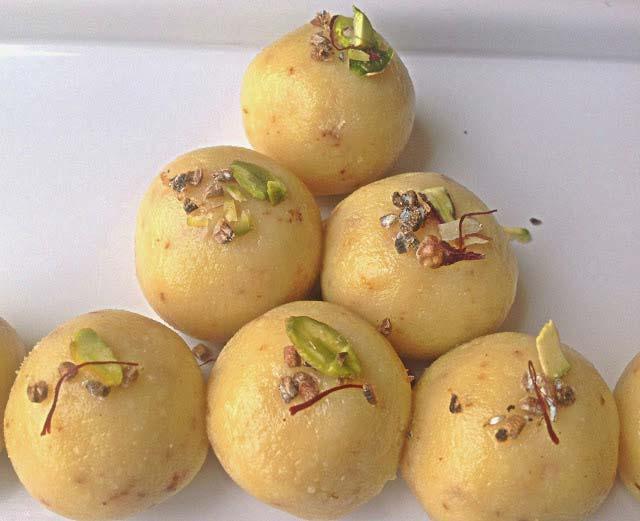 Ingredients
½ cup sweetened condensed milk
200 gm coarsely crumbled cottage cheese or paneer
1 tsp edible rose water
For garnish
A pinch of cardamom powder
A few sliced pistachios
A few strands of saffron
Method
On a work surface, knead the paneer with the base of your palm till it has a nice creamy texture.
Heat the paneer in a pan with the condensed milk on low heat till the mixture starts to leave the edges and solidifies.
Add rose water. Mix well and allow to cool.
When it is at room temperature, take a handful of the mixture and shape them into one-inch diameter balls.
Garnish with cardamom powder, slices of pista and saffron strands.
Motichoor Laddoos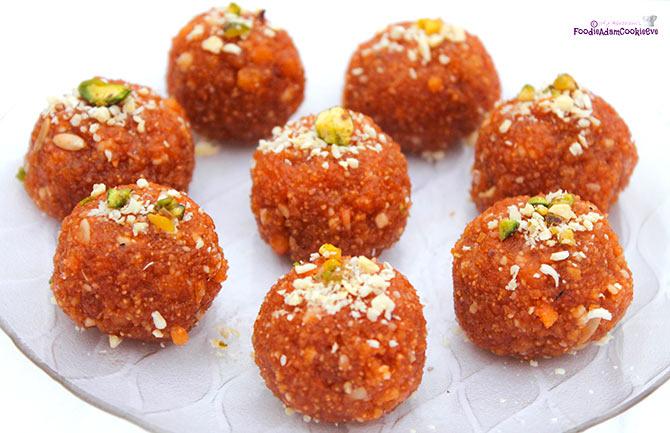 Cooking time: 30 minutes
Makes: 20 laddoos approx
Ingredients
1½ cup gram flour or besan
3 tbsp semolina or rava
1½ cups sugar
1½ cups water
A pinch of orange colour
½ cup crushed cashews, almonds and pistachios
½ cup melon seeds
1 tsp cardamom powder
1 tsp baking soda
Oil for frying
2 tsp ghee
Water (as required)
Method
Mix besan, semolina, baking soda, 1 tsp melted ghee and orange colour in a bowl.
Gradually add water to the above dry ingredients to bring a dosa batter-like consistency. Stir well to avoid lumps.
Heat oil in a pan. Check if the oil is hot by letting a drop of dough in the oil. If the dough sizzles after it is dropped in and pops up to the surface, it indicates that the oil is ready.

Take a colander ladle or any grater, or a perforated ladle.

Pour the dough into the ladle by holding the ladle at right angle to the pan.
Stir the dough with a spoon, so that it drops evenly into the hot oil.
Moving the ladle distorts the shape of the boondi balls. But that's okay with Motichoor Laddoos.
Take care not to overload the pan. Fry them until golden brown. Make sure they do not turn too crisp and hard.
Drain from the oil and transfer to a tissue paper.
Mix equal amounts of sugar and water (1½ cups each) in a thick pan. Heat. Stir until the sugar melts and forms a syrup.
When you reach single-thread consistency, switch off the heat and add cardamom powder.
Mix the boondis, crushed nuts and melon seeds and sugar syrup in a bowl and set aside to rest for 15 to 20 minutes.
The boondis will absorb the sugar syrup and bulge.
Squeeze gently to discard extra syrup. Give the whole mixture just three gentle pulses in the grinder.
Apply generous amount of ghee in your hands and make balls.
Motichoor laddoos taste the best served hot. Garnish with grated cashews and serve.
Nariyal ke laddoo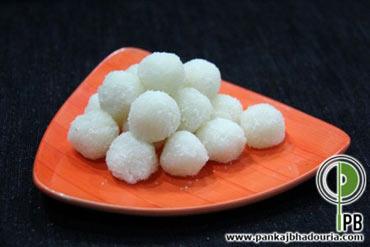 Recipe and image: Kind courtesy Pankaj Bhadouria
Preparation time: 10 mins
Cooking time: 20 mins
Serves: 4
Ingredients
250 gm desiccated coconut
250 gm khoya (solid milk)
300 gm powdered sugar
1/2 cup milk
1/2 tsp cardamom powder
Method
Grate or crumble the khoya.
Heat the milk and add the khoya and cook on slow heat for 3 to 4 mins.
Add 200 gm desiccated coconut and remove from fire mix well.
Allow to cool a little and add the sugar.
Divide the mixture into 12 parts.
Shape each part into balls and roll in the remaining desiccated coconut.
Cool and serve.