Mini Ribeiro gets five chefs across India to share their favourite recipes for Children's Day. Check them out!
There can be no better way to celebrate Children's Day than to cook something special for kids that appeals to their taste buds.
Colourful, fun and delicious, these recipes promise to entice kids to eat more and enjoy their day.
And yes, these are simple and you can do-it-yourself too.
Here are the recipes:
Fruit Lollies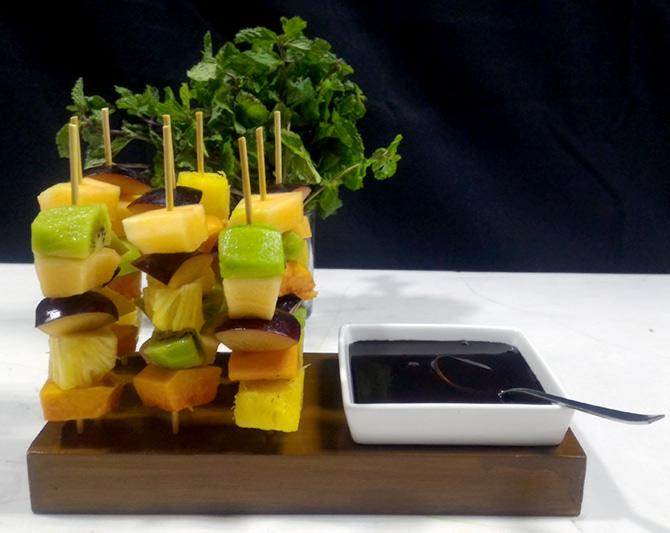 IMAGE: Fruit Lollies by

Chef Pranay Singh from

Swissotel Kolkata.
Makes: 6 skewers
Ingredients
1 plum
2 kiwis
1 muskmelon
1 papaya
1 pineapple
Method
Peel and dice the fruits so that each slice is around 2 cm wide. Keep the remaining fruit for future use.
Place the fruit pieces onto the lolly stick keeping the pointed end in mind.
Alternate each fruit until you reach the top. Leave a little space at both the ends of skewer.
Refrigerate each lolly for half an hour until it gets chilled.
Serve chilled with chocolate syrup.
Note: You can add other fruits or substitute with fruits of your choice. You can even sprinkle the fruit lollies with ground nuts (cashewnuts/almonds) before serving to add a nutty flavour.
---
Chocolate Cupcakes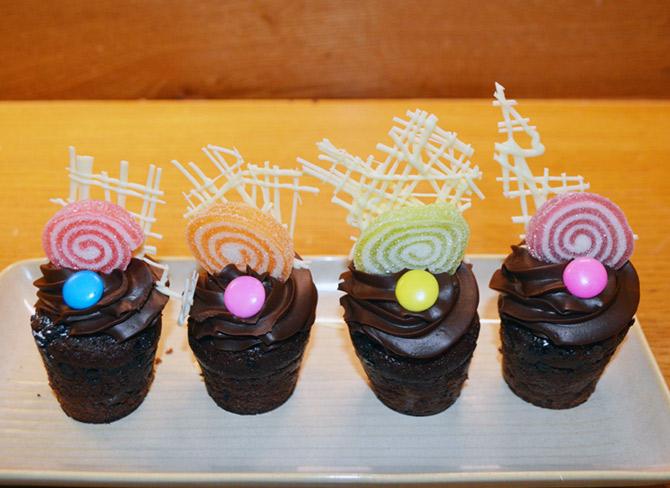 IMAGE: Chocolate Cupcakes by executive pastry chef Anil Kumar, Le Meridien, Gurgaon.
Ingredients
6 eggs
650 gm sugar
350 gm sour cream
350 gm yogurt
650 gm refined flour
50 gm cocoa powder
223 gm almond powder
15 gm baking powder
12 gm baking soda
340 gm refined oil
5 gm vanilla essence
Method
Whisk egg and sugar together.
Add sour cream and yoghurt together.
Put all the dry ingredients into it. Mix well.
Add some oil in the mixture.
Fill the entire mix in a cupcake tray and bake it at 21 degrees Celsius for 15 minutes.
Note: You can garnish the cupcakes with chocolate truffle, chocolate candy or anything else of your choice.
---
Multigrain Yogurt Coleslaw Sandwich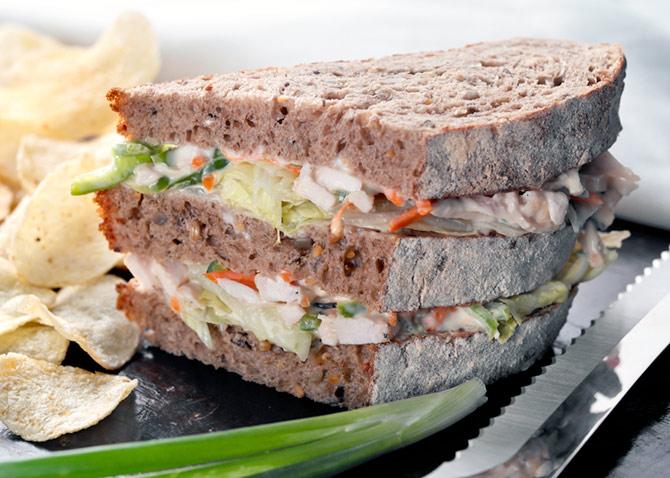 IMAGE: Multigrain Yogurt Coleslaw Sandwich by executive chef Mukul Jha, Grand Mecure, Mysuru
Ingredients
2 multigrain pieces of bread, sliced
100 gm hung curd
10 gm garlic
3 gm chilli flakes
3 gm salt
2 gm black pepper
2 ml honey
10 gm fresh coriander leaves, finely chopped
20 gm carrot, julienned
15 gm green capsicum, julienned
25 gm iceberg lettuce
3 gm mustard paste
Method
Take a bowl and add hung curd, garlic, chilli flakes, salt, black pepper and honey. Whisk it well to make a smooth paste.
Add julienned carrot and capsicum. Mix well.
Apply the mustard paste lightly on the sliced multigrain bread.
Place a piece of iceberg lettuce on the bread.
Apply the mixture -- hung curd, brown garlic, chilli flakes, salt, black pepper, honey, carrot and capsicum -- generously on the bread.
Sprinkle with coriander leaves.
Add the top layer of the bread and cut the sandwich into two.
Serve cold.
---
Striped Crepes in Orange Butter Sauce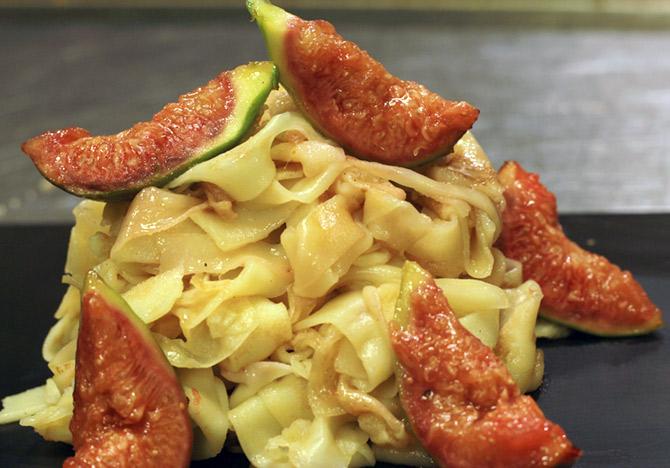 IMAGE: Striped Crepes in Orange Butter Sauce by chef Gaurav Chakraborty, Novotel Imagica, Khopoli
Ingredients
75 gm refined flour
25 gm cornflour

2 eggs

250 ml milk
35 ml oil
20 gm castor sugar
5 ml vanilla essence
Orange rind from an orange
60 ml orange juice
4 figs, sliced
Method
For crepe batter
Break and beat the eggs.
Add milk, oil and castor sugar. Mix well until the sugar dissolves.
Add orange rind to this mixture. Keep this liquid mixture aside.
In a bowl, mix refined flour and corn flour. Sieve it.
Add the liquid mixture to the flour to make a thin batter.
Make crepes in a non-stick pan.
Once the crepes have cooled down, cut them into thin strips.
To assemble
Heat butter in a non-stick pan.

Add sugar and caramelise.

Add orange juice and reduce the flame.

Add figs and cook for about a minute.
Add the strips of crepes and toss it gently.
Top it up with honey. Serve it warm.
---
Mango and Passion Fruit Cake Pops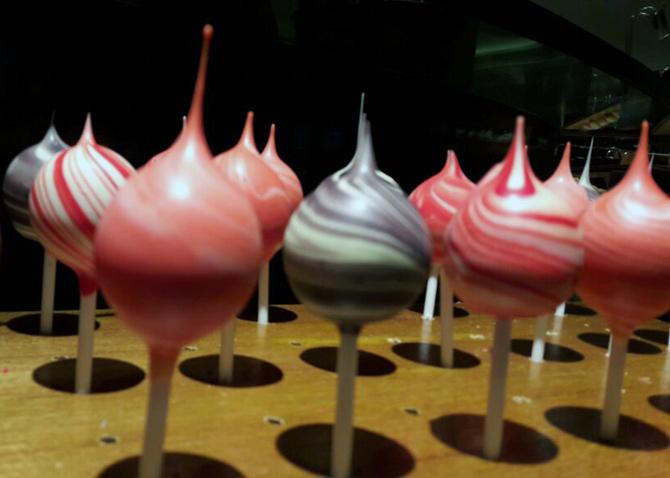 IMAGE: Mango and Passion Fruit Cake Pops by sous chef Gavin Brarganza, Sahara Star, Mumbai.
Ingredients
125 ml mango puree
125 ml passion fruit puree
125 ml full fat dairy cream
40 gm liquid glucose
425 gm white chocolate
Sponge crumbs as required
Method
Boil mango and passion fruit puree with liquid glucose in a pan.
Boil the full fat cream in a separate pan.
Mix the two while hot and pour over the 75 gm of chopped white chocolate.
Leave to stand for a few minutes. Mix until combined to form a smooth ganache and cool down.
Fold in the sponge crumbs and roll into balls.
Insert the candy stick into the pops. Leave to rest overnight until they set.
Once done, dip in melted white chocolate. Leave to set again.
Serve.
Dear readers, you can send us your favourite recipes too.
Write in to us at getahead@rediff.co.in (subject: Recipe) with your name, hometown and any interesting details about the origin of the recipe, along with a photograph if possible.
We'll publish the best preparations right here on Rediff.com.