They'll spice up your Instagram feeds with their lip-smacking food pics.
These culinary juggernauts travel extensively across the globe and are known to experiment with exotic ingredients to create some delicious, unknown dishes.
Their Instagram pages shine with pictures of their drool-worthy gastronomical adventures that will leave you hungry.
Presenting 10 Indian chefs whose Instagram feeds we're simply jealous of...
@shipra_khanna_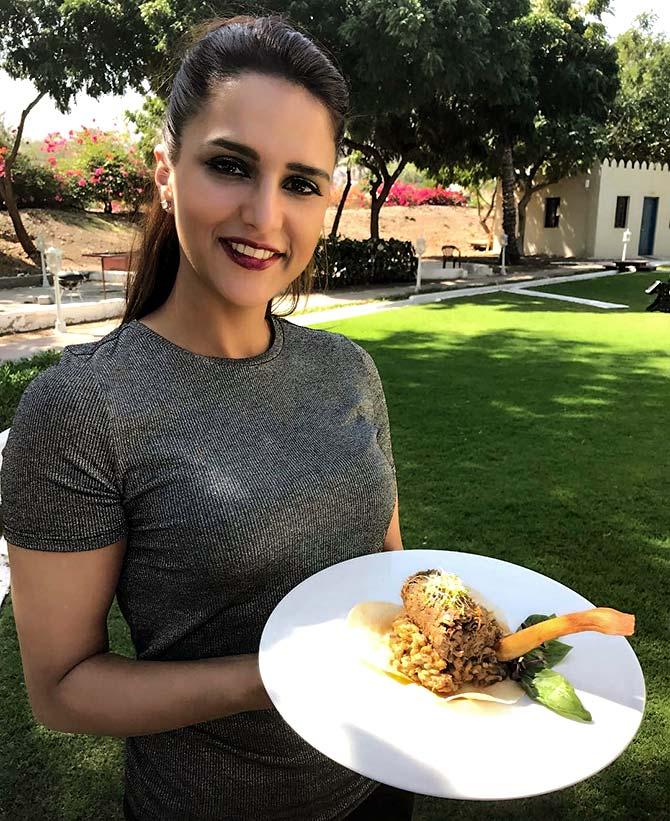 Photograph: Kind courtesy Shipra Khanna/Instagram
Followers: 39,300
Shipra Khanna is the winner of MasterChef India, Season 2.
She loves to cook delicious food and upload pics of it too! Follow her if you want to get a glimpse of her gastronomical adventures -- she's been cooking up a storm around the world.
If you're lucky you might stumble upon a recipe or two of her yummy treats like date cake with vanilla bean ice cream, tarts topped with meringue, etc on her Instagram page.
---
@vikaskhannagroup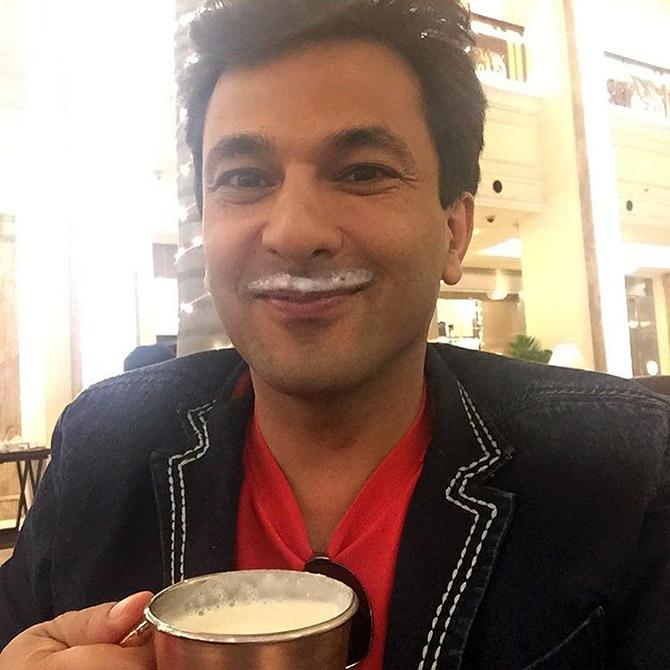 Photograph: Kind courtesy Vikas Khanna/Instagram
Followers: 1,77,000
If not for the awesome food Vikas Khanna cooks, follow him for his good looks :)
Mamma's boy, lover of good food and passionate cook, his Instagram page will take you through the nooks and corner of India, as he discovers some local delicacies.
The drool-worthy post of salted caramel trickling down from glass bottle and the MasterChef style ghewar had us hooked to his page.
---
@chefkunal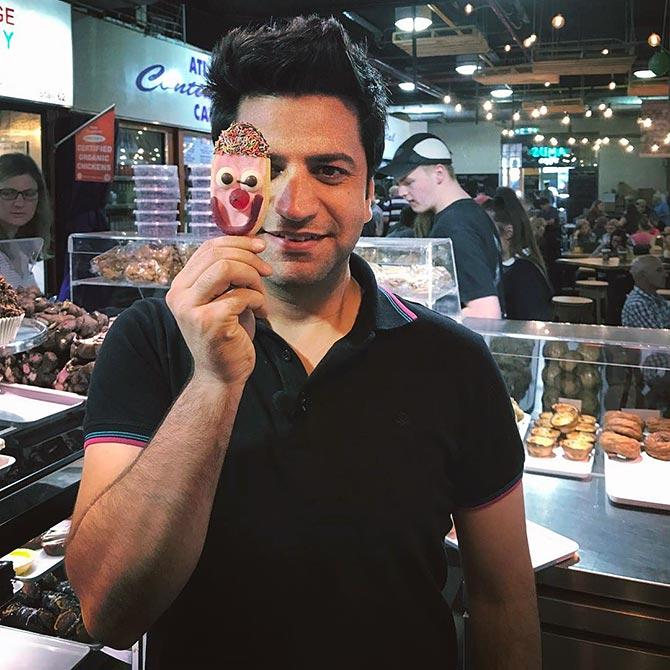 Photograph: Kind courtesy Kunal Kapur/Instagram
Followers: 1,27,000
Trust Kunal Kapur to come up with something out-of-the-box.
He was recognised by the Ministry of India for presenting saatvic cuisines -- it's fresh, light, nourishing and give necessary energy to the body without taxing it -- to Prime Minister Narendra Modi in Bangalore.
You'd have seen him play host in MasterChef India and Junior MasterChef.

He's got a penchant for clicking some awesome pics of macarons, souffle, orange cake with peaches and berries, roasted pumpkin wedge with nutty sauce and much, much more -- his posts will surely make you hungry.
---
@chefvineetbhatia
Photograph: Kind courtesy Vineet Bhatia/Instagram
Followers: 1,31,000
Michelin Star chef Vineet Bhatia is known to apply 'Indian techniques to ingredients that are rare and unknown in India'.
He features among the Top 1000 Most Influential People in London and he likes to be known as the travelling chef.
Be prepared to tease your taste buds with pics of a chocolate version of golgappa (paani-puri), iced coconut coffee, corn puris, etc.
His Instagram page is a delight for any foodie.
---
@poojadhingra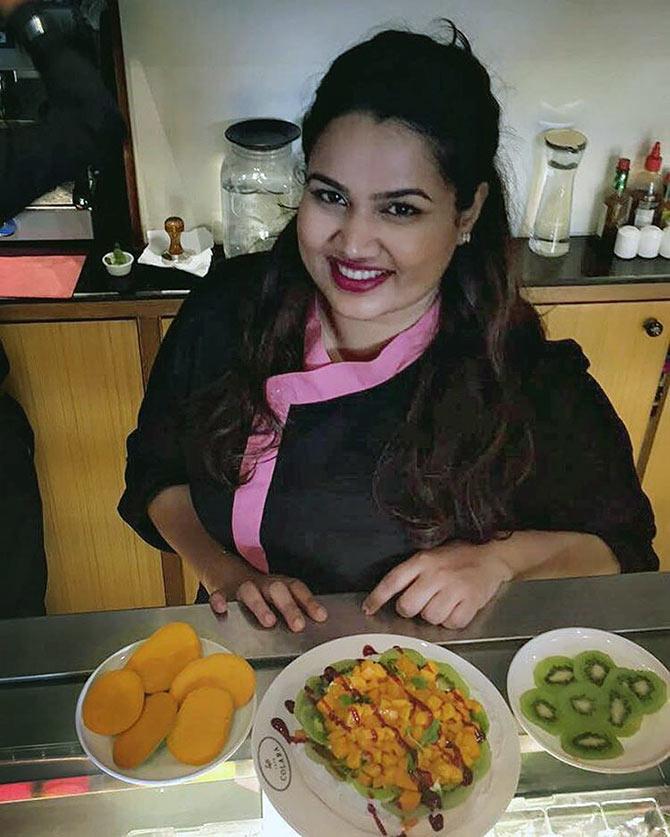 Photograph: Kind courtesy Pooja Dhingra/Instagram
Followers: 1,04,000
She's called India's Macaron Queen for a reason.
If you love macarons, delicious treats but with a healthy twist, and want to know where to find them in the city follow pastry chef Pooja Dhingra.
Her Instagram page will give you a glimpse of how she makes those delicious peanut butter, blueberry, raspberry macarons and tempting chocolate lava cake.
---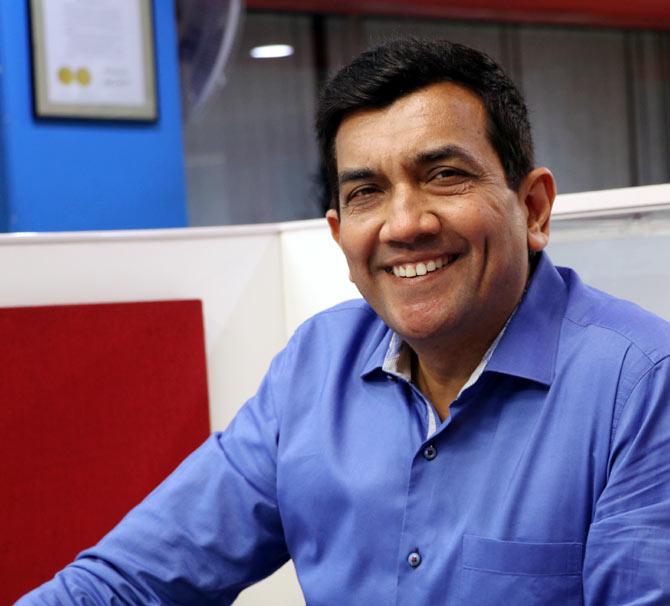 Photograph: Hitesh Harisinghani/Rediff.com
Followers: 1,76,000
Chef, blogger and author Sanjeev Kapoor is presently introducing his followers to some essential Indian masalas on Instagram.
From cooking for Narendra Modi to his love for Indian music and cuisine, Chef Kapoor has some great experiences from his interesting culinary journey that has now spanned two decades to share on Instagram.
Follow him to learn about his favourite recipe, cooking tips and yummy food pics.
---
@ranveer.brar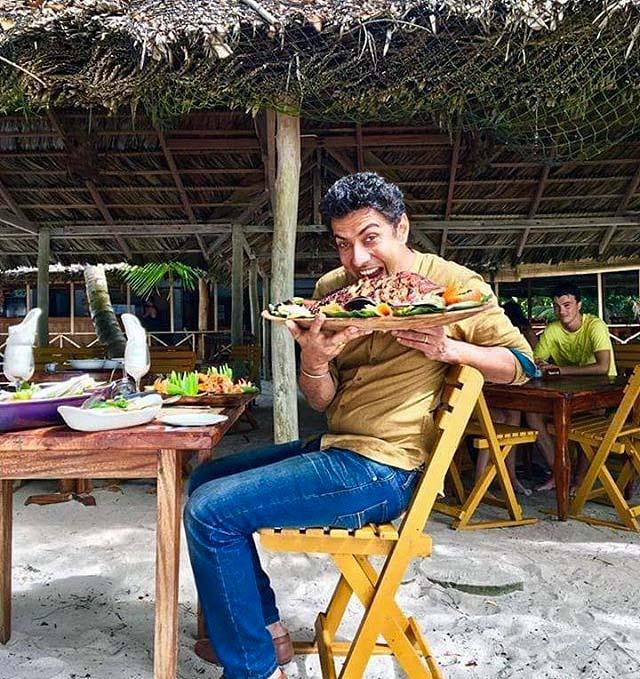 Photograph: Kind courtesy Ranveer Brar/Instagram
Followers: 75,600
Ranveer Brar is the 'chef at heart and the chef at soul'.
Author, TV show host and MasterChef India judge, he is fascinated by the street food kebab vendors in Lucknow, the city he was born in.
When he was 17 years of age, one such kebab ustad, Munir Ahmed, tutored Brar on the finer points of kebab making.That was the epiphanic moment that made him choose cooking as his calling.
Expect delicious photos, personal food experiences and some recipes too on his Instagram page.
---
@vickythechef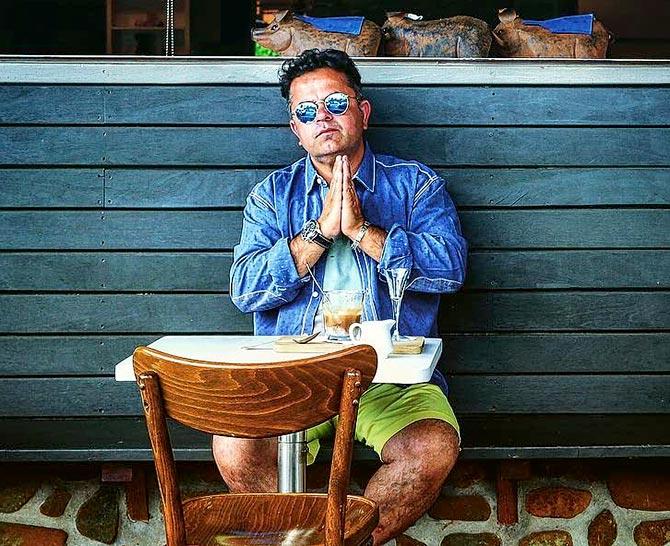 Photograph: Kind courtesy Vicky Ratnani/Instagram
Followers: 23,5000
Vicky Ratnani wears multiple hats -- chef, eater, taster, flavour junkie, world traveller and cookbook author.
His account has been packed with exotic treats and pics of him shopping at farmers markets and later cooking the dishes in his kitchen.
What we really love about his pics is the way he plates them -- you'll want to take a bite off that plate right now!
---
@cheftzac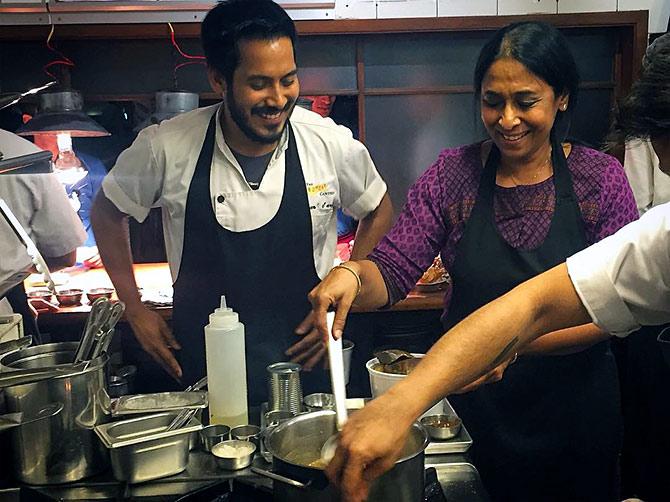 Photograph: Kind courtesy Thomas Zacharias/Instagram
Followers: 21,400
From being grandmom's kitchen helper in the 90s to now the India-inspired Executive Chef at The Bombay Canteen, Mumbai, Thomas Zacharias' passion for food is pretty evident.
His Instagram feed is the stuff dreams are made of -- crispy chicken farcha, seafood and kairi biryani, coconut-filled khopra pattice, and much more -- each feed is accompanied with the story behind.
Going through his posts feel as though you're reading a lovely food novel. Don't believe us? Follow him and you'll know for yourself.
---
@saranshgoila
Photograph: Kind courtesy Saransh Goila/Instagram
Followers: 26,700
Saransh Goila caught the public eye when he won the Food Food Maha Challenge, a cookery competition hosted on television by Chef Sanjeev Kapoor and actress Madhuri Dixit, and became the country's youngest celebrity chef.
He is better known for his butter chicken. But his Instagram page is not limited to just that!
Sindhi style mutton, dadima's mango curry, thatte idli, etc...his feeds will put you in a food comma.
---
Follow this link to post the best of your food pics and we will publish them right here on Rediff.com!
Share your food pics along with a short description of the food and the place you clicked it.
Steps to upload pic on ZaraBol:
1. Click on 'Add Image' option on the left side of the #RediffFoodies page.
2. Upload an image from your computer/phone.
3. Write a small description for your image in the box above.
4. Hit post and see your image on ZaraBol.