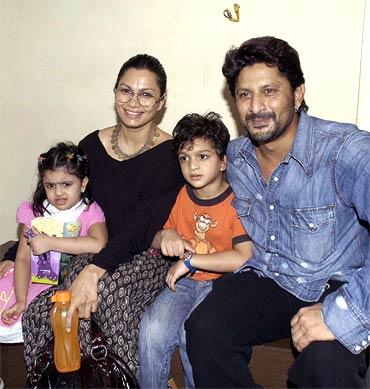 Whether it's the first meal you cooked or the first time you sampled a new dish, all of us have fuzzy food-related memories. Three celebs share their fondest ones with Vogue.
Maria Goretti
Actor, TV host, home chef
Image: Maria Goretti with husband Arshad Warsi and kids Zeke and Zene Zoe Warsi
Photograph: Pradeep Bandekar
"Every Christmas at the Gorettis' is a replica of the last. We attend Midnight Mass, come back home and exchange gifts that have been placed under the Christmas tree. My uncle, who lived abroad, would invariably land up much like Santa with more gifts for everyone.
The following morning, my mother would single-handedly prepare a sumptuous feast for lunch. The entire family would get together and over a tonne of laughter eat this massive meal and promptly fall asleep.
The lunch is not just tradition, but a very special part of my childhood that will always stay with me."
---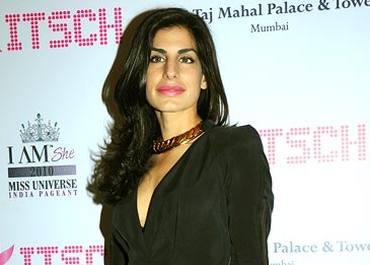 Charu Sachdev
Entrepreneur
Photograph: Courtesy Crosshairs Communication


"I will never forget my first cooking attempt. This was during my first year as a student at the London School of Economics. I was living on a budget, desperately homesick and tired of eating out.
I mustered up the courage to cook my favourite meal -- rajma chawal. I dug out a recipe and went grocery shopping to the local Tesco.
I burnt the rajma to smithereens and made disgustingly sticky rice, but ate it nonetheless. It was home food after all.
Many attempts later, I have found my way in the kitchen and enjoyed cooking ever since."
---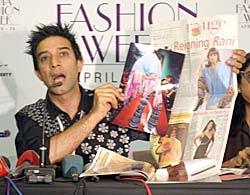 Suneet Varma
Fashion Designer
Photograph: Imran Shaikh

"About 20-odd years ago, at Gourmands, in Paris, I was invited to a home-cooked dinner by one of the assistant's at Yves Saint Laurent. She had cooked a very large Brazilian artichoke -- it was as big as a cauliflower -- and that was the only and entire meal.
It came in a bowl of steamed vegetables drenched in olive oil and you had to peel each leaf and eat its skin.
For someone who grew up in a Punjabi household of foodies, this incredible experience took my palate completely by surprise."
To read more grab your copy of the Vogue Food & Drink Guide 2015 -- complimentary with Vogue India December 2014 issue, out on stands