If you've lived in this city even for a day, there's no way you cannot fall in love with the street food that defines Mumbai -- vada pav.
For some it's just another local snack, for some it's a quick breakfast option and for others, especially Mumbaikars, it's LIFE!
A delectable, spicy and affordable Maharashtrian snack, vada pav is a soft pav stuffed with a spicy golden-fried potato vada served with finger-licking dry garlic chutney and deep fried green chillies.
Over 50,000 eating joints that are spread across the city offer this iconic street food.
However, there are some places that prepare vada pavs you would die for!
If you are in Mumbai, you must grab a vada pav at these joints: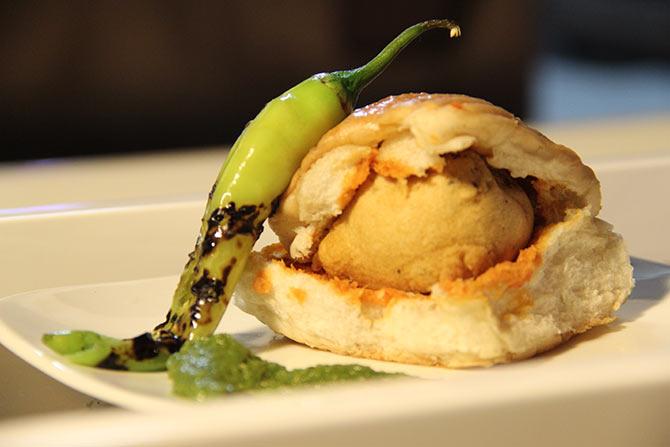 Photograph: Rutvi Mistry/ Wikimedia Commons
1. Ashok Vada Pav, near Kirti College, Dadar
In operation for over 35 years now, this joint is known for its lip-smacking vada pavs.
For frequent customers what makes this place a super-hit is the quality of their vada pav that has been the same all these years.
Famous B-town celebrities like Sushmita Sen, Sonu Nigam, Madhuri Dixit, etc have all eaten here.
2. Graduate Vada Pav, outside Byculla (West) station
Known for serving vada pav with a variety of chutneys, this joint has been pleasing customers for over 20 years now.
With an aim to feed the city's fast-moving crowd, the owners continue to serve from a small stall and refuse to upgrade to a proper eating joint.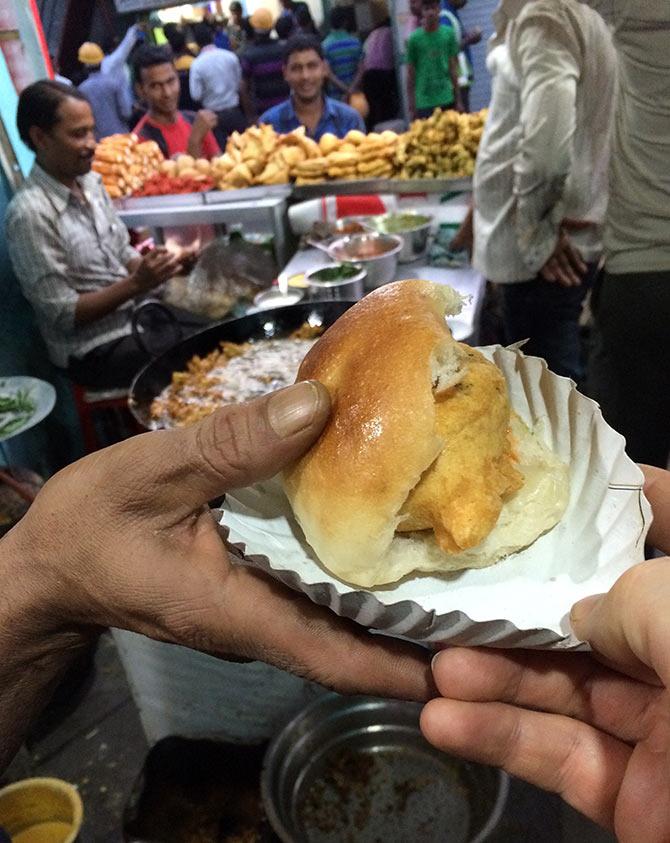 Photograph: Martin Ehrensvard/ Creative Commons
3. Aaram Vada Pav, Capital Cinema building, opposite CST station
One of the city's most iconic food stalls, Aaram Vada Pav joint has been dishing out mouth-watering vada pavs for over 70 years.
Located in the heart of the city, this joint is a mega hit among thousands of commuters who swarm in and out of CST station.
Famous politicians like Bal Thackeray and Rajiv Gandhi have been treated to their vada pav.
4. Gajanan Vada Pav, near Vishnu Nagar, Thane (West)
One of Thane's most famous vada pav joints, Gajanan has been serving this delectable street food since 1978.
Though their vada pav is traditional in nature, what makes it different is the chutney they serve along with it.
Happy customers enjoy this unique experience and return to treat themselves, time and again.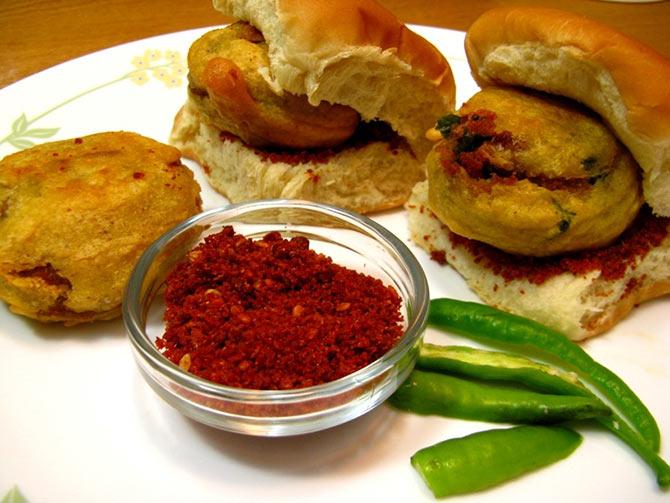 Photograph: Ranjitha Deepesh/Creative Commons
5. Samrat Vada Pav, Nehru Road, Vile Parle (East)
Located in the heart of the city's Western suburbs, Samrat is filled with customers at all times of the day.
What makes them unique is the use of chopped coconut in their vada mix.
They also dish out some delicious samosas and bhajiyas.
6. Anand Vada Pav, opposite Mithibai College, Vile Parle (West)
Thronged by college students at all times, the famous Anand Vada Pav joint is considered one of the best places in the city to grab this humble street food.
Bollywood celebrities too frequent this place to eat some hot and tasty vada pavs.
7. Mangesh Vada Pav, Borivali (West)
Mangesh Pandit's vada pav joint has been tickling Borivali resident's taste buds for over 20 years now.
What sets it apart is their special meetha chutney that's made of dates, jaggery, tamarind and green chillies.
Believe it or not, their first set of vada pavs gets lapped up as soon as the shop is opened.

Photograph: Krista/Creative Commons
8. Jai Maharashtra Vada Pav, Apna Bazaar, Andheri (West)
Dishing out delicious vada pavs since 1966, this stall sells over 1,000 vada pavs daily.
The owners claim that their grandmother's well-kept secret recipe is what makes their vada pav unique and yummilicious.
The vada pavs served are so good that even American chef Mathews couldn't resist featuring this stall in one his YouTube videos.
9. Shivaji Vada Pav, outside Mithibai College, Vile Parle (West)
A direct competitor to Anand Vada Pav is the famous 35-year-old Shivaji Vada Pav stall.
This joint serves around 1,000 vada pavs on a day-to-day basis and is frequented by people from various walks of life, especially college students.
An award-winning stall, their sandwiches and dosas too are popular among their satisfied customers.
10. Shree Durga Snacks, Ram Maruti Road, Thane (West)
'Keep it simple' is Shree Durga Snacks' mantra of success.
Without meddling much with the original flavours, their vada pavs are worth every penny.
Thousands of people visit this stall daily to enjoy this famous snack.
All images used for representational purposes only.