Rahul Jain, head, Edelweiss Wealth Management, explains how you can ensure you have enough in your kitty and be in command of your finances.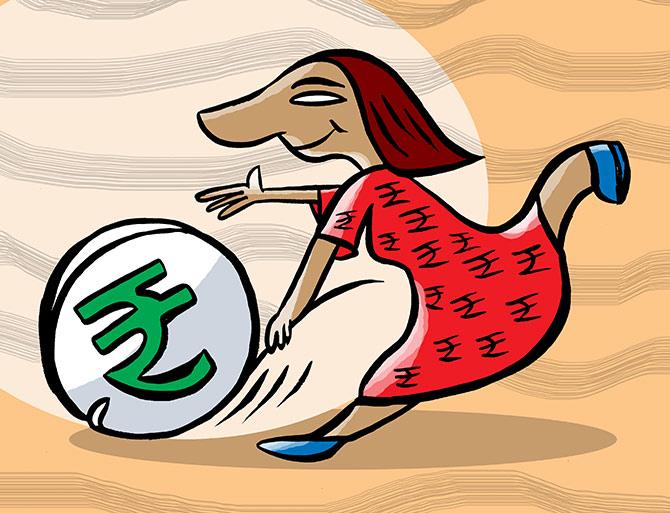 Financial well-being can be summed as a sense of security and feeling that you have enough money to address essential life goals and meet vital commitments.
It's also about being in charge of your day-to-day finances and having the freedom and flexibility to make choices that help you live life on your terms.
While financial well-being is a top priority for all of us, it's a deft art that warrants being prudent with money and make informed decisions.
Let's see how you can ensure you have enough in your kitty and be in command of your finances.
Have a budget
A well-documented budget gives you a holistic view of your income, expenditure and savings. Come up with a solid budget that comprehensively covers your day-to-day expenses. Divide it into two broad categories: needs and wants.
Needs refer to expenses that are an absolute must such as grocery and utility bills, school/college fees, rent, EMIs, etc, while wants comprises money spent on dining out and buying new clothes/gadgets, among others.
Keeping wants to the minimum while spending on needs ensures you are on a solid footing and financially well-prepared to address any unplanned expenses coming your way.
Equally important is to make enough provision for savings for the rainy day.
You can follow the 50-30-20 budget rule, whereby 50 per cent of the income is spent on needs, 30 per cent on wants and 20 per cent is saved. Today, many DIY apps help you in formulating a budget aligning with your requirements.
Invest in inflation-beating instruments
Often an overlooked aspect, the key to financial prosperity lies in taming inflation that brings down the value of money with time. What seems enough today may not suffice tomorrow.
For instance, if your monthly expenses are Rs 30,000 now, even a modest inflation of 4 per cent will push it above Rs 65,000, 20 years down the line.
An effective way to counter the effects of inflation is to invest your money in instruments and asset classes, offering inflation-indexed returns. This is where you need to bank on equities as they have the potential to offer inflation-beating returns in the long run.
A prudent way to invest in equities is through mutual funds as they are professionally managed and offer diversification. Investing in mutual funds via systematic investment plans (SIPs) not only helps you remain invested across market cycles but instils a disciplined savings habit, essential for long-term wealth creation.
Those who continue with their SIPs during March lows are now benefitting with broader market indices on a record-breaking spree.
Build an emergency corpus
Upending global economies, the pandemic has underscored the need for an emergency corpus. The impact of the pandemic has been a little soft on those who had this all-important fund vis-a-vis individuals who gave it a miss.
Building a contingency fund requires investment in a mix of market-linked and fixed-return instruments such as liquid funds and sweep-in fixed deposit. Note that ease of access supersedes returns in an emergency corpus.
Equally important is to keep your family members in loop regarding this fund so that they can utilise it in times of need. While it's advisable to have this fund equivalent to six or eight months of expenses, given the current state of affairs, build an emergency corpus that can take care of your requirements for at least a year.
Keep insurance intact
The lynchpin of a sound financial plan, insurance, hedges you and your assets financially in the event of an untoward incident. A pure term plan for life insurance is the best bet as it offers a substantial cover at a nominal premium.
In case of an eventuality, your nominee receives the sum assured as mentioned in the policy that helps your family stay financially independent.
Health insurance is equally essential as it prevents out-of-pocket expenses and prevents a dip in savings amid medical contingency.
A health plan in the form of family floater offers coverage to all members of a family and ensures you don't end up impinging on critical life goals.
Also, you need to evaluate your insurance needs at different stages of your life and make modifications accordingly.
Don't let emotions cloud judgement
Dealing with money often results in making emotion-driven judgements. However, more often than not, it's likely to backfire. Hence, it's vital to take a rational approach, understand your needs and act.
For example, if you have invested in equities, a short-term blip shouldn't result in you exiting the markets or redeeming your mutual fund units.
At the same time avoid following the herd, getting stuck into a loss-making investment or acting on free tips and tricks to make money just because it gives you a false sense of satisfaction.
Know that investments don't follow a one-size-fits-all approach, and therefore, it's crucial to back your decisions with logic.
Summing it up
While these tips can help augment your wealth and be steady with finances, ensure you actively involve your spouse and other family members in money matters. Their active participation can prevent you from taking rash decisions and be on your path to financial freedom.