We'd asked you, dear readers, to tell us what your first salary was and what it meant to you at the time.
Rediff reader Tushar Kulkarni, 40 from Dombivali, Thane shares his story: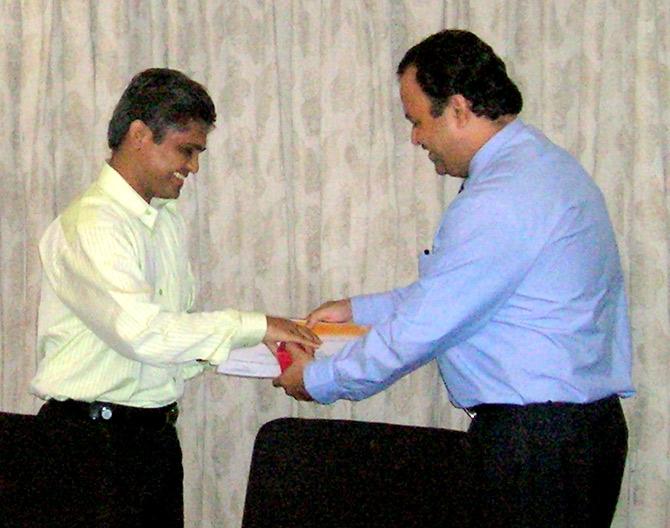 In 2000, I graduated as a computer engineer with first class.
After putting lots of efforts and smart work I was able to secure good grades and was very happy.
It took me another six months to start applying for jobs.
The IT sector was affected by global recession and there were fewer openings for freshers.
The openings that interested me were for professionals with over five years of experience.
I was disappointed that even after completing my graduation, I was getting rejected for mediocre openings.
With each passing month, I was adding to my restlessness and frustration.
But there wasn't any financial pressure from my parents. They never even asked me once when I would start earning.
In fact my father was confident and would say, 'Don't worry' it's just a bad patch and you would definitely excel at the right time.'
I got my first break as a faculty where I worked in multiple training institutions and earned Rs 7,000.
I worked part time between 8 and 10 am in one institute and 5 pm to 8 pm in another. A fortnight later, I got a full time lecturer in college for Rs 10,000 between 7 am and 3 pm.
That's when I left my job from my first institute where I was teaching in the morning.
Though salary was less to start with, it gave me a much needed start and valuable experience.
I received it as a cheque with which I got some clothes for my parents, sister and a pair of formal shoes for myself.
Unfortunately I didn't received my college salary in the first month.
I was informed that it might be delayed further by a month. I finally received that salary after six months.
Meanwhile, after two months my training institute increased my salary to Rs 8,500 and also increased the number of batches.
Although I wasn't well rewarded monetarily, I was contended to teach youngsters and some professionals (who were enrolled for part-time MBA).
During this time, I would also try and appear for at least one interview in a month.
A couple of years later when the IT job market opened up slightly, I joined a software firm at half the salary I used to earn earlier.
I focussed on improving my profile, learning skills and waited for the right opportunity.
Finally around 2004, through one of my friends who worked in a top software IT company, I applied for a job there.
There were several rounds of selection process.
A few days later when I received the offer letter, I was full of joy as I had made it.
I was so surprised and taken aback. I read it for a couple of times to be sure about the offer before informing my father.
I was finally able to draw the salary I deserved. I celebrated it proudly by taking my family out for dinner.
Looking back, I consider all these four jobs as my first jobs for different reasons.
---
READER INVITE
Dear readers, do you remember what your first salary was?
When did you receive it? Which year was it?
Do you have a photograph of it?
What did it mean to you at the time? Tell us all about it.
What was your first job and salary? And how did you spend it?
Did you buy a sari for your mum or a gift for your girl/boyfriend?
Write in to us at getahead@rediff.co.in (Subject line 'My First Salary') along with your NAME, AGE, LOCATION and photograph, if possible. We will publish the best responses right here on Rediff.com!