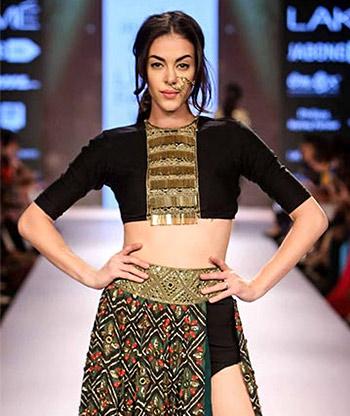 Exaggerated sleeves, bold colours and individualistic styles -- Avantika Bhuyan tells you what will be in vogue in 2017.
It's time put our fashion foot forward in 2017.
Give a whole new spin to your wardrobe with these tips.
Create a splash with colour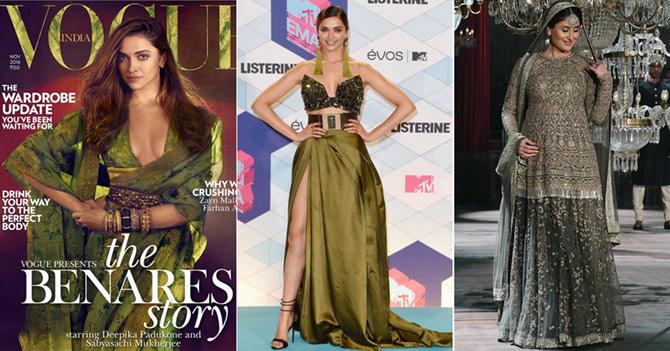 IMAGE: Green is in!
Photographs: Deepika Padukone on the cover of Vogue India; Anthony Harvey/Getty Images; Hitesh Harisinghani/Rediff.com
With the Pantone Colour Institute -- a global authority on colour and provider of professional colour standards for the design industries -- having just announced 'greenery' as the colour of 2017, the coming year will see this fresh, zesty shade liven up the international ramp like never before.
An article by Pantone on the choice states: "A constant on the periphery, 'greenery' is now being pulled to the forefront -- it's an omnipresent hue around the world."
Rhea Gupte, photographer and stylist, feels that this announcement will prompt several designers in India and abroad to use green as their fundamental colour.
Bold colours such as ochre and orange are likely to be in vogue too.
"The monochrome trend will also continue to reign high in the coming year as it is really classy," she says.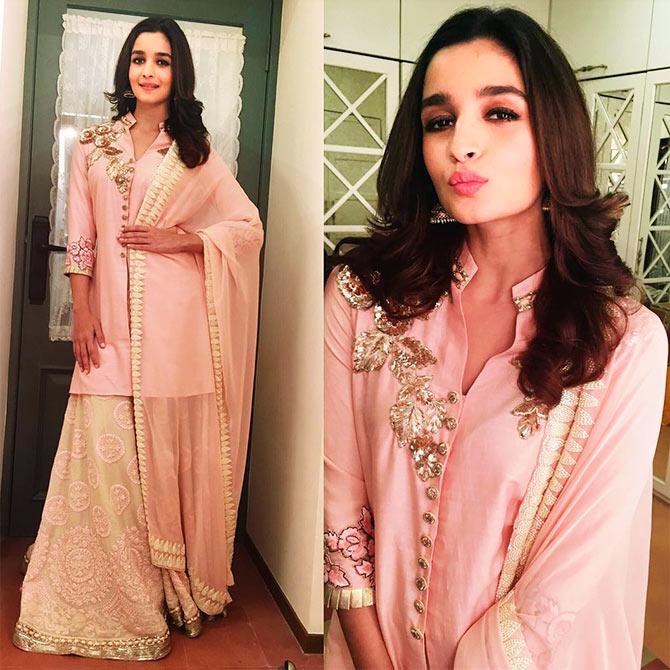 IMAGE: Don't say goodbye to pink.
Photograph: Kind courtesy Alia Bhatt/Instagram
The other colour that is likely to compete with green for its share of the spotlight is going to be pink in all its glory.
"It will be one of the biggest colours.
"This year will see lot of infusions of pink, the trend will be towards a much milkier pink.
"This will dominate not just apparel but accessories as well," says Masoom Minawala, CEO of the popular blog, Style Fiesta, which offers insights on personal outfits, trend reports and a daily lowdown on the happenings in the style circuit.
Internationally, one can already see shades of pink dominate the spring summer collections by labels such as Valentino, Balenciaga, Marc Jacobs and Givenchy.
"Bold, colourful stripes will also play a major role. I have seen that happening a lot on the international runway for 2017," says Minawala.
Vintage fashion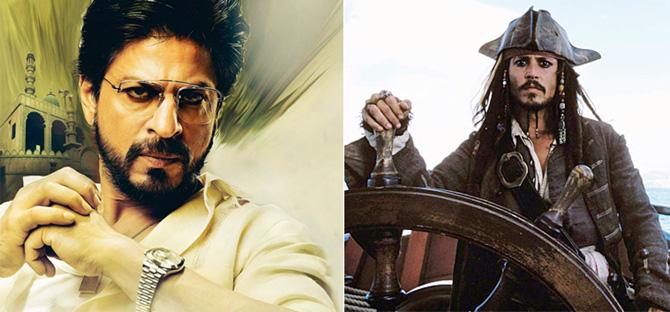 Image: Kohl-lined eyes are back in vogue.
Photographs: Poster of Raees and Pirates of the Caribbean.
Films have, for years, dictated the style choices of the youth.
This year too one will see movies such as Raees create a shift towards the fashion of the 1980s and 1990s.
"People are really appreciating the pathanis with the embroidery," says Sheetal Sharma, costume designer and stylist for the film.
The film has also brought back the kohl-lined eyes look for men, which was in vogue when Johnny Depp sported the same in the Pirates of the Caribbean films.
"A lot of my friends follow fashion and are trying the look," says Sharma.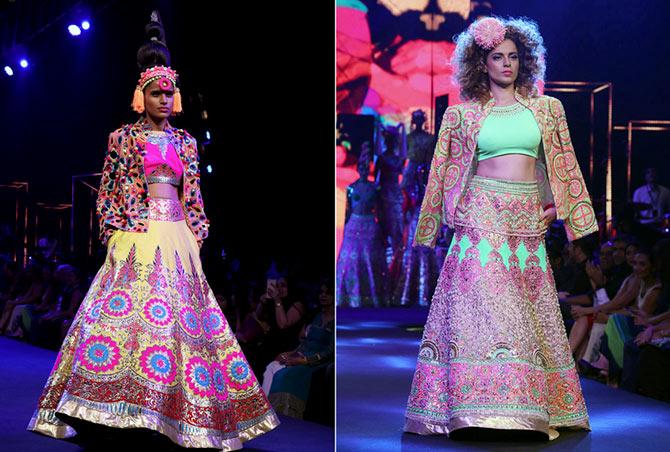 IMAGE: Give a huge nod to arty pop.
Photographs: Hitesh Harisinghani/Rediff.com
Vintage and retro fashion is likely to come back in a big way with tweeds and high-waist, pleated pants.
"This means arty pop, metallic colours, oversized garments, sheer fabrics and ruffles will be a crowd favourite," says designer Ritu Kumar.
Ruffles are being used in a big way by the designer duo of Hemant and Nandita for the runway SS'17 collection, 'Romance Reinvented'.
It pays an ode to the Victorian era and the voluminous outfits sported at the time with ruffles added to the hem of the skirt, shoulders and sleeves, while keeping in mind the wearability of the garment.
"Wearability is something that is of utmost priority and importance to me.
"I just can't put a collection together till the time I can totally imagine bloggers or people strutting across the street, flaunting the new trend for the season," says Nandita.
Keep it comfy and casual
IMAGE: Athleisure is in; chunky jewellery and painted sneakers out.
Photograph: Gigi Hadid/Instagram (left) and >Kind courtesy India Couture Week (right)
The idea is to keep it light and easy in 2017, especially during the summer.
"Bold makeup or chunky jewellery will be a strict no-no while sporting this trend. We need to keep in mind a summer look that is light and fresh, so as not to draw the attention away from the outfit," says Nandita.
She suggests adding a wrap belt or an Obi belt to elevate the runway summer look. "Sneakers will continue to be a strong trend," says Minawala.
Already, one has seen hand-painted and printed sneakers in all possible hues and designs being hugely popular in 2016, but the coming year is likely to see a new kind of pairings emerge.
"Comfort wear, especially Athleisure, will reign high as well," adds Minawala.
Make a statement with sleeves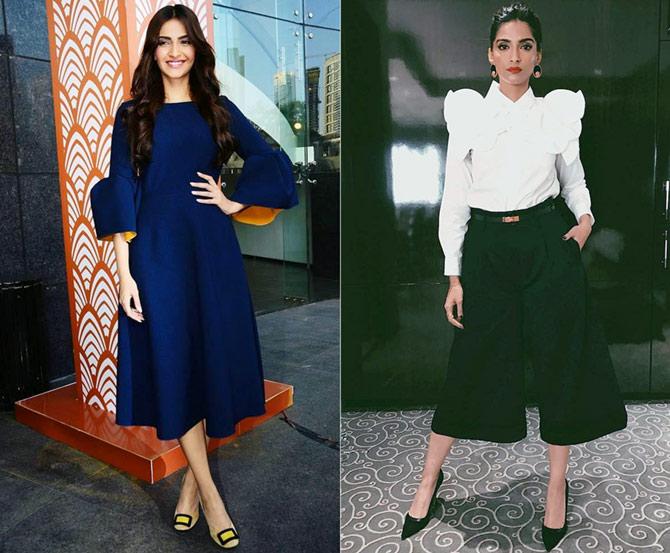 IMAGE: Sport exaggerated sleeves in 2017.
Photographs: Kind courtesy Sonam Kapoor/Instagram
The new year is all about exaggeration and this trend becomes apparent in the kind of sleeves being used by labels such as Simone Rocha, Gucci, and Dolce and Gabbana.
"2017 is all about exaggerated sleeves such as balloon sleeves, tie-up sleeves and puffy sleeves. The overly white sleeves will be a trend too," says Minawala.
Statement shoulders are likely to be a huge rage with collections featuring boxy tops and jackets with shoulder pads.
"Off-shoulder and cold-shoulder will continue to be a trend as well," says designer Rina Dhaka.
According to her, another trend that will spill over from 2016 to 2017 is the marriage of the trouser with the slit and the skirt.
Continuing the revival story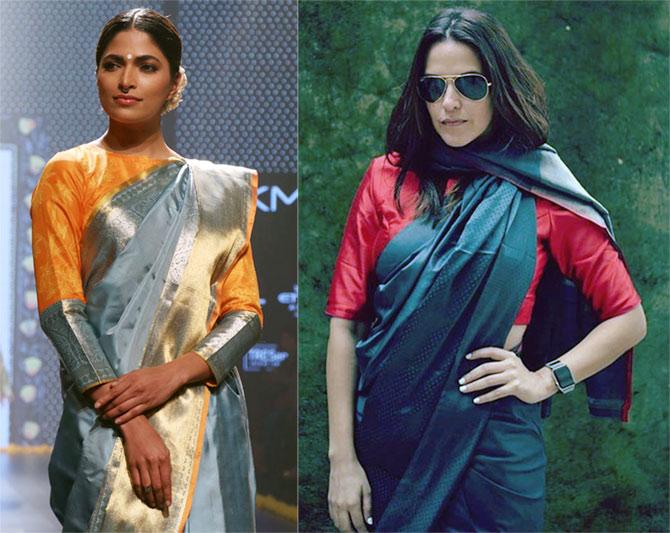 IMAGE: Paithani and tussar are in; traditional dyeing techniques and handloom are out.
Photographs: (left) Hitesh Harisinghani/Rediff.com and (right) Neha Dhupia/Instagram
2016 was all about reviving exquisite embroideries, dyeing techniques and traditional handlooms.
The coming year will see fashion designers craft more youthful designs using these traditional crafts and designs.
Rina Dhaka has been working with the state government of Jharkhand to revive tussar and make it commercially viable.
"Even though it is so close to the Bhagalpur district of Bihar, Jharkhand doesn't enjoy the kind of prominence that the former does when it comes to tussar," says Dhaka.
Also, this year, she will be using paithani to recreate a modern gypsy pret-a-porter line.
"This will be a contemporary Western fashion collection, but the story will come from the city of Paithan, where I have been doing work extensively," she says.
Ritu Kumar, who is hailed as a pioneer when it comes to revival of traditional embroideries and textile, will continue to work with craftsmen from across the country in 2017 as well.
"To attract the younger audience, we shall incorporate traditional crafts in modern silhouettes," she says.
Mix-and-match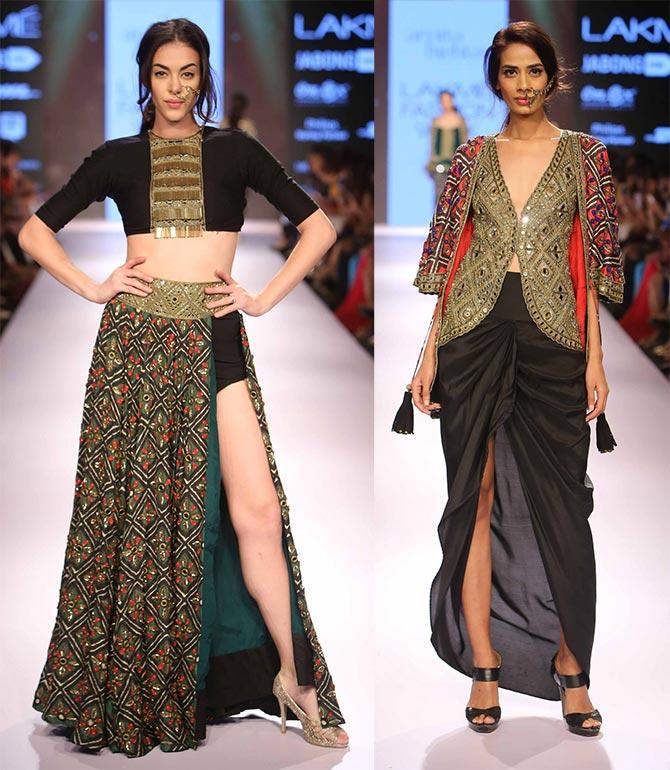 IMAGE: Think dhoti pants and lungi skirts this year.
Photograph: Kind courtesy Lakme Fashion Week/Facebook
Easy to wear separates have become a trend, says designer Tarun Tahiliani, whose SS'17 collection features a mix of new and classic shapes and has been inspired by a quintessentially Mughal summer.
Have fun experimenting with different silhouettes such as dhoti pants, lungi skirts, tunics, T-shirts, innovative kurtasw and asymmetrical hemlines for a fresh and youthful simplicity.
"It's now much more subtle and chic. You can mix and match, not just once but create a look when you buy a skirt or a pair of pants. You can mix it with something, individualise it, so you are not wearing a look from one designer," says Tahiliani.
Designers and stylists are urging Indian youth to find a style that is their own in the New Year.
That's why they are creating looks that embody the spirit of our cultural legacy, which is then updated for the global, peripatetic customer.
"There is a need for an intelligent and seamless fusion of our past and present," says Tahiliani.