These initiatives are expected to increase Gross Enrolment Ratio in higher education from 24.5 (2015-16) to 30 (2020).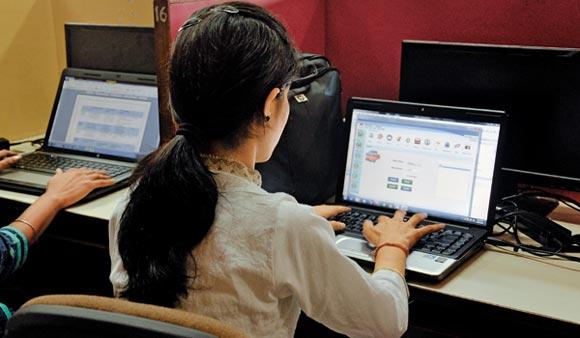 Lead pic: Rediff archives. Used for representational purpose only
The Union government has invited nearly 1,000 vice-chancellors of central, state, deemed and private universities and directors of premier institutes such as Indian Institutes of Management (IIMs) and Indian Institutes of Technology (IITs) for the launch of four major digital initiatives in higher education.
In the absence of Prime Minister Narendra Modi, who is travelling for the G20 summit in Hamburg, President Pranab Mukherjee will launch Swayam -- an indigenously designed massive open online course (MOOC), Swayam Prabha - 32 Direct-to-Home channels for transmitting high-quality educational content, the National Digital Library containing 6.5 million books, and the National Academic Depository for authenticating all certificates issued by institutions.
"These initiatives will increase the Gross Enrollment Ratio in the higher education from 24.5 (2015-16) to 30 by 2020," said a ministry of Human Resource Development (MHRD) official.
The official said the government had invited vice-chancellors and directors of IITs, IIMs, and IISc on Saturday to hold discussion on the University Grant Commission (UGC) regulation for online education and devise an action plan for promoting digital financial literacy in higher education.
The official said the Swayam programme would target those students who could not complete their studies and professional who wished to upgrade their knowledge.
Swayam, however, would not run courses such as engineering, medicine, dental, pharmacy, nursing, architecture, and physiotherapy.
"The modalities on granting degrees to students undertaking online courses is still under deliberation," the official added.
According to the MHRD, the students registered with recognised institutes would have the option of earning online credit through programme running on the platform.
Through Swayam Prabha, the government would air new content of four hours every day. It would be repeated six times a day.
"The content would be mainly for students from Class IX to XII and those who are preparing for admission into IITs," the official said.