This start-up took the 'novel' path to teach children mathematics.
Illustration: Uttam Ghosh/Rediff.com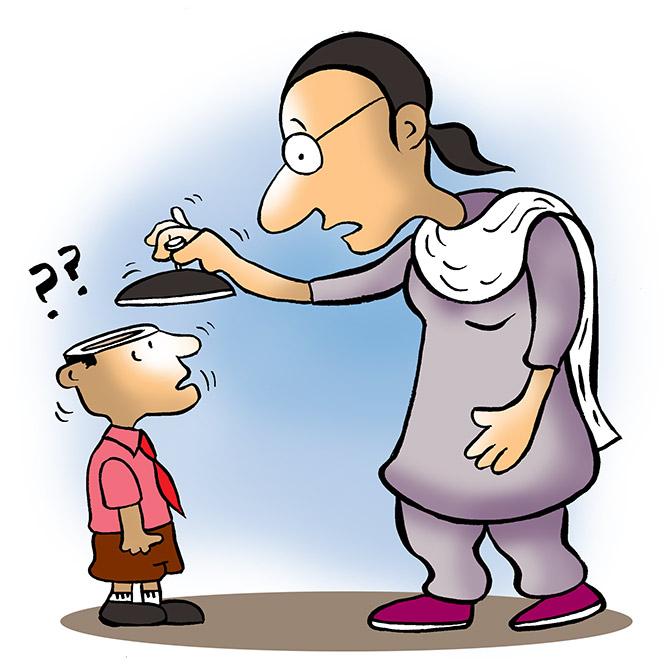 Bengaluru-based education technology start-up Cuemath has created comic-book characters to help students learn mathematics.
Backed by CapitalG, formerly Google Capital, the company hopes to tell compelling stories to children aged five to 13, and teach them mathematics in the process to be delivered digitally.
The comics will tie in with the mathematical concepts students learn in Cuemath centres.
"I was a fan of Harry Potter and became part of that universe for seven years.
"We are trying to create a world that kids can identify with and become part of. As they progress in their mathematical journey, they also progress in this universe," says Manan Khurma, founder and chief executive officer of Cuemath.
Several education technology firms are developing digital content to aid learning, but Cuemath is the first to try to engage children through comics.
Khan Academy, for instance, relies on video content to teach children.
Byju's focuses on video, animation, and interactive tests and exercises to help students to learn.
EkStep, a non-profit start-up, uses games to teach mathematics to children in rural areas.
Cuemath has put together a team of cartoonists, storytellers and artists from amongst well-known game developers, and television and publishing professionals.
The team has been working on the comics since March.
The stories are in three categories, based on age of students.
Thomas Tallman and Friends, meant for the youngest age group, deals with numbers seen in nature.
Zero Squad is an Enid Blyton-esque story of two children who use mathematics to solve crime.
Kalina and the Shards of Singularity is the tale of a rebel travelling through space breaking complex codes and figuring the mathematical origins of stars.
Learning music or a sport is easy because children are engaged, but that engagement is usually broken when it comes to teaching mathematics.
Khurma says creating content as an education tool is not easy for today's students who are exposed to books, comics, video games and movies. He is, however, confident of getting this right over time.
"We have really good people working on this, some of the best in the industry. We are also doing research, rather than just bringing in our biases. We are actually looking at what kids will like," he adds.
Cuemath has about 2,500 centres in the country where teachers coach 20,000 students in a set mathematics curriculum.
The curriculum sets Cuemath apart from its peers because of the focus on fundamentals without delving too deep into school syllabi.
This makes Cuemath less favourable to parents, who are constantly seeking ways to help their children score better marks in examinations.
Khurma, however, emphasises the need for problem solvers and analytical thinkers in today's world.
"We are up against an entrenched mindset that has been in place for decades, if not centuries. The only yardstick for success in the education system is marks.
"Unless and until the education system shifts focus to learning rather than just acquiring marks, I do not see this problem going away," he says.