'Why is the government asking parents to be careful rather than coming up with strict rules and regulations for the companies?'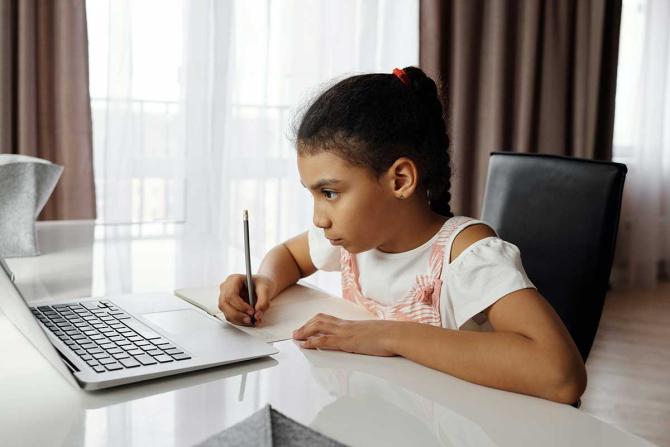 While the edtech sector has welcomed the advisory the government issued last month, several players are of the view that they need to self-regulate before strict norms enter the scene.
Ashwin Damera, CEO and founder of unicorn edtech company Eruditus, said edtech companies themselves should act responsibly and self-regulate.
"We don't want the government to come up with regulations. If seven out of 10 companies are following good practices, and the rest are not following that, then regulations would affect those seven good players," says Damera, whose firm is backed by top investors such as SoftBank and Accel.
"But if there are expected to be any regulations or the government seems to be thinking on those lines, then it should be made clearer and they should be put on edtech players," he adds.
The Ronnie Screwvala-led edtech unicorn upGrad said the advisory was constructive and strengthened the sector from a consumer standpoint.
"Education is a high-impact sector, and it is crucial that the interest of the learner is kept at the centre," says Mayank Kumar, co-founder and managing director, upGrad.
"These guidelines will ensure that the positive impact of the sector reaches every deserving consumer."
Kumar says his firm understood the consumers' need for online learning and followed a transparent approach.
"We are all in this industry to bring an impact as part of the process and we support guidelines that protect consumers from disappointments as they pursue their career or learning goals," he adds.
The advisory was for parents and the guidelines for edtech players and it sought to curb mis-selling and unethical practices.
"Given the pervasive impact of technology in education, many ed-tech companies have started offering courses, tutorials, coaching for competitive exams, etc in an online mode,' the advisory said.
'In this background, parents, students and stakeholders in school education must be careful while deciding on opting for online content and coaching offered by a host of Ed-tech companies,' it stated.
Meanwhile, educational activists said it was a half-hearted measure and would not have any impact on the mis-selling and unethical practices happening in the sector.
"Why is the government asking parents to be careful rather than coming up with strict rules and regulations for the companies?" asks Dr Aniruddha Malpani, an angel investor who has been a vocal critic of malpractices in edtech companies.
"If the government was serious about it, then the prime minister or other senior ministers at least should have spoken about the issues publicly," says Dr Malpani.
"The advisory states that edtech companies should abide by guidelines of the Advertising Standards Council of India," says Dr Malpani. "But the ASCI is a toothless tiger which will leave a violation with just a slap on the wrist."
Pradeep Poonia, a software engineer whom Byju's-owned WhiteHat Junior sued last year after his sting operations on the company's platform, said regulations rather than guidelines were the need of the hour.
"The tweet by the Press Information Bureau received a few likes. How does that matter in a country of 1.3 billion people?" Poonia asks. "The message will not reach the intended audience at all, more so because it was published in English."
In its advisory, the government said the Department of School Education and Literacy had noticed some edtech companies were luring parents in the garb of offering free service and getting the electronic fund transfer mandate signed or activating the auto-debit feature, targeting especially vulnerable families.
It added edtech the companies concerned were supposed to have a grievance officer who must be resident in India. This is to ensure compliance with the provisions of the Consumer Protection (E-Commerce) Rules, 2020.
Industry executives said many edtech firms were putting out false advertisements, and making parents, especially in tier-2 and tier-3 cities, sign documents, which the parents did not realise were loan documents.
"They are not telling them it is a loan they have to repay over three years and they can't cancel it after three months," points out an industry executive.
Akshay Chaturvedi, founder and CEO, Leverage Edu, says: "When you set out to disrupt the status quo, and attempt doing it at an ambitious pace, not everything hits the target bang-on. But can that be aligned to not having the right intent or a desire to not make an impact? I am not so sure."
"There've been challenges, and the companies of today are still learning and evolving."
Vamsi Krishna, CEO and co-founder, Vedantu, said: "The advisory intends to provide transparency ... in a country like India only through technology can one enable such access to quality and disruption of price."
*Kindly note the image has been posted only for representational purposes.
Feature Presentation: Ashish Narsale/Rediff.com