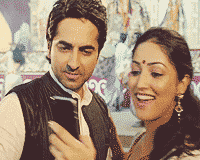 Be prepared to bump into some special people at the pandal, points out Rediff.com's Tista Sengupta.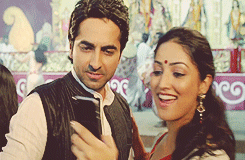 IMAGE: There's always time for a selfie.
Look how Ayushmann Khurrana, left, and Yami Gautam pose for one during Durga Puja in Vicky Donor.
It's time for some dhak (a musical instrument) and dhunuchi (a traditional dance using an Indian incense burner as prop).
It's time for some delicious bhog, pretty pandals and beautiful women too.
Durga Puja not only worships the Goddess and celebrates her powers, but also serves as a good reason for people from across the globe to meet, indulge in lip-smacking Bengali cuisine and glamorously dress up throughout the festive time.
As we all gear up to have oodles of fun during Durga Puja, here's a list of people you are bound to encounter at a puja pandal.
#1. The intellectuals
Heard someone talking about Camus or Kafka?
Tagore or Netaji?
Che or Communism?
You have met the typical 'aantel' (intellectual) Bong.
Wearing a kurta-pyjama with a pair of leather sandals, he is out to give out some 'gyaan' on all kind of topics.
Don't miss the unshaven beard and thick framed glasses that adds to the scholarly look.
If you don't happen to save yourself from his unending discussion, be prepared to be brain fried.
He loves to judge people, will smoke almost a pack of cigarettes and to debate is his birthright.
#2. The beautiful boudis/bhabhis
Ooh la la. Married Bengali women!
The large fish-like eyes, big red bindi, the bright vermillion and the heavy saris -- you can never miss her.
Usually falling in the 35 to 50 age group, these ladies love to show off their gold and sari collection.
Flaunting their curves in six yards of elegance, they don designer blouses with deep necklines. Backless to halter neck, they know how to look hot.
Found in groups, these women love to over-praise their kids, talk about their foreign tours, expensive cars, daily soaps and not to forget 'other women'.
#3. The foodie
Bengalis live to eat. Eating is as normal as breathing for us folks.
Trust, a lot can happen over food -- from bonding with unknown people to chatting about the infinite variety of Bengali food.
People throng the pandals that have the maximum number of food stalls. Biryani, rolls, chaats and sweets -- they can have it all at once.
You will find just a few eating veg during Pujas days. Most Bongs prefer fish and meat. #FoodFreaks
#4. The passionate photographer
These days, everyone's a a photographer. And when it comes to Bengalis, photography is something they have in their genes... just like arts and music.
With a DLSR camera hanging around their necks, you will notice how they keep clicking pictures of everything that anyone can see around.
Their subjects of photography vary from the idol, light and flower decoration to food, friends and random people like the pandit, the balloon wallahs to even the stray dogs hogging on food from a trash bin.
It's all artistic, they declare, and every frame tells a story. #FotoFanatics
#5. The dainty darlings
Stylish and sexy, these divas know how to steal the limelight.
These young women invest a good amount of time to look that fancy.
Right from getting that perfect outfit -- a sari, salwar or an Indo-Western ensemble -- to matching jewellery, footwear and make-up, they make sure everything they wear is superb. Because it's all about looking the best!
#6. The roadside Romeos
Have you noticed young boys drooling over women at a Durga Puja pandal? Looks like they have never seen women in traditional wear.
It's one gala time for these 'wannabes' to hook up with pretty ladies, and announce to the world that they are finally seeing someone.
And that's not where it ends. Getting selfies with the girls in the background, following them wherever they go to asking them out for a ride on their sport bikes, they can do anything and everything.
The entire year you will find them dressed shabbily, but it's only during the festival that they take special care to put forth their ethnic best.
Not only do they make girls feel uncomfortable as they keep ogling at them, they sometimes ruin the festive spirit with their cheap tricks. #SoWeird
#7. The classy gentleman
Look who you just met -- the Bengali bhadralok (gentleman).
Clad in traditional dhuti (dhoti) and panjabi (kurta), this well-dressed male can give others serious style competition.
While the married ones are seen tagging along with their wives and children or running around to take care of all the functions happening at the pandal, the younger ones -- who are mostly seen with their friends or parents -- tend to feature in the 'most eligible bachelor in the town' list for folks looking out for a groom for their daughter.
If you happen to be a single Bengali girl, you exactly know how this goes!
#8. The enthusiastic non-Bengalis
Non-Bengalis know that Durga Puja doesn't only focus on the Goddess, but also on good-looking people and food. They are always in awe of all the things that happen during Durga Puja.
Like every year, visiting pandals and offering prayers to the idol is a whole new experience.
To let the world know that they went pandal-hopping, pictures are shared on FB/Instagram/SnapChat/Twitter with hashtags like #durgapujo, #bengaliculture, #maadurga, etc.
One thing that still surprises most of the 'oh-so fascinated' non-Bengalis is -- how can Bengalis stuff themselves with non-veg food during a festival?
Guess they forget that Bengalis celebrate their festivals with food. They can afford to live a modest existence with less salary in hand, but not without good food.
#9. The 'don't you remember me' people
You might be doing the usual pandal rounds, until someone smiles at you. You don't seem to recall who the person is at that moment.
Seeing you all bewildered, the person comes up to you and asks, "Don't you remember me?"
Instead of just mentioning who they are, they keep referring to situations like where you both met or how you were as a child, and so on.
They are quite a task to deal with, especially when you are in the middle of so much fun and someone from somewhere puts your memory to test. Definitely not something you enjoyed!
*******
Dear Readers, tell us how you are celebrating Durga Puja this year.
Share photographs of your celebrations at getahead@rediff.co.in (subject: Durga Puja Celebrations) along with your NAME, AGE and the place where you LIVE.
---
Check out festive sarees, salwar suits and accessories on Rediff Shopping!