'Don't let anyone tell you that you can't do something, but especially not yourself.
'Go conquer the world.
'Just remember this: Why not you? You made it this far.'
Mindy Kaling's inspiring words of advice to Dartmouth College's graduating class of 2018 will make your day.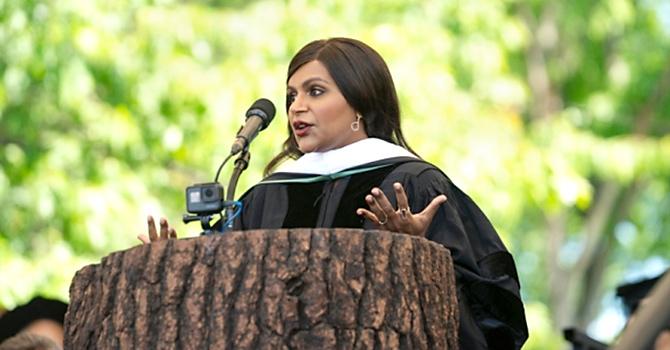 When Mindy Kaling speaks, you don't know what to expect.
In 2014, her speech to Harvard Law School's graduating class had the audience in splits.
This year, the Emmy-nominated writer-actor best known for her show The Mindy Project has done it again.
The Indian-American addressed a crowd of 12,000 at the Dartmouth College graduating ceremony.
In her fun and witty speech, Kaling had advice for almost everyone in the crowd.
Presenting some excerpts from her 17-minute speech to the graduating class of 2018:
Mindy's practical advice to graduates
In general, advice isn't actually an effective way to change your life. If all it took to make your life great was hearing amazing advice, then everyone who watched TED Talks would be a millionaire.
So don't trust any one story of how how to become successful.
As Madeline Albright said at my Commencement -- see, I don't remember anything. And I did just fine.
So here is some practical advice that you may or may not remember at the end of this speech because, hey, that's the gig:
1. First off, remove "Proficient at Word" from your resume. That is ridiculous.
You're really scraping the bottom of the barrel of competency there. This is how you become proficient at Word: You open Word on your computer.
2. Most of your post-college life is simply filling out forms. Car insurance, health insurance, W-2s. W-4s, 1099s.
Guess what? None of us know what any of those forms mean, but you will fill out a hundred of them before you die.
3. You never need more than one pancake. Trust me on this. Cartoons have trained us to want a giant stack of those bad boys, but order one first and then just see how you feel later.
4. This one is just for guys: When you go on dates, act as if every woman you're talking to is a reporter for an online publication that you are scared of.
One shouldn't need the threat of public exposure and scorn to treat women well; but if that's what it's gonna take, fine. Date like everyone's watching, because we are.
5. And this might be the most important -- buy a toilet plunger. Trust me on this. Don't wait until you need a plunger to buy a plunger.
***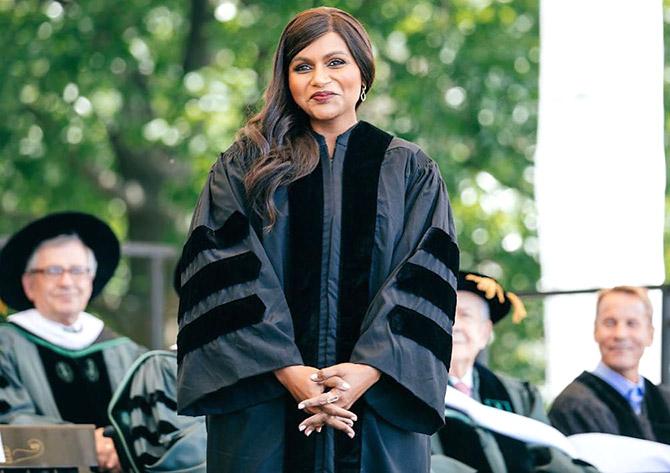 Message to the girls
Hey girls, we need to do a better job of supporting each other.
I know that I am guilty of it too. We live in a world where it seems like there's only room for one of us at the table.
So when another woman shows up, we think, "Oh my god, she's going to take the one woman spot! That was supposed to be mine!"
But that's just what certain people want us to do! Wouldn't it be better if we worked together to dismantle a system that makes us feel like there's limited room for us?
Because when women work together, we can accomplish anything.
Even stealing the world's most expensive diamond necklace from the Met Gala, like in Ocean's 8, a movie starring me, which opens in theaters June 8th.
And to that end, women, don't be ashamed to toot your own horn like I just did.
***
'Why not me?'
I will tell you a personal story.
After my daughter was born in December, I remember bringing her home and being in my house with her for the first time and thinking, "Huh. According to movies and TV, this is traditionally the time when my mother and spouse are supposed to be here, sharing this experience with me."
And I looked around, and I had neither. And for a moment, it was kind of scary. Like, "Can I do this by myself?"
But then, that feeling went away, because the reality is, I'm not doing it by myself. I'm surrounded by family and friends who love and support me. And the joy I feel from being with my daughter Katherine eclipses anything from any crazy checklist.
So I just want to tell you guys, don't be scared if you don't do things in the right order, or if you don't do some things at all.
I didn't think I'd have a child before I got married, but hey, it turned out that way, and I wouldn't change a thing.
I didn't think I'd have dessert before breakfast today, but hey, it turned out that way and I wouldn't change a thing.
So if I could impart any advice, it's this: If you have a checklist, good for you.
Structured ambition can sometimes be motivating. But also, feel free to let it go. Yes, my culminating advice from my speech is a song from the Disney animated movie, Frozen.
I've covered a lot of ground today, not all of it was serious, but I wanted to leave you with this: I was not someone who should have the life I have now, and yet I do.
I was sitting in the chair you are literally sitting in right now and I just whispered, "Why not me?"
And I kept whispering it for seventeen years; and here I am, someone that this school deemed worthy enough to speak to you at your Commencement.
Don't let anyone tell you that you can't do something, but especially not yourself.
Go conquer the world. Just remember this: Why not you? You made it this far.
Thank you very much, and congratulations to the Class of 2018.