Uttam Ghosh/Rediff.com and A Ganesh Nadar/Rediff.com boarded the Himsagar Express that runs between Kanyakumari in Tamil Nadu and Jammu Tawi in Jammu and Kashmir.
Scenes they witnessed:
The Himsagar Express travels through 12 Indian states and takes four days to travel pretty much the length of the country.
Though the condition of the train leaves much to be desired (Railway Minister Sadananda Gowda, kindly note), the scenes, the people and the sheer experience of travelling through the heart of India make the journey worthwhile.
Besides Ganesh and Uttam, only two other passengers were scheduled to travel the entire distance, both soldiers of the Indian Army.
Uttam captured these scenes as the train chugged along, as Ganesh took notes: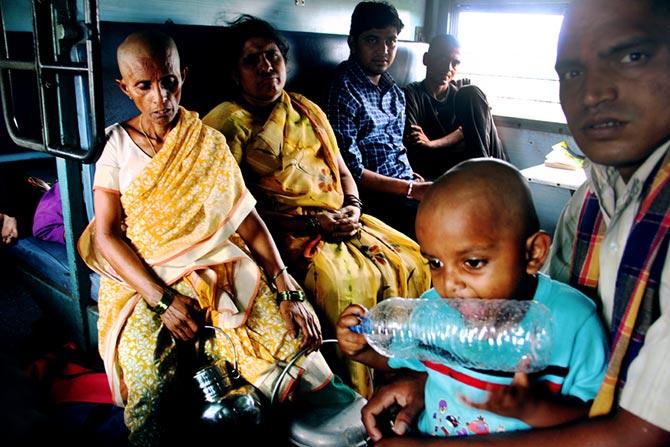 This family was returning from a visit to the Tirumala Venkateswara Temple at Tirupati, Andhra Pradesh.
These soldiers were travelling to New Delhi.
They were rather stern at first, but eventually loosened up :-)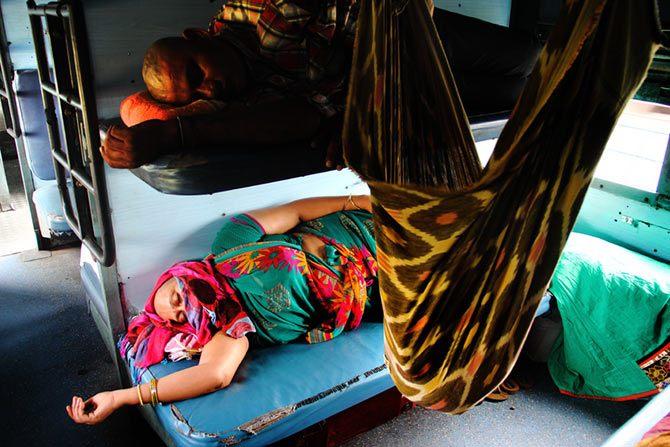 The kid you cannot see in this ingenious cradle...
And this family patiently waiting to board the train at Jhansi station.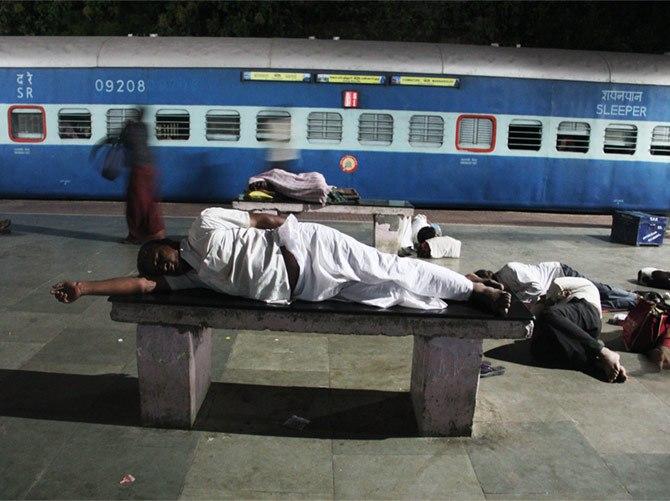 This man stretched out on a stone bench at the Erode railway station.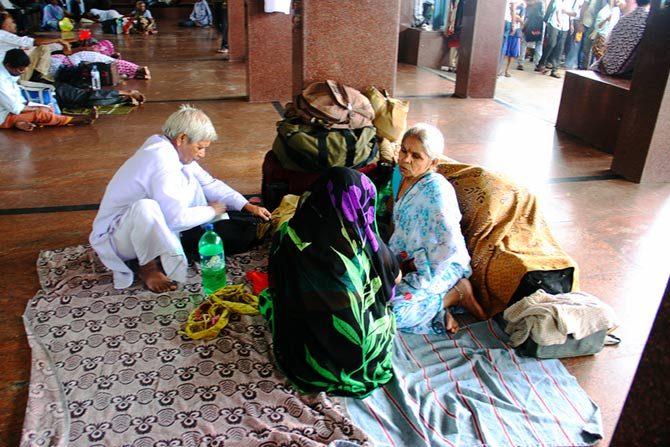 This family seems set for a very long wait at the Tirupati railway station.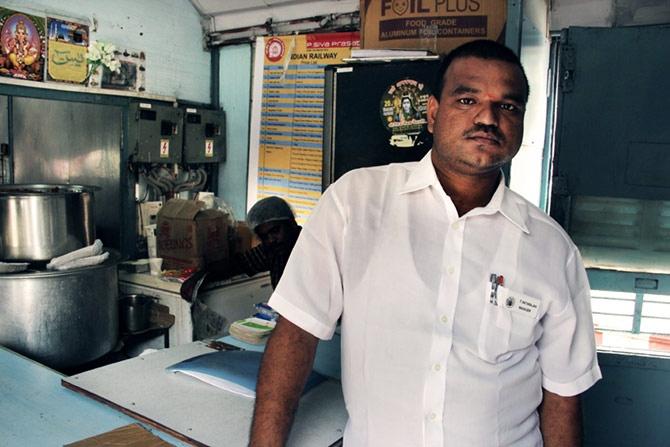 The manager of the pantry on the train, which is truly representative of India with cooks, cleaners and servers from all parts of the country.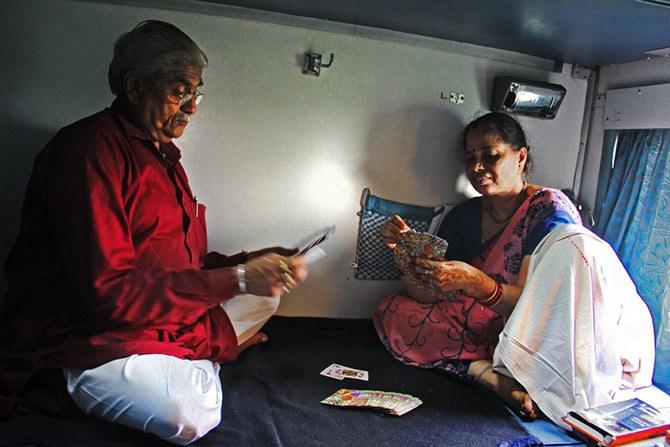 This couple from Gwalior loved playing cards so much that they were doing just that throughout the journey! :-)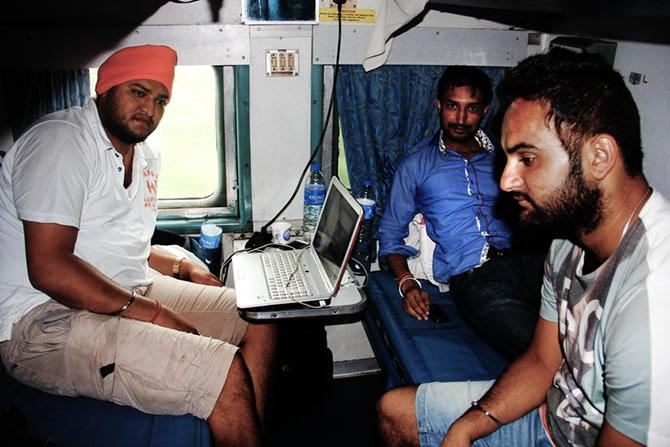 And these young men who entertained themselves with a laptop!
One of them runs a study centre for Tirunelveli's Manonmaniam Sundaranar University in his home town of Pathankot.
Why select a university that's so far away from his home?
"It is a government-run university," he says. "So I trust it."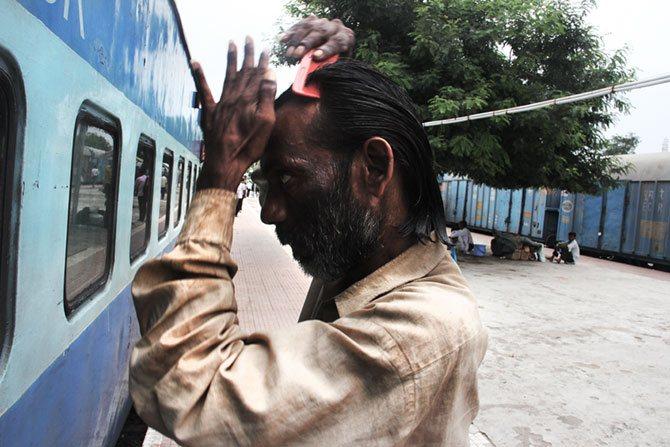 Then there's this guy who finds just enough time for grooming at Rajasthan's Dholpur railway station :-)
Dholpur is the Himsagar Express's only stop in Rajasthan.
After Madhya Pradesh the train enters Uttar Pradesh, swings into Rajasthan to stop at Dholpur and then comes back into Uttar Pradesh.
It is almost as if it wanted to just touch one more state! :-)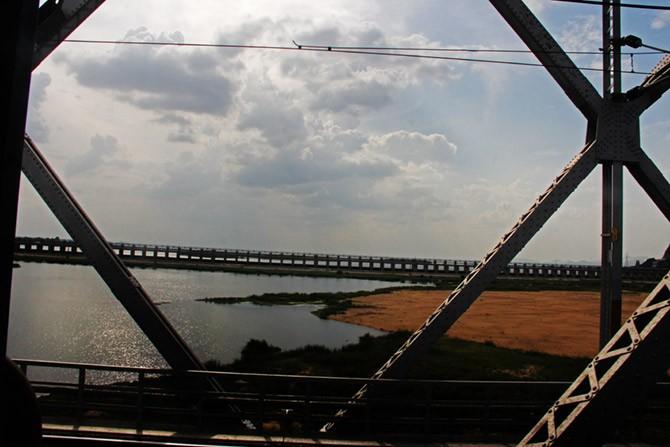 This dramatic scene across the Krishna River in Vijayawada took our breath away.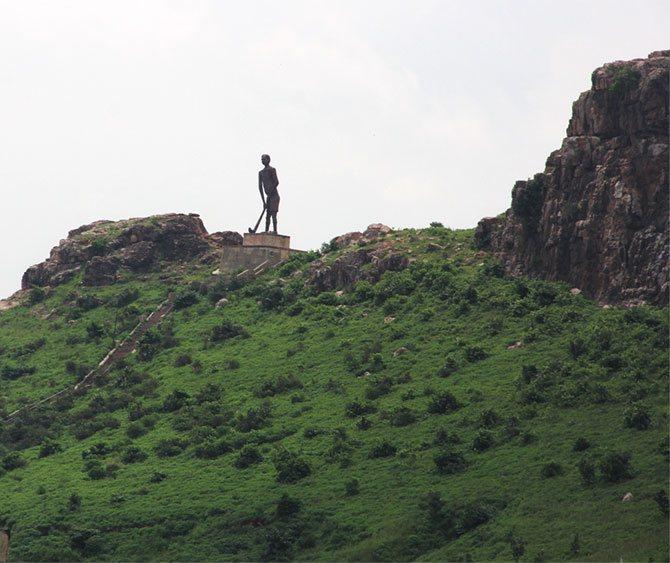 And this statue of Dhyan Chand, the greatest hockey star ever, at Jhansi you simply cannot miss.
A scene from the dreaded Chambal ravines that doesn't look so bad eh? :-)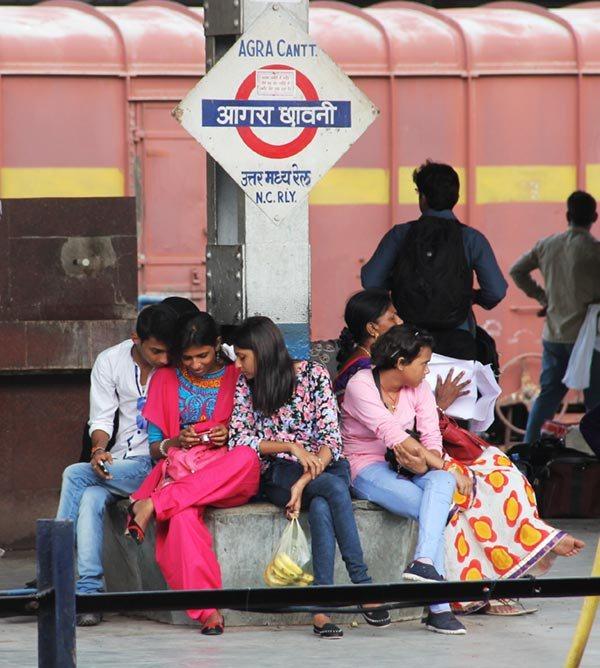 A slice of life unfolding at Agra Cantonment :-)
Kuldeep Singh, a soldier travelling from Madurai to Haryana, decided to make the most of the two-and-a-half hour halt at New Delhi and went off to have a leisurely dinner in the capital :-)
---
Love train journeys as much as we do?
Share your pictures on Rediff ZaraBol
These could be scenes from the train journey itself or interesting things you witnessed while travelling on one of the Indian Railways's magnificent journeys.
Post your photographs here -- #India-Train-Journeys Don't forget to add a few lines about the picture itself.
We will publish the most interesting photographs right here on Rediff.com