Secured credit cards offer benefits similar to regular credit cards and hence an applicant should try and get a card with lower fees and more features, suggests Sarbajeet K Sen.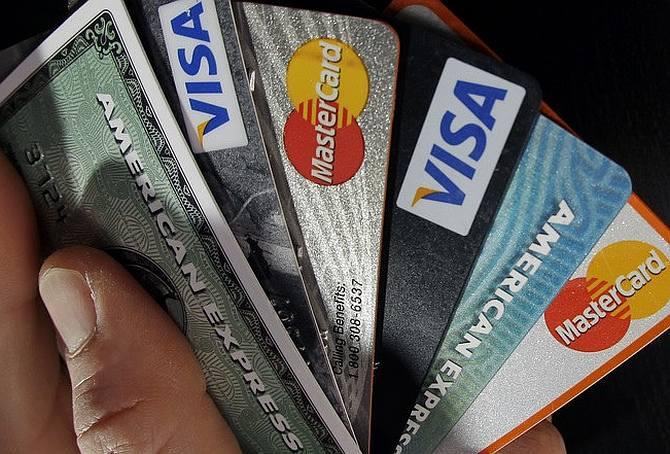 Can you venture out of your house without a credit card? For many, life without a credit card is unimaginable.
Credit cards are a lot more than pieces of plastic.
They allow you to make online payments, pay for your shopping and hotel bills and can be used to withdraw cash if the need arises.
However, some often find it difficult to acquire a credit card.
They could have a poor credit score or may not 'fit into the norms' of banks for issuing cards -- be it low salary, no income proof or erratic income, or even a resident of a 'blacklisted area'.
Banks are very particular about ticking all the boxes on their checklist before approving the issue of a credit card.
Even if one of the points is not ticked, there is a fair chance that the applicant won't get his credit card.
For those who are declined a credit card, acquiring one against a fixed deposit is an option.
In industry jargon, these cards are called 'secured credit cards'.
A secured credit card works like any other credit card.
It has a credit limit, billing cycle, pay-by date, expiry date and so on.
The only difference is that it is not issued on the basis of one's creditworthiness.
Here's how it works
An applicant fills up the credit card application and makes a fixed deposit with the issuer for the stipulated amount, say Rs 1 lakh.
The bank will issue a credit card with a credit limit of say Rs 75,000.
The credit limit is set below the fixed deposit amount and could range between 75% to 90% of the deposit amount.
If the credit card holder fails to pay the dues, the bank forecloses on the fixed deposit and recovers the outstanding money once the dues hit the fixed deposit amount.
It is a win-win for both the issuer and the card applicant.
The bank is safe as it already has access tp the money owed in case of default and won't mind issuing the facility even if the applicant has a sub-par credit history.
The applicant too gets immediate access to a credit card and can use the same for his needs.
The bigger advantage of a secured credit card is -- you get an opportunity to build your credit score.
Tool to build credit score
Consider the situation of a loan defaulter.
Either no bank would want to extend him a loan or would charge a very high rate of interest.
If such a person needs to build a credit repayment track record, a secured credit card can be extremely handy.
"Utilising the secured credit card and demonstrating the ability to make consistent on-time repayments will help build one's credit score. It is ideal to keep the credit line utilisation under 50 per cent of the credit limit in order to maximise credit score improvement," says Ranjit Punja, Co-Founder, Creditmantri.com.
A score above 750 out of the maximum 900 is considered good by most lenders.
The cardholder can give standing instructions to collect dues from her/his savings bank account on the due date and keep her/his account well-funded.
If s/he keeps paying back credit card dues with a decent credit utilisation ratio, her/his credit score will improve over a period of 24 to 36 months.
The credit utilisation ratio is calculated by dividing the credit availed by one's credit limit.
So, if you have a credit limit of Rs 80,000 and avail a credit of Rs 40,000, then your credit utilisation ratio stands at 50 per cent.
Get the best deal
Secured credit cards offer benefits similar to regular credit cards and hence an applicant should try and get a card with lower fees and more features.
"Applicants of secured cards should compare the finance charges, credit limit, annual fee, reward point structure, cashbacks, discounts and other benefits of various secured credit cards as in the case of regular credit cards," says Naveen Kukreja, CEO and co-founder, Paisabazaar.com.
Also, like other cards, one needs to use it judiciously.
"Spend only what you can afford. Credit card interest rates tend to be very high. Try and maximise the repayment for spends in the previous month. It is ideal to repay the Total Outstanding amount within the due date, rather than make only the Minimum Due payment as the interest rate applied on unpaid balance tends to be quite high," says Punja.