Teenagers are not trying to be rebellious, they are trying to establish their identity.
Here's how you can understand the difference, says Manavi Kapur.
Illustration: Uttam Ghosh/Rediff.com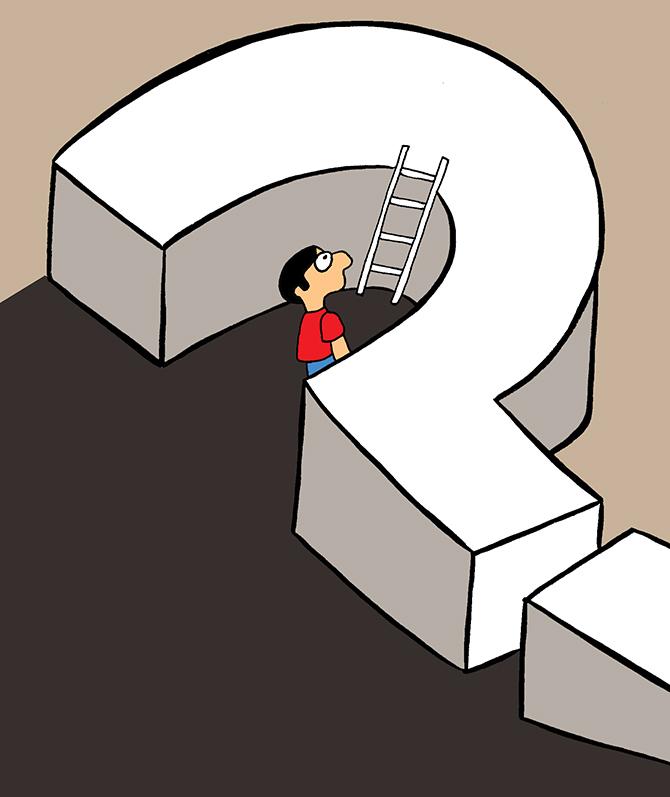 When Radhika Gupta's son turned 16, her mind was going through more than a mother's lament at seeing her child grow up "too fast."
Her son, a usually good student, was performing poorly at school. He had become reclusive and refused to participate in family outings. Gupta wanted to ensure he got the right guidance to overcome his psychological turmoil.
To her surprise, while her son was no longer a child, his only option was to see a child psychiatrist who also specialised in adolescent psychology.
Gupta's son was stuck between childhood and adulthood, and even professionals couldn't see him as an adolescent.
Recognising this void, in a first for any mental health facility in the country, the Bengaluru-based National Institute of Mental Health and Neurosciences will soon start a dedicated psychiatric clinic for adolescents in the age group of 16 to 18.
To those who may not have dealt first-hand with adolescents, this may seem like too niche a proposition. But psychologists and school counsellors believe that the psychological upheaval characteristic of this age can influence a person's mental health in adulthood and even impact life decisions.
Besides, the raging teenage hormones don't help matters and, for that reason, adolescents need extra attention and care.
"Our body and mind are interlinked through neurochemicals, the immune system and hormones. Hormones and neurochemicals influence our emotions, thoughts and behaviour," says Sameer Malhotra, director of the department of mental health and behavioural sciences, Max hospitals.
These are also the years when, according to Dr Malhotra, asexuality transitions to sexual awareness. This awareness leads to a consciousness of body image and self-esteem.
"Adolescence is a sensitive age of development. It is an age of transition from childhood to adulthood, from dependence to exploring independence," he explains.
Anupriya Kapoor, senior school counsellor at Pathways, Noida, says the conflicting emotions inside an adolescent's mind are heightened by the fact that he or she feels misunderstood.
"They crave independence from their parents, but they also want to fit in, to conform to the norms of their peer group. What parents see as rebellion needs to rather be seen as a need to establish their identity," she explains.
The growing sexual awareness also brings with it problems of its own.
"Sexual education is not a problem because almost every child has access to the Internet today. What needs more focus is sensitising adolescents to the opposite gender and explaining the concept of consent and respect," says Kapoor.
Educating adolescents about the emotional repercussions of sexual relationships and teaching them to value and respect boundaries, whether their own or their partner's, could go a long way in creating a healthy family model for generations to come.
But beyond sexuality, the identity conflict, in many cases, could even lead to serious psychiatric disorders such as schizophrenia, eating disorders and depression.
This is the reason NIMHANS believes that adolescents need to be treated as a separate category and not be classified as either children or adults.
The new adolescent psychiatric ward, NIMHANS has said, would provide a model for creating specialised diagnosis and treatment plans for these 'young adults.'
"Parents need to understand that they now have to deal with their children as they would a friend or a peer. Once adolescents know they are being heard, it can open a channel of communication that can be extremely helpful," says Kapoor.
Parents must observe their child's behaviour carefully and seek help before it is too late.
"Try to listen to them and seek professional help early," suggests Dr Malhotra.
And the greatest consequence of that would be a child who will smoothly transition from a moody adolescent to a well-adjusted adult.
When to seek help
Parents and schoolteachers should observe these changes among adolescents and intervene:
Persistent sadness of mood.
Repetitive behaviour, social withdrawal.
Significant and frequent anger outbursts.
Disturbed sleep and appetite.
Significant weight changes, restlessness and lack of interest.
Getting into substance abuse.
Issues with respect and self-esteem.
Self-harming behaviour and threats of self-harm.
What you can do to help
While interacting with adolescents, keep these things in mind:
Avoid giving orders and instructions.
Instead, describe a problem and calmly suggest solutions.
Learn to be patient with them and do not pass sweeping critical statements.
It is important that adults share how they feel too.
It will help sensitise adolescents and also allows them to open up about their own feelings.
Share information rather than blame.
Offer them choices and try to arrive at a compromise.
State your values and expectations for them clearly.
Sometimes, even writing these things down can help.
Treat them like adults, but always be available when they need guidance.
There is a need not to get provoked by the emotionally driven behaviour of adolescents.
Try to understand and empathise with them.
Try to use reasoning and help them explore their reasoning abilities.
Encourage them to use logic.
Give adolescents space to explore their individuality and pursue their creative and constructive interests.
Try not to draw comparisons with other children.
Do not cut them short and allow them to express themselves.