Kehkashan Basu, winner of the prestigious International Children's Peace Prize and Free a Girl advocate, writes an open letter to all men answering that question.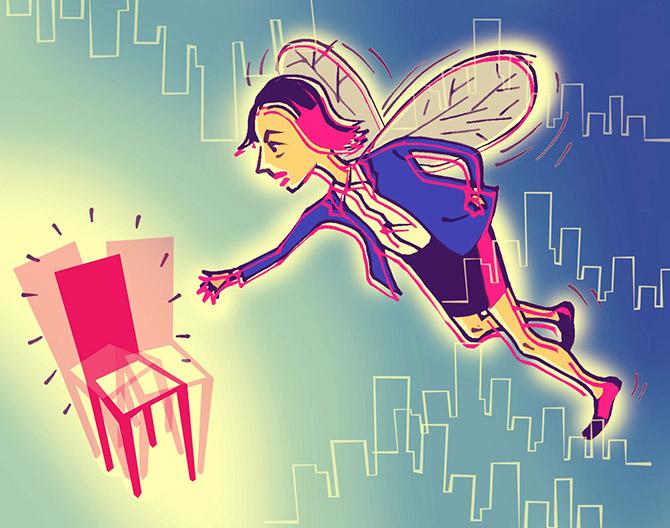 Illustration: Dominic Xavier/Rediff.com
Kehkashan Basu knows too much about oppression girls face for a 17 year old.
But that is the burden she bears as an advocate for Free a Girl and Youth Ambassador for the World Future Council.
Basu stepped into these roles after she won the prestigious International Children's Peace Prize -- which even Malala Yousafzai had won before winning the Nobel Peace Prize -- in 2016 for her fight for climate justice and combating environmental degradation.
All that she continues to see prompted Basu, who lives in the UAE, to write an open letter to all men on International Women's Day asking them to 'work along with women so a women's day doesn't have to exist':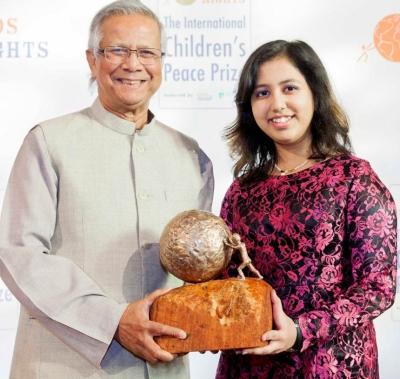 Kehkashan Basu received the International Children's Peace Prize from Bangladesh's Nobel peace laureate Mohammad Yunus in 2016.
Photograph: Courtesy KidsRights Foundation.
Dear Men and Boys,
I write on behalf of all the girls and women in India who celebrate Women's Day amidst cynical murmurs of why this 'Day' has to exist.
I'm all of 17 years old and have been fortunate to be growing up in an age when human rights pioneers made major strides in raising awareness and promoting gender equality.
As we celebrate another International Women's Day, it is imperative that we all join hands to ensure that we create a world of equal opportunity for both women and men. The dream of realizing a sustainable future will depend largely on how successfully civil society empowers women and girls from all walks of life.
The first IWD was celebrated way back in 1909 at a time before women had the vote, to designate a day around which activists and others could co-ordinate protests.
But in 2018, more than a century later, when so much progress has been made, does a 'Women's Day' have to exist? The unfortunate truth is that the answer continues to be a resounding yes!
While I do wish International Women's Day didn't have to exist any longer, I also yearn for all women and girls to be safe and truly free.
Our struggles begin in the womb and continue till the day we die.
I emphatically wish that this changes so that women everywhere have the equality and dignity every other human being deserves. I also wish no girl child was aborted or killed at birth and that no girl was ever sold as a commodity for sexual exploitation. But most of our struggles still stand in the way of true equality.
To me, one of them which stands tallest in the array of battles to be won, is the large number of girls who fall victim to commercial sexual exploitation in our country.
Like most young girls, when I started school I wasn't even aware that something like child trafficking or commercial sexual exploitation of children existed in a parallel world. In an age when I was busy growing up, studying, playing and learning, there were young girls like me who were abducted from their homes or sold by their families and forced into prostitution at that delicate age.
By the time I reached High School, these girls were probably being trained and sexually groomed to look much older, so that no one could guess their actual age and were imprisoned in thousands of brothels across the country.
Today as many as 1.2 million children, who are either my age or way younger, are held in many corners and cages of India's brothels. India has the maximum number of underage sex workers in the world.
Irrespective of the prevalence of law that forbids child marriages, we also have around 23 million child brides. I was shocked to learn that according to our Ministry of Women and Child Development from an estimated 3 million Commercial Sex Workers in India, almost half are children.
Child rape and sexual abuse has become a moral epidemic.
Every 'Women's Day' for us as a country is a grim reminder of just how far there is to go before the deep-seated inequalities that make young girls subject to violence, abuse and sexual exploitation are addressed and completely fixed.
So, if you ever wondered why this day exists again, just know that we're not there yet.
In a country with millions of its children in forced prostitution, it is painful to me when I learnt that just a mere 55 cases have been convicted in 2015. It is this impunity of the perpetrators which makes us the fastest-growing regions for child trafficking in the world.
This is why I lend my voice and support Free a Girl India, which is dedicated to sensitizing us about forced prostitution of young girls.
One of the radical steps taken by Free a Girl includes the launch of the 'School for Justice' , which is a unique initiative to educate girls rescued from child prostitution and aspire to become lawyers and public prosecutors. The aim is to counteract injustice of impunity.
This program will enable students of the School for Justice to help others that have gone through a similar torturous past and serves as an important step in smashing the cycle of impunity.
But, we need to stand-up against the commercial sexual exploitation of children (CSEC) and put shame back where it belongs -- with the perpetrators and the people protecting them.
This Women's Day provides us all with the perfect chance to remind ourselves that the sort of wincing cynicism is a luxury only possible if we shut our eyes to the millions of girls trapped in brothels, across the country...
I call every human in India, or should I say people kind, to embrace IWD, join forces to counter commercial sexual exploitation of our girls and the impunity of the evil perpetrators.
We probably won't change it in just one day, but we can change it one day at a time… Until Women's Day can be dropped as an unnecessary relic.
Sadly, we're not there this 8th March.
Recommended for you: Have you met the Indian American who won the Children's Peace Prize?