Online learning platforms have become go-to places for those suffocated by the current curbs on movement.
Namrata Kohli has the details.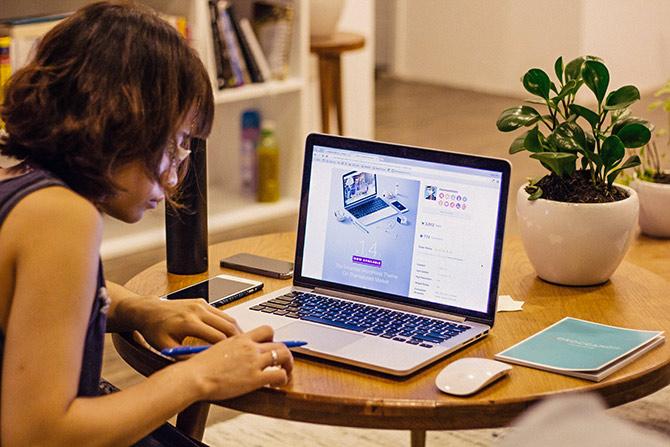 They say when you cannot go outside, go inside.
Philosophy apart, there is one positive fallout of the lockdown.
The curbs have provided an opportunity for self-enrichment and there is a great deal of interest in online learning platforms such as Udemy, Coursera, Google Learning, LinkedIn Learning/Lynda, Udacity, UpGrad, EdX, Code Academy and Future Learn.
Their courses vary from short-duration sessions lasting 4-7 hours to more in-depth and engaging certificate/diploma/degree programmes running into several weeks and months.
Available at every level, from fresher to intermediate to advanced, these platforms are seeing new registrations from people who want to upgrade their professional skills, enhance their resumes with additional degrees, gain insights into topics of emotional intelligence, figure out work-life balance or simply acquire a new hobby.
"The key attribute for success in today's working environment is the ability to learn and acquire new skills," says Irwin Anand, MD, Udemy India.
"Sometimes a crisis gets the best out of people. There is a three-fold increase in demand for business skills such as digital media management, stock trading and financial analysis, and a five-fold surge in acquiring new hobbies such as painting and playing a musical instrument, and activities such as Pilates (which is also being used to coach kids during the lockdown)."
Apart from an increase in registrations by individual learners and companies, there is a 125 per cent surge in new instructors -- working professionals who are creating videos based on their practical skills.
What's on offer
"Courses that continue to have a strong audience are the ever-trending star areas of technology -- Python, Java, ethical hacking, data science and machine learning, given the pace of digital transformation," says Udemy's Anand.
Apart from professional enhancement, there is considerable interest in developing skills that allow you to become a better person.
The blockbuster happiness course from Yale university is being rolled out free of cost.
Its curator Laurie Santos, known for 'The Science of Well-Being' course, says, "We decided to offer the class online for free back in March of 2018.
"At that time, Yale had received a lot of press for the live class I taught on campus called 'Psychology and the Good Life'.
"We realised that lots of people could use evidence-based insights to improve their happiness."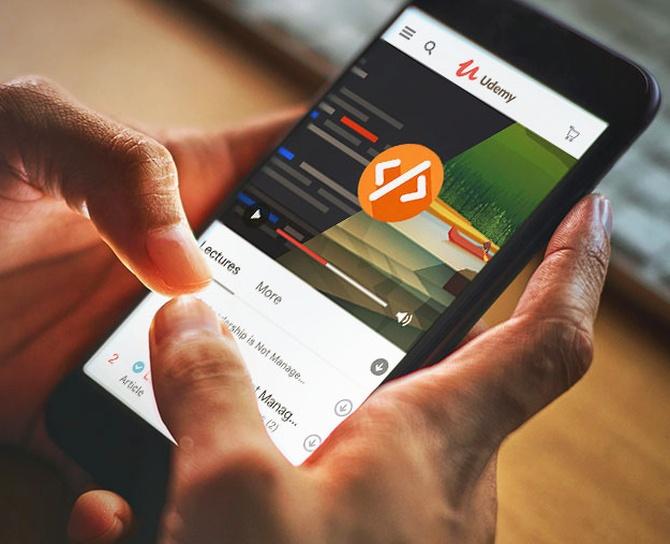 Between its original launch and February 2020, the course had over 500,000 learners.
But since March 1 and the Covid-19 crisis, more than 1.5 million people have signed up for it.
Says Santos: "I think the increase stems from the fact that people are looking for that thing to do, to protect their mental health during this crisis. And the class provides evidence-based interventions that anyone can use to feel happier."
Many Ivy League universities, such as Harvard and Stanford, also have well-institutionalised online-learning content on their websites, much of which is free.
Time has slowed down and people can't travel or run off to work, or hold meetings in person.
Children can't attend coaching and hobby classes.
For 18-year-old Suhani who just took her Class-12 board exams, the lockdown has provided her "the perfect opportunity to learn how to play a flute".
For marketing professional Abhishek Srivastava, who always wanted to learn video editing but never had the time, this was a God-sent chance to take tutorials from YouTube and Udemy.
He bought video editing tools from Pinnacle studio, Viddyoze and simultaneously worked on PowToon and Toonly animation.
Says Srivastava, "I have developed couple of explainer videos and, after the lockdown, I'm planning to shoot some good videos and then edit on these platforms."
Professionals aspiring to move up the corporate ladder have been subscribing to many programmes that help build competencies and improve their job profile.
Education consultant Atreyi Goswami, who heads international collaborations at The Global Avenues in South Delhi, says the lockdown has given her time to complete as many courses as she possibly can.
She has enrolled in four such courses after concluding one on Emotional Intelligence at Work by Coventry University, UK on FutureLearn.
Goswami is currently undertaking the Google Digital Marketing certification course, along with courses within the Collaboration, Communication and Remote Working programme offered by the University of Leeds -- again on the FutureLearn platform.
She says, "For a working professional like me, these online courses from leading universities or organisations are quite flexible and I can pursue them according to my own time-table.
"Studying would always require some amount of self-discipline, but platforms like FutureLearn strike a balance between learning and work schedule."
In today's job market, one needs to constantly upgrade oneself with the latest skills and technology.
Companies subscribe to B2B learning platforms such as SkillSoft and others.
According to a Skillsoft spokesperson, "We have seen data analyst becoming a data scientist, a mid-manager promoted to senior manager and getting a four-fold salary hike."
This works both for employees and employers. Apart from remuneration, the opportunity to grow also helps retain employees.
Platforms that upskill employees have seen a quantum jump of 25-80 per cent in the number of staff elevated to higher positions from within the organisation itself, during the past few years.
That said, companies and employees must commit an average of six months to the programmes they offer.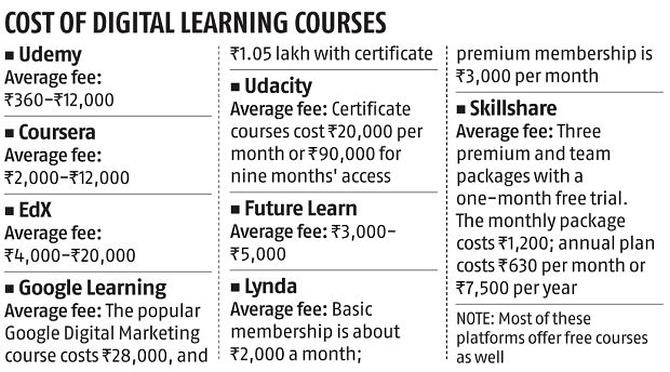 Meet the instructors
Eighty per cent of them are professionals, with proven skills in the work environment rather than academicians.
Says Udemy's Anand, "The skills that people learn from a practitioner can be applied on the job 'here and now', and aren't anything like a typical theoretical lecture in a classroom setting."
The courses are feature-rich with exercises, Q&A with instructors, assessments, downloadable material and discussion forums that allow learners to engage with each other.
Instructors have two modes of online training -- live classes and recorded streaming.
According to Pavan Kushwaha, an information security trainer and founder of Kratikal Tech, "During the lockdown period, we have noted a substantial 47.3 per cent rise in the number of people registering for the online 'Information Security Certified Professional' course on our education platform."
He quotes a survey which reveals that 63 per cent of students prefer live classes over recorded lectures.
In India, the online education market will be worth $18 billion by 2022, growing at a CAGR of around 20 per cent over the next five years, Kushwaha adds.
Online courses also give instructors, who are either teachers or experts in their niche areas, the chance to expand their influence globally.
According to Shani Raja, ex-Wall Street Journal Editor and currently a writing instructor at Udemy, LinkedIn Learning, "Online learning is enriching the lives of millions around the world, while changing the education landscape in a positive and irreversible way.
"The ability to learn online has made expert knowledge from the best instructors available easily and cheaply to many who couldn't previously afford it."
How much time does it take for an instructor to produce a course?
Says Raja, "In my experience, a course of decent length can take several weeks to script, a few days to shoot and a few more days or maybe weeks, to edit, depending on the complexity of the curriculum and format."
In almost all of these courses, you get a certificate that's shareable on LinkedIn.
Rashi Grover, a development sector professional undertook a Coursera course on 'Urban Nature: Connecting Cities, Nature and Innovation' offered by Lund University.
She says, "I usually choose my course based on my interest. In the past I have taken several massive online open courses (MOOCs) on interesting topics like citizen engagement and climate science."
Her latest course cost her Rs 2,140 and the course met her expectations.
Says Grover, "I loved the course, the engaging videos and other learning material and would most certainly do more such courses on topics like 'Greening the economy: Lessons from Scandinavia'.
"Since the lockdown gives me extra time, I am thinking of enrolling for some hobby courses. I found one on 'Healing with the Arts' on Coursera, offered by Florida University."
Pricing
The pricing is variable. Udemy has 15,000 free courses out of the 150,000 available on its platform.
Most online platforms run discounts to make the courses attractive. The cost varies depending on the programme.
A Master's or a Coursera MasterTrack Certificate course offered in partnership with Universities can cost upwards of $2,000.
Some portals also offer a membership called 'Unlimited' for about Rs 20,000, where you can access hundreds of short courses and tests for a year, and earn certificates of achievements.