Complete your household chores and then sit to work. If you have any pending chores to be completed, space it in between your calls or tasks, says Shikha Dutta.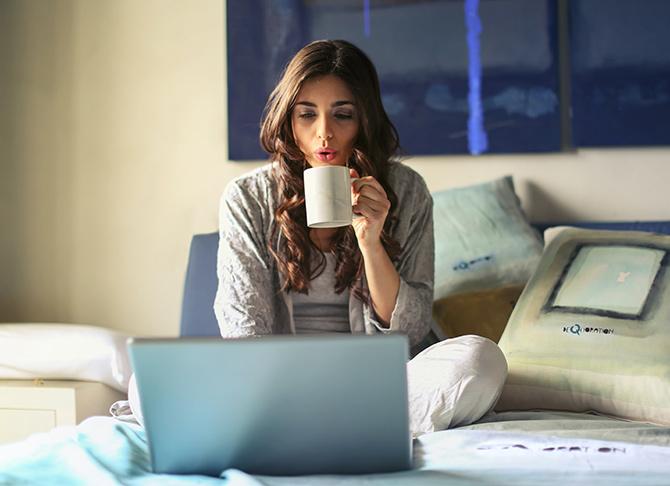 The grass is greener on the other side…Until you reach the other side.
These are not just few words, but the very essence of today's uncertain circumstances.
A lot of us envy individuals who have had the flexibility and liberty of working from home, and deep within want to make this a career choice.
But who would, in their wildest dreams, wanted to experience the trailer, staying in captivity.
Now that we are confined to our home, chances of slowly drifting into a much relaxed, no rush regime is extremely high.
Have you heard of Circadian Rhythms and what happens when it is disrupted?
The physical, mental, and behavioural changes that regulate our 24-hour body clock suddenly is thrown off and you feel out of control.
It also usually takes 18 to 21 days to form a habit. Imagine what happens when our sleep-wake pattern changes.
How do we keep up to pace of being at home, still being at work? Few mistakes that can be avoided while working at home…
1. Making a daily task list
Avoid beginning the day writing your TO-DO list.
Ideally, plan the week in advance, but if you cannot do so, pen down your task list a day prior, at least.
This will enable you manage your time more effectively. And don't forget that while working from home, the chances of you being called away for an unplanned emergency meeting, handling day to day operational tasks or having to fire-fight is minimal.
Thus, Plan-Do-Repeat is achievable.
2. Not identifying place of work
You will love to sit on the bed or the couch to work through the day. But the thing to watch out for is that in a couple of hours, slowly but surely, you will start reclining.
Your act of gradually settling into a wrong posture will be rewarded with severe back pain.
You do not need a table for working, but ensure that the place where you set up your workstation is a dedicated place and forms a part of your daily work routine.
Ideally, select as quiet a spot as possible. Keep required stationary and electronic devices within reach. De-Clutter as much as possible.
3. The wrong work attire
Being well dressed speaks volumes about you. Wearing a PJ, snuggled into your cosy corner to work will be more than comfortable, but will definitely not get you into the working mood.
Moreover, if you instantaneously need to get into a video call, it will be time consuming to change into a formal attire.
When referring to a formal attire, it does not indicate that you need to wear a Tie or Blazer, but you should be in presentable clothing.
See the clothing etiquette your seniors and colleagues are following and take a cue.
4. Not timing your breaks
Too much or too little of something is always disastrous. Not taking a break or taking frequent breaks is always uncalled for.
A healthy body is the need of the hour especially when there is limited option of physical exercise.
At work, one tends to walk the corridors to reach the conference room, printer or photocopier, take couple of coffee and refreshment breaks, climb staircases if required, etc.
At home, avoid sitting at one place in the same position for too long. On the other hand, do not take frequent breaks or ones that are inordinately long.
5. A lack of discipline
Follow the time table which you prepare for yourself depending on your work load. When you have to log out, log out.
Do not assume that since you are working from home you have 24 hours at your disposal to complete your work.
In the bargain, you will neither be spending the much needed time with family nor be able to complete your task on time.
Being organised will enable you maintain a work-life balance which you always aspired for but failed to implement.
6. Procrastinating
Lockdown 2.0 has just begun. Hopefully, just a few weeks to go before we get back to normalcy and resume work.
You might be thinking of the time you have in hand to complete the task list.
Stop! That time left will be gone before you realise it.
STOP procrastinating NOW! Treat each day as you would as if at work. Never put off until tomorrow, what you can finish today.
7. Uncontrolled social media usage
How many times have you taken pictures of your online team meetings, zoom calls, WhatsApp calls and posted on social media?
How many times have you compromised your company's confidentiality and uploaded pics?
How many times have you unintentionally exposed your entire data?
Whilst the above may seem harmless at first, have you thought about the potential risks?
With cybercrime rising rampantly, evaluate how much of information you want to share, in which network you want to share and with whom you want to share.
One of the biggest disadvantage of working from home is lack of firewalls (unless your company has enabled it).
Remember, the onus of maintaining the sanctity of your organisation's proprietary information is as much yours as that of any IT systems'.
As a brand ambassador of your organisation, use your judgement on what is acceptable and what is avoidable.
8. A lack of accountability
When the boss is away, the mice play.
Quoting the famous poet T S Eliot 'Distracted from distraction by distraction.'
Do you keep checking your WhatsApp, Facebook, Instagram or any other social media app through the day?
Each employee is his or her own boss in today's scenario. Your manager is not there in front of you to review your day to day task.
Daily review calls or e-mails will not be as effective as a face to face session.
In such times, you as an employee need to be accountable for your roles and responsibilities.
Do not assume that your manager knows for how long you logged in on a particular day.
Stop making the mistake of staying out of touch with your colleagues. Make your presence felt remotely.
9. Extreme multitasking
Do not mix office work and household chores. Keep designated time for both the activities.
Complete your household chores and then sit to work.
If you have any pending chores to be completed, space it in between your calls or tasks. This way your attention will not be diverted and you will not be stressed about incomplete work.
Demand from kids and family will keep your hands full, but learn to let go a few.
10. Neglecting your health
Do not compromise with your health.
Have a heavy breakfast before you sit to work to keep you charged up for few hours.
Keep sipping lukewarm water through the day to build immunity.
Avoid popping junk during tea/coffee breaks.
Do not feast during lunch or it will make you lethargic.
Best to take voice calls while walking if you are not required to refer to a datasheet or notepad.
If you are glued to your chair for long, exercise while sitting.
A ship in the harbour is safe, but that is not what a ship is for.
You need to get out of your comfort zone to achieve the desired results even when you have limited resource.
Quoting the famous motivational speaker Byron Pulsifer: 'To be able to work at home successfully takes all of the following: motivation, perseverance, work, good habits, no excuses, balance, accountability, and action.'
---
Shikha Dutta is assistant director, human resource, ITM Group of Institutions. She can be contacted on ga@rediff-inc.com.
---