Model Bianca Balti, who fears not being able to return to her loved ones in Italy, reveals her deepest fears in an Instagram post.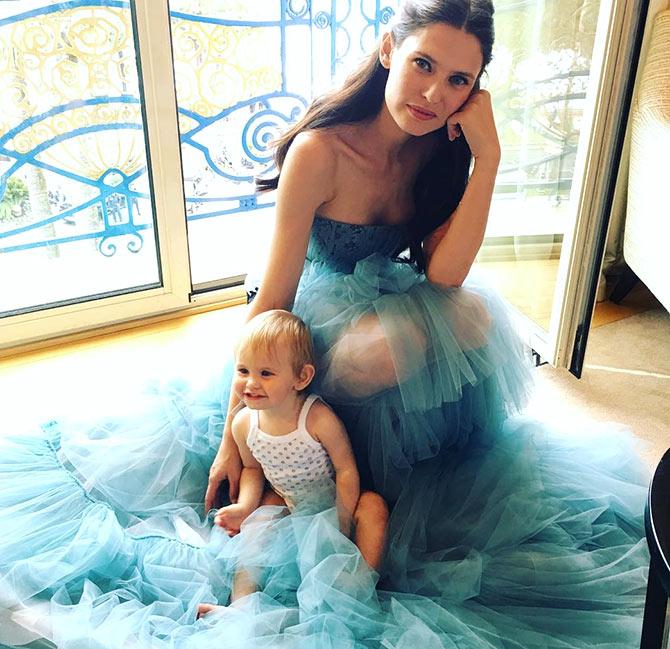 Italian model Bianca Balti is in isolation with her youngest daughter Mia in Los Angeles.
In an interview with Grazia Italy, the model revealed the challenges she faced after the coronavirus outbreak in Italy.
'It is incredible how many things have happened in the last week,' she wrote.
'How everyday the numbers change in Italy and abroad. Mine was a real odyssey.
Bianca was in Lodi when the first case was found in Codogno, Italy. 'I left in a hurry from Milan to bring my daughter home to her dad.
'I had to go back to Italy to renew the work permit for the USA, in Rome.
'When the Romans still lived their lives as if nothing had happened -- last week -- I closed myself in a hotel terrified at the idea of ​​not being able to return to Mia.
'Now that I'm in Los Angeles, I've been in quarantine for a week.
'I thought I could calm down once at home, yet the situation here seems completely out of control.
'There are no checks at airports, no tests in hospitals and a dangerous bureaucracy instead of an efficient and public health service like in Italy.'
Unsure of what the future holds for her and her family back in Italy, she says, 'Lodi I love you.
'Stay strong so I can come back to you soon. I thank the universe for giving me a chance to spend a week with my family just before coronavirus spread.
'It seems like a law will pass, anytime now, to lock down some areas until the beginning of April. At the moment I don't know when I'll be able to be physically reunited to the people I love the most.
'I can't think about what my next step will be. I am still and motionless like my dear Lodi. My body is far away but my mind is a prisoner, with my family, my friends, all of you from Lodi.
'I love you, stay strong. So that I can come to you soon.'
The model, who celebrated her birthday on March 19, added: '36 years ago I was born at the hospital in Lodi, where the beds are now full of patients with coronavirus symptoms.'
Bianca also asked her followers to give her a birthday gift by donating to a hospital in her hometown.