Gurgaon based Divyanshi Singhal's doodle of Walking Trees was selected from over 1.1 lakh entries across India.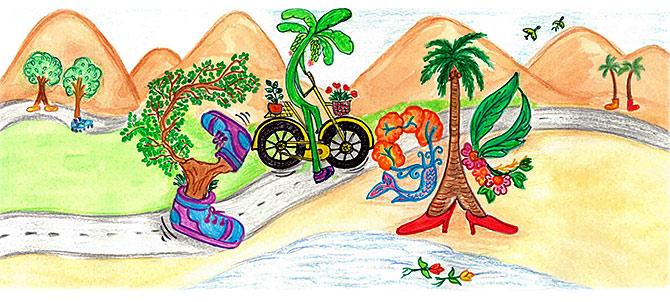 For the past 10 years Google has been hosting its annual Doodle for Google competition where it invites school children from across the country to create their own doodle for Google India homepage.
The winning doodle will be featured on the search engine's home page on Children's Day, celebrated November 14.
The theme for this year was 'When I grow up, I hope ...' and the winner of the 2019 Doodle for Google competition in India is seven-year-old, 2nd grader Divyanshi Singhal from Gurgaon, Haryana.
Divyanshi's innovative doodle was selected from over 1.1 lakh children from classes 1 to 10 across the country.
'It was heartening to see so many fresh, creative depictions for a better world -- from cleaning up the ocean, to flying solo using technology, to simply dreaming about a world without boundaries,' Google described the participants on its official page of Doodle for Google.
'After three months, and with participation from over 50 cities across India, we are thrilled to announce this year's National winner of our Doodle for Google contest: seven-year-old Divyanshi Singhal from Gurgaon, with her imaginative, thoughtful, and inspiring Doodle titled 'The Walking Tree.'
Through her doodle 'Walking Trees' Divyanshi a student of Delhi Public School, Gurgaon has expressed her idea to protect the future generations from deforestation. ​
'When I grow up, I hope the world's trees can walk or fly. The land could be cleared so easily without making them die. There would be so little deforestation and humans can just ask the trees and their friends to move to another place,' Divyanshi told Google.
Sp what inspired Divyanshi to create this doodle?
'When I visited my grandmother, I was so sad to see the trees around her house being cut. So I thought that if trees could walk or fly, we will not have to cut them,' the young girl explained.