'In our country, there is not enough space for women to step out and talk about their sexuality irrespective of their sexual orientation.'
Members of Chennai Queer Cafe, a small group of queer women from Chennai, talk about finding acceptance in a conservative city.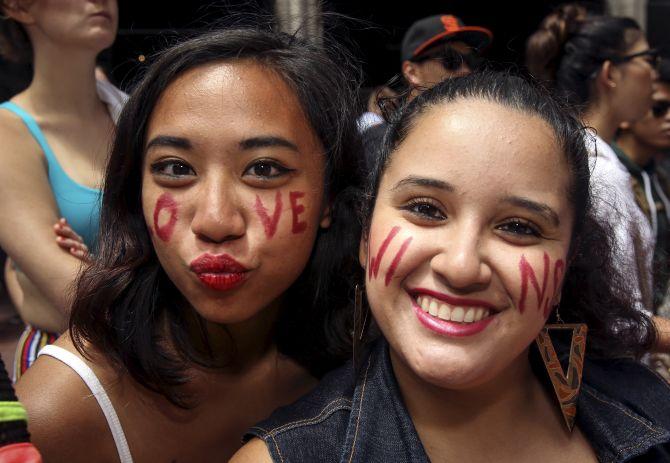 Photograph*: Elijah Nouvelage/Reuters
Chennai Queer Café may sound like the name of a hip resto bar. But it isn't.
It belongs to a group of 'queer' and 'cis queer' women in Chennai who have come together to form this space on Facebook where they can interact with like-minded girls about themselves and their day to day problems.
A cis woman is a person who is born in a female body and identifies as a woman, but they can be of any sexual orientation. The word 'queer' also refers to anyone who is not straight.
The group, which first met offline in September 2017, today has 24 members.
Against the backdrop of the Supreme Court wrestling with the Constitutionality of Section 377 of the Indian Penal Code criminalising homosexuality, Rediff.com's A Ganesh Nadar reached out to them. The group's members responded in an e-mail interview.
You have been meeting since 2017. How come there are so few members?
Given the situation in our country, there is not enough space for women to step out and talk about their sexuality irrespective of their sexual orientation.
It is not easy for queer women to get out and talk about their sexual orientation even to other queer women.
Safety of the people becomes more important than numbers. So outreach to women needs to be done through safe and trusted circles in a way to let them know that this is a safe space for them to socialise.
We have about ten members who come regularly to offline meetings. In the online space, we have over 20 people.
Have you tried to promote your group, make it more visible?
Yes, we have and we still do. Like we mentioned earlier, safety and trust is crucial for us over promotion.
We partner with different public events. We participated in the Chennai International Queer Film Festival (held July 27 to 29).
Partnering with an event like that lets people know that there are spaces for queer women too.
On your Facebook page, you've mentioned 'peeps are welcome'. What does this mean?
'Peeps' is a gender-neutral inclusive term we use to address all irrespective of their gender. It helps us be less assuming of anyone's gender.
If Section 377 is scrapped, will you be comfortable to come out in the open?
It's one's own personal choice when they want to come out.
Chennai Queer Café as a social space for cis queer women is open to anyone who is queer and cis woman.
Anonymity and safety is of utmost importance to us as a group.
We believe that our group members may choose to come out to people in their life and around them when they choose to. We do not interfere with that.
Why do you think a metro like Chennai is struggling to find acceptance?
Mumbai and other metropolitan cities are still a lot better when it comes to acceptance and with respect to finding people who are accepting.
Chennai is relatively conservative but culturally, very rich.
The state was very accepting of transgender women because of this cultural richness.
However patriarchy, which is heavily prevalent in the country, doesn't give women the freedom to be open about their orientation.
It doesn't give parents the leeway to accept their children the way they are.
The pride march has been happening for a decade now. Does it help?
Firstly, pride is not only about gender identity and sexual orientation. It is about walking the streets with pride about who you are.
The situation of people not coming out in the open is not only in Chennai but across India.
This again comes from a certain lack of self-acceptance and self-confidence and also the fear of their family finding out about their orientation. It becomes severe for queer women coming out in India.
You think the stigma is about Chennai being a conservative society or do you think that even families will not accept a different orientation?
We have seen families accept their queer children. But considering the legal situation and social pressure in India, it does take time for any family to come to that state.
The current generation of parents are more open to listening and learning. There are parents from previous generations too that have accepted their queer kids, but with time.
The minimum age required to join your group is 18. What is the age of your eldest member?
There is no limitation on the eldest. The eldest in the group is 34.
Why have you limited the membership to girls only? What about boys who may have a similar orientation?
Gay men have a lot of other groups in the city and other avenues where they meet and socialise with like-minded people.
The lack of such spaces for cis women is one of the main intentions for forming the group and making it exclusive for cis queer women.
What are your thoughts about transgenders and cross dressers?
As a group when we participate in other community events, we meet and socialise with transgender women and men, and cross dressers.
We have friends who are from various identities -- ranging from a person identifying as asexual to a person who is gender non-conforming. We love and respect them for who they are.
How do you think you can bring society and family to understand and accept you as you are?
The general perception about people from the LGBTQIA (lesbian, gay, bisexual, transgender, queer, intersex, asexual) community is not a very positive one and the law isn't helping. But with the Supreme Court hearings, it is clear that it is time for the society to make a change.
It is time for all to understand and accept that we are human beings too, just like them.
We live among them as sisters, daughters, brothers, parents, students, friends, colleagues and family.
We also work in IT, go for dinner with our parents, get extorted by criminals, have heartbreaks and have successful professional lives contributing to the country and the world. We are no different.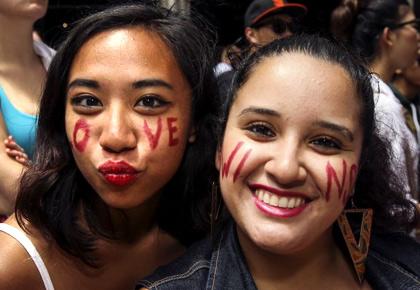 *Lead image published only for representational purposes.