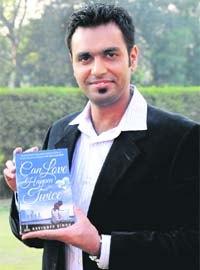 Chat with bestselling author Ravinder Singh at 4pm today on Rediff Zarabol!

Ravinder Singh is the author of bestselling books I Too Had A Love Story and Can Love Happen Twice? After working as a computer engineer for several years at some of India's prominent IT companies, Singh is now pursuing his MBA at the Indian School of Business in Hyderabad.

His first book was based on a real-life incident where he met the girl he loved. The second one is set during a Valentine's Day in a radio station in Chandigarh which hosts a special romantic chat show.

Ravin, the protagonist and his three best friends are invited as guests to tell the listner's about about his love story. Surprisingly everyone apart from Ravin turns up. As the show goes live, there is only one question in every listener's mind: what has happened to Ravin?

Ravinder Singh will take questions from you, our readers, at 4pm today on Rediff ZaraBol! Click here to log in and post your questions!