Meet Namrata Jain, the first UPSC topper from Naxal-affected Dantewada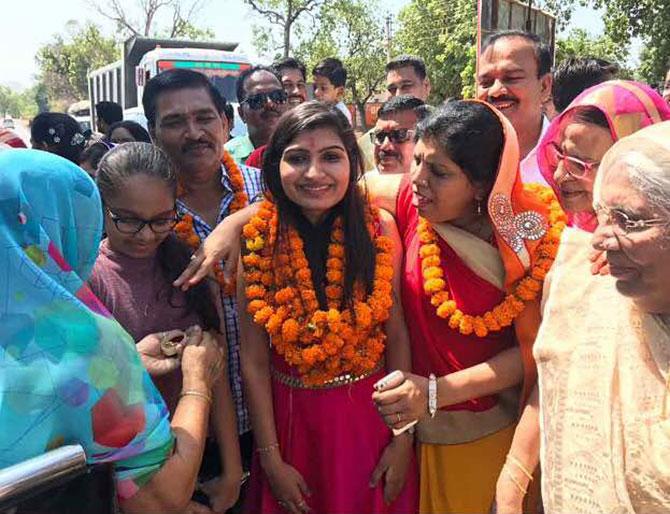 IMAGE: UPSC topper from Chhattisgarh, Namrata Jain, centre, with her father Jhabar Chand Jain (in blue shirt behind her) and mother Kiran Jain (in red sari next to her) welcome their daughter on her arrival in her hometown Geedam, June 1; Photographs: Kind Courtesy Namrata Jain
'Self confidence also matters; if you believe in yourself that is half the battle won.'
'I will be most elated to serve Dantewada.'
'Please visit Bastar; don't be scared. Bastar is a very beautiful place on earth.'
Namrata Jain, an engineer from Bhilai who did her schooling from Dantewada, stood 99th in the Union Public Services Commission exam.
She is the first person from Bastar region -- affected by Naxal violence -- to crack the Union Public Services Commission exam.
Namrata spoke with Rediff.com's Prasanna D Zore about her preparations, her challenges, her priorities for Bastar and how she would handle the Naxal crisis in the state.
How did you prepare for the UPSC exam?
I did my SSC from Dantewada and then enginereing from Bhilai. In 2014 I appeared for the first time, but it was not a serious attempt.
In 2016 I was very serious and got through the exam.
For the interviews I did my preparation from Dantewada. IAS and IPS officers there helped me a lot with my preparation.
They arranged for mock interviews and I succeeded because of the combined efforts of my family, the officers in Dantewada and my sincere efforts.
How many hours did you study when you became serious about the civil services?
Actually, I never counted my hours. It all depended on my interest.
At times I would be very slow, talk to my friends and family, and on days I'd study 13 hours at a stretch.
So, these were like the two stages, but it is consistency that matters.
What were the things that you did right while preparing for the UPSC exam?
I always believed in hard work and that is to say the most obvious thing.
While the number of hours don't matter, what matters is the number of serious hours and smart work that matters.
You have to cover everything under the universe.
Newspapers should be your way of life. You should be aware about what is going around you.
Self confidence also matters; if you believe in yourself, that is half the battle won.
What challenges did you encounter while studying for civil services exam? You come from the 'Naxal-affected' Dantewada district...
Since I come from a small area like Geedam, the first challenge was coping up with the social environment in Delhi. I was scared of that.
In Dantewada, there were no coaching facilities and we were like cut off from the way others prepare for their UPSC exam.
Even when I was preparing at home in Geedam, I could not find The Hindu, The Indian Express; there were no newspapers.
So, I had to go online, but connectivity at home wasn't that great either.
But then I feel if you are into it, determined about your goal, you will overcome any challenge that comes your way.
It's not challenges that matter; your junoon (passion) does.
You need junoon to do something in life.
Did you ever witness Naxal violence in Dantewada?
Not in Dantewada, but in Geedam, when -- I don't know how old I was -- I was in the eighth or ninth standard. I witnessed a police station blast in Geeedam.
What will be your top-most priorities after becoming an IAS officer?
Long-term objective would be Bastar's development.
Inspiring the youth's energy in the right direction and providing education, health and job opportunities to them.
The girls in Bastar have lot of potential and the state and central governments are already channelising their energies in the right direction and providing education and healthcare facilities.
In the short-term, my top-most priorities would be strengthening security for minimum casualty of our security forces and safety of the people of Bastar, countering Naxal influence and restoring the trust of people in the system and that will happen once we further strengthen our security in areas affected by Naxal violence.
Every citizen of Bastar must have faith that the government is for their welfare.
IMAGE: Namrata's extended family welcomes her home after she reached Geedam from New Delhi, June 1.
Chhattisgarh Chief Minister Raman Singh tweeted that he wished one day you become Dantewada's collector. Would you like to be Dantewada or any other state district's collector one day?
That will be my happiest moment; I will be most elated to serve Dantewada. When I read Raman Singh Sir's tweet, it was a very happy moment for me.
What will be your message for India's youth?
If I can do it, I believe, anyone on this earth can do it (pass the UPSC exam).
The toughness of the exam is created by people, but it is not something that you cannot conquer.
Just be self-confident, consistent with your hard work, and you must have the junoon to do it.
If you have these abilities, nobody can stop you.
Since you are from Bastar, please tell us about those three things that you like the most about the region.
The scenic beauty of our region; the Chitrakoot falls, he Niagara of Asia; and the tribal festivals, all of them, will leave you enchanted forever.
Also, Danteshwari temple is also a great place to visit.
I request every Indian to come and visit Bastar.
Please visit Bastar; don't be scared.
Bastar is a very beautiful place on earth.
What would be your solution to reduce the 'influence' of Naxals in the region?
The problem is an old one and there cannot be any overnight solutions for this problem.
I believe this problem can be solved with security and development and our government is moving in the right direction.
The media should also highlight the developmental work undertaken by the government.