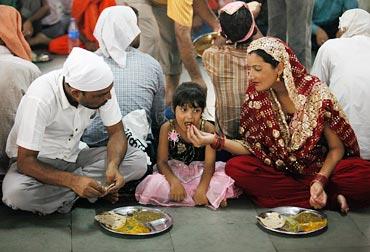 A world-renowned cooking expert is in town for a taste of India. Here's why.
Preferring Indian cuisine over others, celebrity chef Curtis Stone, forever on the hunt for new recipes and cooking methods, has been touring India to gain expertise on the culinary variety in the country.
The Australian chef, the face of popular American TV reality show Take Home Chef, travelled to various parts of India to pick up tips on cooking a range of Indian dishes, which Curtis says will be telecast on his shows.
"I love Indian food -- it is now gaining popularity worldwide. I have cooked Indian food too, but to me authenticity is very important with regards to cuisine. That is why I am here to learn much more about Indian food, authentically," Curtis told PTI.
During his nine-day tour of the country, Stone travelled to Agra and Delhi, among other places. "A cuisine represents a culture and in India, the culture is so vast -- so many languages, religions, geographic and climate conditions...these differ from place to place, so there is a lot for me to learn here and I am doing it perfectly."
"I am walking from street to street to experience the local dishes, meeting famous Indian chefs and trying to learn as much as possible in a short span of time," he says. An adroit chef, Curtis says that a number of Indian dishes including daal-baati, different curries, biryani and chicken tikka are among his favourite dishes.
"Besides Indian, I love Thai, French, Italian food, but I have observed that the popularity of Indian food is growing worldwide, and now it is high time to focus on Indian food."
"Australian cuisine is very relaxed and has multicultural influences including those of Asia and Europe. Indian cuisine has complexity and the balance of spices for particular dishes and in particular regions is a major factor in India," he adds.
Stone says he wants to promote Indian food through TV shows in the US and Australia, so that viewers will be inspired to cook in an authentic manner.
Curtis visited famous tourist destinations at the Pink City including the Amber, Jaigarh and Nahargarh forts and also planned to visit the Taj Mahal.
"During my trip, I visited noted destinations of the colourful city of Jaipur. This is the first time I am in India and had heard about the Pink City, but now I know why this vibrant city is famous globally," he says.
Photograph: Reinhard Krause/Reuters