The pass percentage of government school students of Class XII was 90.68 per cent, while 88.35 per cent students from private schools cleared the exams, discovers Ritwik Sharma.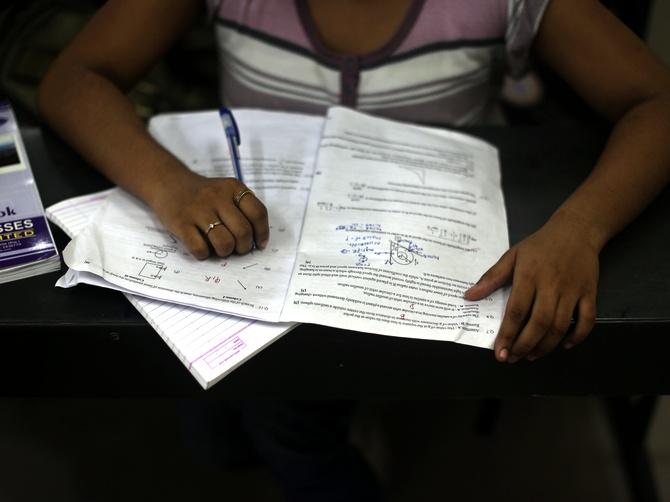 It's summer vacation time and the sun is beating down characteristically on Delhi.
As a bazaar in the southern neighbourhood of Jangpura comes to life in the morning, children in uniform are already trickling out of a government school in a corner.
The children at the Government Co-edSecondary School in Jangpura, studying in Classes VI to IX, have just attended remedial classes introduced under a new initiative of the state government.
Mission Buniyaad aims to help stragglers improve basics such as reading and writing or solving math problems.
Poonam, a ninth grader who is playing with a toy lizard, has no complaints about the extra classes. A few others chime in with claims of satisfaction about the classes and teachers.
Before leaving the premises, they make their way in a queue outside a classroom and pick up biscuits and soft drinks paid for by the school. One must imagine them happy.
Optimism around school education has been one of the rare positives to emerge in the past few years that have witnessed a bitter and seemingly unending tug of war between Delhi's elected representatives of the Aam Aadmi Party and the Bharatiya Janata Party over governance in Delhi.
The recent showing of CBSE Class XII students of government schools, who outdid their peers in private schools, put a gloss on the AAP government's reforms in the sector.
The pass percentage of government school students of Class XII was 90.68 per cent, while 88.35 per cent students from private schools cleared the exams.
Before this year's Class XII results made headlines, a report by the Praja Foundation pointed out that the 'transition rate' of students in Delhi government schools from Class IX to X was 56.95 for the academic year 2016-17, suggesting that nearly half the students flunked the exams that were conducted internally.
This is in sharp contrast to the figure of 98.55 per cent students entering Class VIII in the same year.
A report published in The Print also cited government data to highlight that, in private schools, Class IX students recorded a pass percentage of 92 per cent in 2016-17.
The implication is that since half the students fail in Class IX -- in what is a continuing trend in government schools in Delhi -- only the bright ones end up taking the board exams that follow.
"Many students are held back in Class IX in government schools. Their high pass percentage in Class XII is therefore not surprising," says Milind Mhaske, director, Praja Foundation.
Although AAP did not respond to questions, the party has blamed the no-detention policy -- according to which students cannot be failed or detained till Class VIII -- for the failures in Class IX.
Teachers and principals echo the same opinion.
Mhaske says when the NGO brought out its report, the state government pointed to the Right to Education-mandated policy against detention.
"Under RTE, the onus of teaching lies with the teacher. So, citing reasons such as the student being a first-time learner or one deprived of a learning environment at home is not fair on the kids," he argues, adding that the AAP government should assess how its teachers have fared, and also spell out its suspicion of municipal corporation-run schools -- which have classes till V -- not doing enough at the primary level.
The municipality has been under the charge of the BJP for well over a decade.
The Praja Foundation report paints a particularly grim picture of Municipal Corporation of Delhi schools.
For instance, enrollment of students has dropped by five per cent between 2015-2016 and 2016-2017, whereas it grew by one per cent in state government schools.
The MCD branches fared worse in terms of RTE indicators such as student-teacher ratio, having a playground and inclusive education, whereas the number of dropouts from state government schools saw an increase in the three years the report took into account (2014-2015 to 2016-2017) despite a steady increase in budget allocation for students.
The foundation, which is based in Mumbai and brings out white papers on civic issues in the city as well as in Delhi, has identified similar education-related concerns in both places.
Parents everywhere are wary of sending their kids to government schools, believing that private schools are more reliable for 'education'.
Rabia Abbasi, who retired as principal of a government-aided school, says all students, regardless of what they learn inside the classroom, have learnt of one thing -- the no-detention policy.
In this scenario, only five per cent tend to work hard and also localities with a literate people are likelier to find schools with more committed teachers, she adds.
"In government schools, it is harder to suspend than appoint teachers, who can go to court and get reinstated. In private schools, rules are strict and the risk of losing jobs is real," she says.
Abbasi is hopeful of improvement in government schools, with increased focus and funding, but admits that the number of career-oriented students remains negligible.
"Until Class VIII, only about 10 per cent know how to write properly."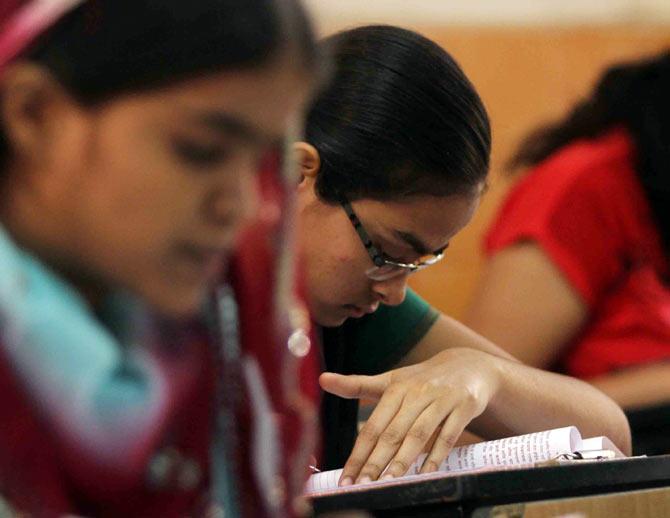 Two years ago, the AAP government started an initiative, Chunauti, which segregates students based on their learning abilities as neo-nishtha, nishtha and pratibha (to distinguish between weak, average and bright students).
While the jury is out on whether it has helped correct learning disparities, there is criticism of the segregation.
C P Singh, president, Government State Teachers Association, is not in favour of it. He reasons that if the allegedly weaker children remain with those classified as brighter, they are likely to be more competitive.
According to him, nearly one-third of government schools continue to face poor infrastructure and, of an overall sanctioned strength of over 65,000, nearly 27,000 posts of teachers are vacant.
If these problems are addressed, and teachers are freed from multiple administrative duties, the level of teaching would improve, he says.
A person working with an NGO that has intervention programmes in government schools but does not wish to be identified says the pedagogy followed by teachers is old-fashioned. This, along with the burden of additional duties, means teachers fail to deliver.
An initiative such as Chunauti is justified, given the wide disparities between students, and it is a sign of proactive steps taken by the government in an area that has remained ignored, he adds.
At a learning centre in Tughlaqabad on the outskirts of Delhi, the NGO's volunteers take informal classes of students from a girls school.
The NGO has been teaching students -- a select group who find themselves in the pratibha bracket -- for eight years.
A few from Class X, who are finishing an informal math session around noon, testify to how volunteers from the NGO are more engaged at an individual level with each of them, unlike schoolteachers who are deemed unapproachable. They speak in unison about revamped infrastructure and facilities in school in the last couple of years.
Some of their schoolmates -- a majority of whose parents are migrant workers -- who have lagged behind or failed Class IX exams are staying at home or are part of open schooling now.
Their teacher from the NGO says the pass percentage of this bunch of students was nearly 100 per cent. But for the overall batch of Class IX this year, the figure was closer to 50 per cent, as other sections who are taught only by the schoolteachers fared poorly.
This year, the CBSE Class X pass percentage of government school students in Delhi was 69.32 per cent.
This was the first batch in a decade to take board exams after the RTE came into force, which was cited as a reason by the state government for the dip in pass percentage by 23.12 per cent compared to last year.
Delhi high court advocate Ashok Agarwal says the focus is on quantity rather than quality of education.
"Most government school students who are passing Class XII are scoring the bare minimum in English. Where will they stand in the (job) market?" he asks.
Agarwal also alleges manipulation by school authorities in terms of persuading students to opt for 'easier' subjects.
Agarwal has earlier moved public interest litigation which claimed that despite the Constitutional mandate, 600,000 to 800,000 children in Delhi were not going to school.
Chand Tara, a student who passed the recent Class X board exams, recently met him complaining that the admissions officer at her school dissuaded her from taking English as a subject in Class XI, pointing to low marks and health problems.
She was advised to take Sanskrit, which she hasn't studied earlier.
Chand Tara has been receiving treatment for a kidney ailment at the Sir Ganga Ram Hospital for the past two years.
She got 49 per cent in English and wants to continue studying it, with an aim to enroll in a nursing course later.
After Agarwal wrote a letter to the chief minister, on behalf of a parents' association, she went back to her school and was eventually allowed to choose English as one of the five subjects.
This may be just another instance of minor battles government schoolchildren are often faced with.
A bigger struggle awaits them after school -- that of prohibitive cutoff lists and an affordable seat in a college.