The Canadian Prime Minister addressed students at IIM-Ahmedabad.
Why Justin Trudeau's India visit is important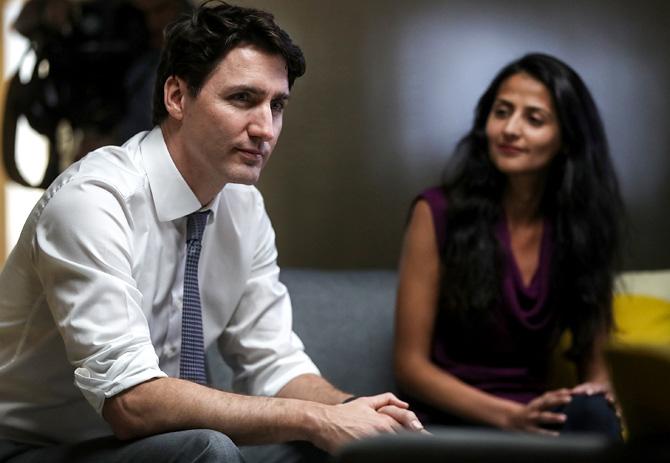 Representational photograph: Justin Sullivan/Getty Images
Canadian Prime Minister Justin Trudeau, who is on tour in India with his family, made a stop at the Indian Institute of Management, Ahmedabad (IIM-A) on Day 2 of his visit.
Trudeau addressed a gathering of students at a town hall-style event at the prestigious institute.
The focus of the interaction was the growth potential of the Indo-Canadian partnership, education and investment opportunities, but Trudeau also readily tackled sensitive topics and questions from the students.
Here are the top 5 takeaways from Trudeau's IIM-A visit:
1: The changing idea of identity
Replying to a student who asked "when the global trend of nationalisation is on the rise, how does he, as a global leader, wish to change the world further towards globalisation", Trudeau said, 'The new reality of the 21st century is going to be more and more heterogeneous community and society, and the biggest challenge we are going to have as species is doing something that India and Canada have done fairly well -- that is to understand how differences can become a source of strength.'
He added, 'One realisation that we all need to have is that we are witnessing more and more encounters with differences. When we meet people who have different stories and background from us, we learn and grow and create a more resilient community.
'But the challenge around that is that identities start to break down. If you think of typical citizens of France, South Korea or South Africa might look like, you might have certain images coming to your mind. As you get more heterogeneous and pluralist society, the idea that typical citizens no longer rest on surface attributes like language, ideology. It is anchored, instead, in shared values, values that society collectively ascribes or subscribe to. We (should) define more and more through shared values that anyone from any part of the world can come and adapt to.
'That's what we are doing in Canada. The definition of what it means to be a Canadian has nothing to do with what we look like, has much more to do with openness to fashion, openness to work, desire to be with each other, love for hockey.
'India as a pluralistic place has always done reasonably well, and can always do better like we (Canada) can do better, particularly with our indigenous people. We have to make a fundamental choice.'
2: Recognising why you need to be a feminist
Trudeau stressed that understanding that empowering women was not just the right or nice thing to do, but also the smart thing to do, was extremely important.
He said, 'I am a feminist. It is a word with certain connotation, loaded with meaning, but at the very root of it it is very simple. If you think man and woman ought to be equal, and ought to have same opportunities, and if you recognise that there is still a lot of work to do to get there, you are also a feminist.
'We are under-performing as society because we are not giving women the opportunity to contribute, we are not allowing them the opportunity to fulfil their full potential. We cannot have a successful society or economy if you have 50 per cent of population not contributing as fully as they should.'
3: The strength in non-violence
Speaking on peace and non-violence, Trudeau invoked Mahatma Gandhi.
He said, 'It takes a tremendous amount of strength to be strong, without having to be aggressive, without having to pick fights, instead of looking to better understand each other, to better question yourself.'
4: Why pluralism makes you grow
Trudeau also spoke about dividing society on the basis of ethnicity or religious lines.
He said, 'There are two paths: you can either amplify the anxiety in the world by blaming a particular ethnic or religious group for all the troubles in the society or you can take a more successful pluralistic approach, when you actually meet people with the different story and believe that we meet them and grow.'
5: On familial expectations and choosing your path
Video: ANI