Nikita Puri reports on the growing subculture of bouldering in India before sport climbing makes its debut at the 2020 Summer Olympics.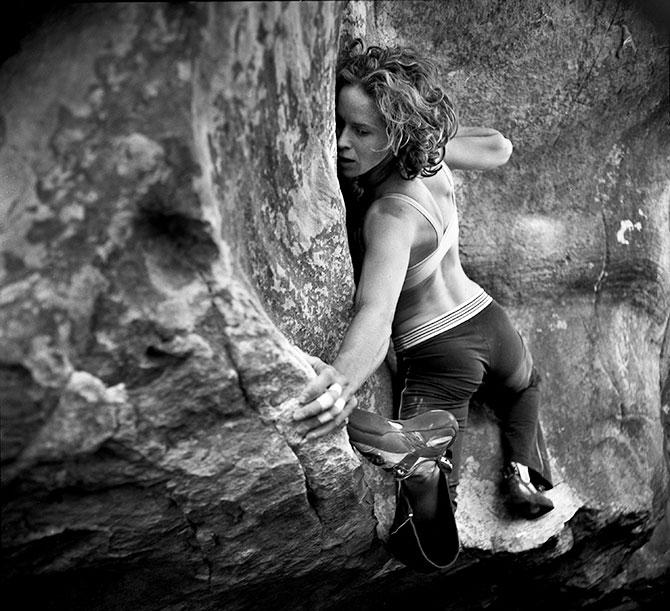 When sport climbing makes its debut at the Summer Olympics in Tokyo, bouldering will officially be part of the big league.
Photograph: Adam Pretty/Getty Images.
It's a little after 9 pm, and Praveen CM has just wrapped up for the day after demonstrating how to climb a 20-storey building.
His "students" are about 50 commandos of the National Security Guard.
Praveen, 32, is neither a man in uniform nor is he an evacuation expert by profession. "They [the commandos] were using poles to scale buildings, or helicopters for a top-down approach. This training is to help them be better climbers in case of emergencies," he explains.
Praveen has also worked with the Kolkata Police on similar lines.
When five schoolboys were trapped without food and water on a near-inaccessible precipice in Karnataka's Savandurga, one of the largest monoliths in Asia, it was Praveen who went down to rescue the boys as the police and emergency services personnel stood by.
One of India's best known climbers, Bengaluru-based Praveen is a 16-time national bouldering champion.
A sport that involves climbing small rock formations -- or boulders -- without a harness or rope, bouldering in India is a growing subculture for adventure enthusiasts.
Come 2020, when sport climbing makes its debut at the Summer Olympics in Tokyo, bouldering will officially be part of the big league.
Sport climbing essentially involves three disciplines: bouldering, lead and speed.
While bouldering opens itself to some "freestyle moves" by virtue of its design, lead involves measuring the distance athletes have climbed on a vertical wall while being secured to a rope. Athletes are timed for speed in the latter. (Praveen is proficient in all three disciplines.)
A little before dawn breaks over the city of Bengaluru during a weekend, Prabhu Mallikarjunan and his friend are in Turahalli Forest, about 20 km outside the city.
They stand casing boulders: the goal is to identify the spot which best shows the sun rising over the city's high-rises.
Mallikarjunan has made several such trips before and he greets boulders like old friends. It is his friend's first time bouldering.
While Mallikarjunan climbs up gracefully, swinging himself like a pendulum at times, his friend's attempts at negotiating a route up causes concern among those out on long morning walks.
After five attempts of what appear to be him violently throwing his body against the boulder, Mallikarjunan's friend manages to find a foothold and hoist himself and his bruised knees up.
Bouldering seems to demand upper body strength.
"But really, it isn't just about upper body strength. Bouldering requires a lot of technique," Vikas Jerry tells me.
A bouldering enthusiast in his 20s, Jerry doubles as an instructor to climbers who come looking for challenges in Hampi's boulder-strewn landscape.
For the past six years, Jerry has also provided climbers with gear (chalk, shoes, crashpad) from the Tom and Jerry Climbing Shop in Hampi village made famous by temple ruins dating to erstwhile empires.
Jerry is also one of the three protagonists of Bouldering: Life on the Rocks, a short documentary by Pranav Jain.
The film is part of a series by 101India, a platform for stories which aren't seen in mainstream media, says Cyrus Oshidar, managing director and chief creative officer.
Considering that India "has plenty to offer in terms of terrain and accessibility," says Oshidar, "any publicity will encourage the sport."
The film follows Jerry, Adarsh Singh and Sandeep Maity (the latter two both bouldering champions) as they retrace the steps of British climber Pil Lockey, who mapped the boulders around Chhatru, a village in Himachal Pradesh, about 18 years ago.
The film's director Jain, who is also a bouldering enthusiast and a musician, says one can go sport climbing in any of the many gyms that now have 30-35 feet of vertical walls.
"But the feel of rock when you go bouldering in nature is unmatchable. Part of bouldering's charm is the connection to the outdoors," he says.
The sport isn't free of risks: Lockey, the bouldering legend in Chhatru, for instance, was once trapped after heavy snowfall.
Jain's documentary shows a few local dhaba owners who vividly remember Lockey's ordeal, and how the Briton survived for seven days on a diet of one-and-a-half kg of sattu (roasted and ground pulses) he had picked up from them earlier.
There's also the possibility of an awkward fall.
Praveen has had his fair share of injuries, including dislocations and fractures. Till recently, his parents had doubts about their son's chosen career path. ("So yes, you climb a boulder. Is there any future in this?" they'd say.)
But, enthusiasts swear, the sport can be highly addictive.
"Right from your mind and your eyes to the tips of your toes, climbing is a sport which uses every part of your body," he adds. "Every climb is like a new experience, and bouldering is something that constantly pushes your limits."
Marked by graceful and swift movements characteristic of athletes, sport climbing is as much athletic discipline as it is an art.
"Praveen almost makes it look effortless. It is almost like a dance on the wall [or a boulder]," says Jyothy Karat, a photographer from Bengaluru. "It is a very intense activity which strengthens your back and core muscles. It is fun and doesn't seem like exercise."
A lot has changed over the last decade: when Mumbai's Siddhi Manerikar went for her first sport climbing competition in 2011, "no one even knew what bouldering was, including my parents," she recalls.
The 21-year-old lead and boulder champion, a commerce student in her final year, represented India at the World Cup tournament organised by the International Federation of Sport Climbing in Mumbai last year.
With the opening up of walls for sport climbing in many gyms, the various disciplines of climbing are steadily building a loyal following.
"We used to have largely foreign tourists who would come for bouldering in Hampi, but I've seen a lot of Indians coming for it over the last three years or so," says Jerry. "I have seen about 500 Indians in the last two years itself. At least 50 of them have become serious about bouldering."
Besides the many championships that different cities host, two brand new bouldering festivals, the Suru Festival in Ladakh, and Hampi's Bold and Boulder will also rope in interest, hope sport climbers.
Unlike in most other disciplines, sport climbing athletes like Manerikar and Praveen follow no special diet, but perhaps as the sport continues to evolve, diet guidelines to build muscle will likely come along, they feel.
Even as he recovers from a shoulder injury, Praveen now has his sights set on Olympics 2020.
"The sport is really picking up, and this isn't just because it will now be a part of the Olympics. Now there are climbing walls everywhere," he says.
"Every climb, big or small, is a conquest," he adds. "There's joy as you challenge gravity and find your footing."
India doesn't have a team for the 2020 games yet, but dreams of a medal in sport climbing rest on shoulders such as his.