With just a few days left for the IBPS Bank PO Main exam, your strategy should be to maximise your attempts to optimise your score.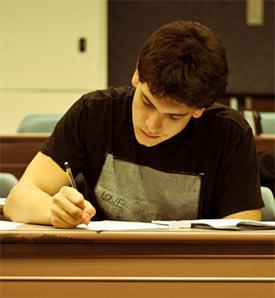 The preliminary examination for probationary officers conducted by the Institute of Banking Personnel Selection (IBPS) just got over.
Now that the results are out, your focus should be on preparing for the Mains examination scheduled to be conducted on Saturday, October 31, 2015.
If one were to draw a comparison, there is not much difference between the IBPS PO prelims and mains examination.
The only difference is in the duration, number of sections and number of questions.
The paper pattern
The Mains examination will carry a total of 200 marks, with 0.25 negative marking. The duration of the test is 2 hours.
Just like in the prelims paper, questions can be viewed both in Hindi and English.
Following are the main sections of the exam:
Reasoning (50 questions, 50 marks)
English Language (40 questions, 40 marks)
Quantitative Aptitude (50 questions, 50 marks)
General Awareness, with special reference to banking industry (40 questions, 40 marks)
Computer Knowledge (20 questions, 20 marks)
How to prepare for the IBPS PO Mains
The exam will be conducted on October 31, so you have a little over a week to prepare.
Your strategy must be to gain more in less time.
There are three elements which together shape the IBPS PO exam strategy.
1. Time management: How do you attempt the question paper? How to divide the time among sections and in what order questions should be attempted?
2. Accuracy: How to minimise the number of wrong answers and negative marking, so that marks per question gets maximised?
3. Speed: How to attempt questions faster? How to do quick calculations? How to increase reading speed?
Time Management
Ideally, you should be able to go through all the questions at least once in the exam.
It helps you identify questions which are easy and can be solved in less time.
For better time management, we recommend the tried and tested strategy by the toppers who scored well in IBPS PO Mains 2014.
First attempt the English section. This section takes minimum time. You should be able to attempt it in about 10 to 15 minutes.
After that opt for GA section. It takes less time for more number of questions.
The GA section can be followed by Computer Knowledge section.
Divide the next 50 to 70 minutes in the remaining two sections equally, i.e. 25-35 minutes each.
However, if you feel that you are scared of a particular section, you may allocate more than 35 minutes to that section.
Please, make sure that you follow this time management strategy as it will help you clear all the sectional cut-offs.
Attempt the sections in the following order -- English – GA – CK -- starting with the section you feel most comfortable in and ending with the section you are most scared of.
Accuracy
In English, GA and CK only guess if you are at least 40 to 50 per cent sure of the answer, i.e. you will be able to eliminate 2-3 options.
In Quant and Reasoning, there should be no guesses at all. Double check your solutions and be extremely conscious. Your aim should be to achieve an accuracy of 100% in the above two sections.
Speed
Speed mostly matters in the following types of questions:
Reading Comprehension
You can consider reading the questions first before reading the passage.
This way, while reading the passage itself, you will be able to mark the answers and all questions will be done in only one reading of the passage.
Data interpretation
If the answers are numbers not close to each other, then you do not need to do accurate calculations.
You can round off the numbers and do approximate calculations and mark the answer closest to the answer you calculated.
Long calculations
You can work on speed mathematics.
Other points to remember
Critically analyse your performance in prelims paper and find areas of improvement.
Attempt one mock paper every day and spend 3 to 4 hours in analysing your performance.
Check not just your weak areas, but also how to improve your performance in your strong areas.
Whatever needs to be studied, study or revise it right away. Do not procrastinate.
Remember to clear all the sectional cut-offs. Your whole preparation could be wasted because of one weak section.
The IBPS PO Mains online mock examination will help you in getting the real feel of the test, time management and get comfortable in solving questions from computer.
Since you have only 10 days in hand, spend each minute wisely. All the best!
Lead image used for representational purposes only. Credit: SamRosenbaum/Creative Commons
The author Aditya Johari is general manager at MockBank.com, a Bengaluru based online test preparation company for government/PSU jobs.