In case you thought employees are worried more about their salary and job security, you're wrong.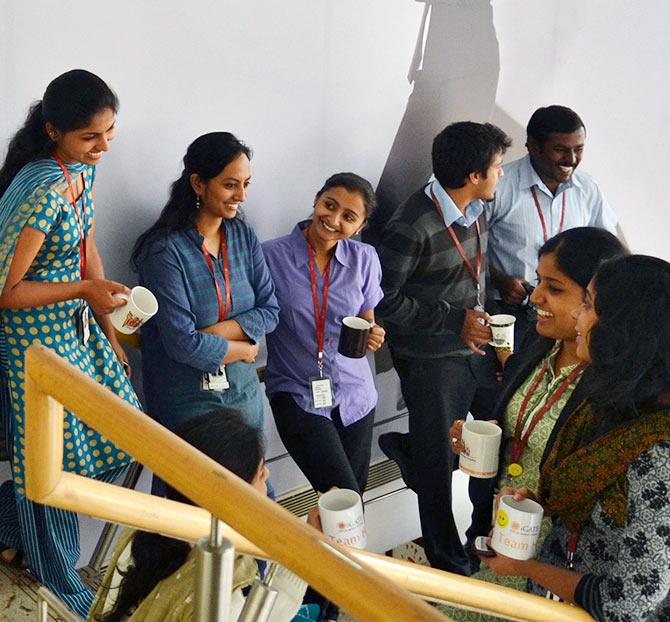 A comprehensive report by Hay Group, a global management consultancy, states that Indian start-ups see an attrition rate of 17 per cent; it is at 21 per cent for early stage start-ups.
About 34 per cent of participants in the study attributed attrition to their salary structures, while job security seems to be the least important reason for attrition.
These results are surprising.
In the Technology and Operations teams, long working hours was found to be the reason for grouse among the employees.
The CEO of a 20-member strong Cogxio, an online dating and matchmaking app, Layak Singh, says that apart from giving employees a competitive salary with stock options, the company is also open to people working from home and can come to the office when they want to.
"I make them the CEO of their tasks. At Cogxio, we believe that an employee does his best for the company. We also have a bi-monthly party and a team outing every quarter. We try our best to keep our employees happy" says Layak Singh, CEO Cogxio.
Replacing an old employee with a new one costs a lot to the start-up. They try hard to retain their good employees.
Not only does a full strength keep the employee morale up, but it is also good for the start-up's bottomline.
Let us see some of the common strategies used by start-ups to retain their employees.
1. It is not always about the money
Money might be a driving factor for many employees to stay or to leave, but it is not always the case.
Money or the lack of it could contribute to attrition but money has not been shown to increase performance or self-motivation of the employees.
So, a start-up needs to personalise an incentive to match the contribution of the employee. Some companies offer paid vacations instead of a cash bonus.
The HR could play an important role in recognising these needs of an employee and helping the company catering to them.
2. Structure your incentives well
While employees would love your personalised rewards, giving too many of them would only confuse them.
Create a transparent incentive structure around goals which will be measured on the same parameters for everyone in the same department..
3. Create a friendly working atmosphere
As a start-up entrepreneur once told me, "I don't think one should try to retain employees. We should provide them with an environment which will let them stay."
Let there be no malice in words or action from the top management.
Always respect your employees and treat them as equals.
Talk with your employees in person to understand their troubles.
Give them enough time to bond with the team; it will make a huge difference to the morale of the employees.
4. Be meticulous about hiring
Probably the most important part of retaining starts with hiring itself.
Are you sure about the new person you hired?
Creating a job description and job role is as important as the selection itself.
When you were gauging his technical skills, did you assess if he would be a good fit, culture-wise as well?
5. Be transparent
A leadership team that is transparent would not only garner respect from their employees, but it would also help develop a sense of loyalty among the employees.
For example, if you know there will be difficulties in the future, it is better to announce that openly rather than wait for the employees to know it from other sources.
If there is good news to be shared, do that, too. An employee in a start-up will most likely want to know what plans the company has for him.
6. Be action oriented
If employees have problems that need to be addressed, do it immediately.
Similarly, if they request for additional responsibilities or flexible working hours, give it to them if it is possible.
Make employees feel like they are part of the organisation.
7. Provide fun at work
Work should not be identified as a series of chores completed before heading back home.
Take your employees out on a trip every quarter or as frequently as your budget permits.
Make sure you lunch together; sharing food is an intimate act and would develop understanding between the team members.
To make these strategies work, the founders should not only support this plan, but lead by example, too.
Your inputs and criticisms count and are integral to creating motivated and focused employees. What strategies do you use in your start-up?
Lead image used for representational purposes only. Image: Adnan Abidi/Reuters