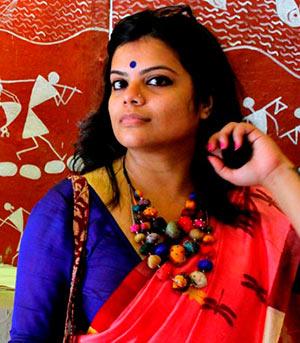 'When life gives you lemons, sell them. Start a business. Build an empire.'
Lawyer turned entrepreneur Parama Ghosh tells us how she found the courage to go against the tide and found her own company.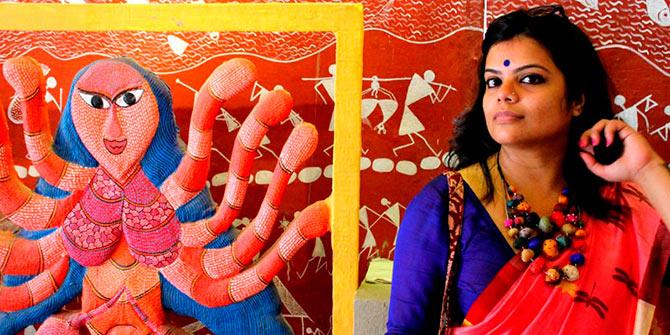 At some point in our lives we all encounter that 'Shefali-Shah moment' from Dil Dhadakne Do, where she stuffs herself with cake and washes it down with plenty of tears.
Only, the reasons are different. My start-up began at such a juncture of my life.
I would have preferred to paint a rosier picture as an introduction to this piece, but in matters of the heart one has to be unabashedly honest. A very difficult phase in terms of mental and physical health, coupled with extreme monotony at work, had left me broken.
Eight years into the legal profession, nine years into marriage and still 'childless' (in our country it is a non-bailable offence) left me standing at the threshold of my patience level.
While broken arms and legs have clinics to take care of, a broken soul is still an alien concept for many.
Each day was a battle, spent in pulling myself up on my feet to go back to work.
Conversations at social gatherings had a fixed 'the nation wants to know' format: "So, when are you having a baby?"
My mental answer would always be, "I shall be having a baby for dinner," but smart answers are often not the best answers.
In the midst of all those dull grey moments, the idea of my venture came to me when I remembered a quote, 'When life gives you lemons, sell them. Start a business. Build an empire.'
A job and a start-up
The reason why I say that she was an 'unplanned' child is because of my profession.
Born to a family of four generations of lawyers, I joined the bandwagon. Like Naseeruddin Shah said in Zindagi Na Milegi Dobara, "Galti hum sabhi se ho jaate hain (All of us make mistakes)."
I was working at one of the topmost law firms in India at their Kolkata office, when the prolonged 'down phase,' thankfully, led to my soul child.
I remember when I had passed my class XII board exams, I had voiced my desire to pursue art, either at the Government Art College at Calcutta or Biswa Bharati, Shantiniketan. The wish disappeared in oblivion like camphor because 'art' and 'bright career' did not go hand in hand.
A profession that feeds your body well was preferred over a living that feeds the soul. I pursued law and, by the grace of Satan, topped the batch in most of the years at the university. I joined one of the oldest and most prestigious law firms of the city as soon as I grabbed the degree in law.
While the bank accounts flashed happy smiles, the soul suffered from malnutrition.
I pursued my DIY hobbies. Old sarees were recycled to make curtains, combs turned into neckpieces and leftover fabric stitched to make cushion covers.
Turning the hobby into a profession was not on my cards, mainly because of the financial risks involved. This continued till patience fell down, broke his crown and sanity came tumbling after. I needed that one happy patch which could rescue me from the daily monotony.
Mustering the courage to quit
One of the principles I had/have always followed for my start-up is: Never ever work on your personal projects at office.
On one hand, it affects workplace culture. On the other, it is half hearted so far as your venture is concerned. So I had to compromise on sleeping hours and worked over weekends to make my business grow. I kept the profession and the passion in two airtight chambers.
It continued happily but grew in proportions.
Matters of the heart always grow at an unanticipated speed. There would be times when I would be awake the whole night and to combat sleep would brush my teeth at regular intervals.
Yes, strange are humans! (Also non-human babies are no less in keeping their parents awake all night).
The job and the start-up became too much, given that I did not have a helping hand so far as the business was concerned.
I travelled to procure material, handled artisans, maintained records, clicked pictures, put them up on the page, managed sales, and delivered the products all by myself.
It was far from easy. So there came the decision of quitting a full-fledged law firm job.
I weighed the pros and cons. The business was already reaping profits, but not enough to balance what my job offered me at the end of the month.
The risk involved would have been huge because my husband had also started on his own, two years back. Two toddler projects in one family could have been a happy decision but not a wise one.
And in all honesty, I did not want to abandon law completely, given the years gone into the making of that career.
The tug of war continued for a few days and then a decision was made.
I decided to consult with a start-up law firm three days a week and devote the rest of the days entirely to Parama. It involved risk but I think passion overrides the fear in the end.
Preparations for the leap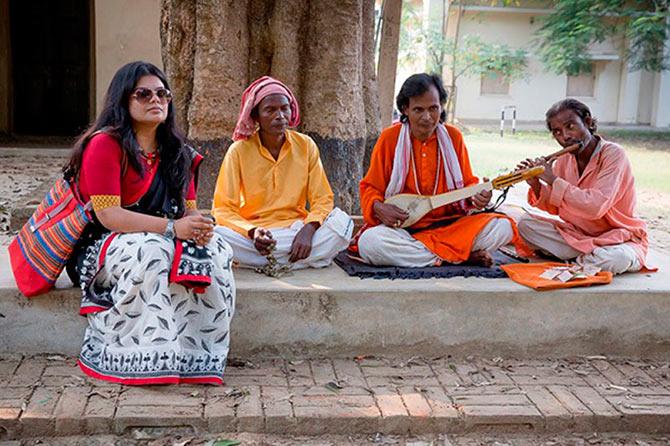 The first and most important step is preparing yourself for heartbreak. You are going to be disappointed and you have to take it in your stride.
One major hurdle I faced was with tailors and artisans. While some of them treated me like daughters, some prefixed the word with 'step.'
One of them ran away with my money and fabric, while another passed off my designs as his own.
The process of combating this, is a constant one. I have emerged as a more. Careful person in the past one year.
The decision also came with a list of terms and conditions. I had never taken any loan to bankroll my venture.
Giving up a full-time job meant subsisting on much less than what I had been used to.
One of my friends had told me, "Don't live out of an ATM. Channelise and keep track of what you are spending."
This advice worked wonders. Whimsical spending had to be curtailed and monitored, 'shopping' and retail therapy were given their much-deserved backseat and saving as much as one could became a forced habit. The first month was uneasy. We are so used the amount in that NEFT credit SMS at the end of every month!
The next steps were to take the brand to its next level. Paper work, accounts, logo, applying for trademark were among the many other things which were initiated.
The financials were handled in a more organised way. Inventory was made in details.
Most importantly, cataloguing of products was initiated. In short, things were made more structured. Discipline, which isn't one of my most prominent virtues, was given its long-pending dues.
What has helped me the most in the venture is my familiarity with fabric.
Knowledge about the things you are dealing in is a basic requisite, I believe. When one is not enough aware, they would be misled at every level. So doing your homework thoroughly before you start-up is not substitutable.
New life
Every time I am asked whether this was a right decision, I remember my spiritual guru's words, "I hope you make mistakes. Because if you are making mistakes, then you are making new things, trying new things, learning, living, pushing yourself, changing yourself, changing your world. You're doing things you've never done before, and more importantly, you're doing something."
If this is not worth the try, then what is?
Parama will complete its first year of existence. In this one year, she has been the constant music to a tired soul; she has taken away my fears.
She has taught me how beautiful non-human children are. She has given me the confidence of travelling alone, anywhere, of negotiating, of trusting and distrusting when required.
She has made me meet some of the most amazing humans on earth who visited the page as strangers and stayed as friends. She gave me profit too!
Today, when I see my favourite artisan building her own house and making me a part of that process, I know what I am doing is right. Every time she says, "I will make sure you make it very big someday", I know what I am doing is right.
When friends come up without a speck of insecurity, to make this start-up grow, even when they are running similar businesses themselves, I know what I am doing is right.
I know what I am doing is right because I LOVE what I am doing.
And that is the first and the only principle one should follow when they start on their own.
Don't start a venture, because 'entrepreneur' is a difficult-to-spell, fancy word. Don't start because the whole world is doing it. Do it because you LOVE it. Trust me, it will love you back.
The author Parama Ghosh is a lawyer and an artist. She started her own venture Parama in 2015 where she creates stories on fabric. In between juggling a part time law firm job, home and her soul-project, she loves to explore her city Kolkata, paint, read and write.
Click here for our complete Women's Day coverage