For these working women, pregnancy was just another phase of multitasking.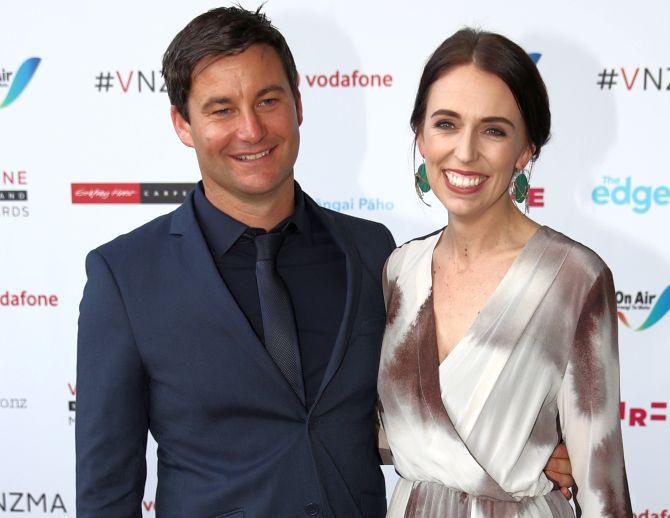 New Zealand PM Jacinda Arden and her partner Clarke are all set to welcome their first child in June 2018.
Photograph: Phil Walter/Getty Images
New Zealand Prime Minister Jacinda Ardern is pregnant with her first child. She joins a long list of power women who worked through their pregnancy.
Speaking about her health in a Facebook post, Ardern wrote in October: "In June our team will expand from two to three, and that we'll be joining the many parents out there who wear two hats."
Playing down the news, she added: "I am not the first woman to multi-task, I'm not the first woman to work and have a baby, I know these are special circumstances but there will be many women who will have done this well before I have."
Turns out, Jacinda Ardern isn't the first woman leader to give birth in office. In 1990, Pakistan's former Prime Minister Benazir Bhutto was the first elected female leader to deliver a child.
Here's looking at women from different fields who worked through their 'bump'y phase. Some of them even broke stereotypes and created new benchmarks.
Gal Gadot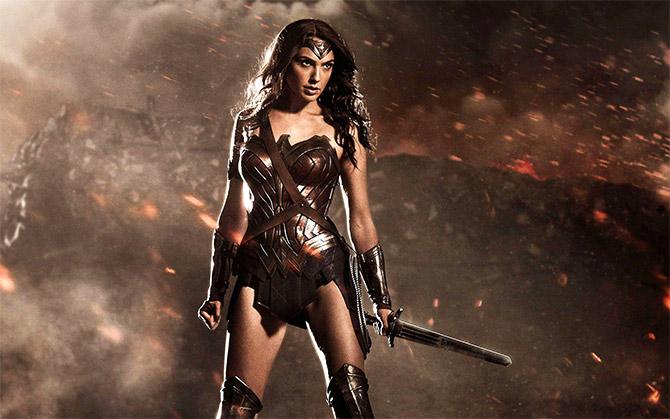 Gal Gadot worked for Wonder Woman when she was five months pregnant.
Gal Gadot is a Wonder Woman in real life too.
She was in her first trimester while shooting for Justice League and five months into her pregnancy while shooting Wonder Woman.
In one of her interviews, she reminisced how she dealt with morning sickness while working for Justice League: "Every cut I had to go and run and vomit somewhere. So, I had an assistant with a bucket and she was to put other stuff in the bucket so other people thought that instead of having a bag she had a bucket. That made sense... And once I was so loud and I didn't make it to the restroom in the trailer, so I was vomiting. It was so loud, I'm so sorry, this is disgusting. And she [sang], 'Aww Ah Ah,' so that no one could hear me.
Serena Williams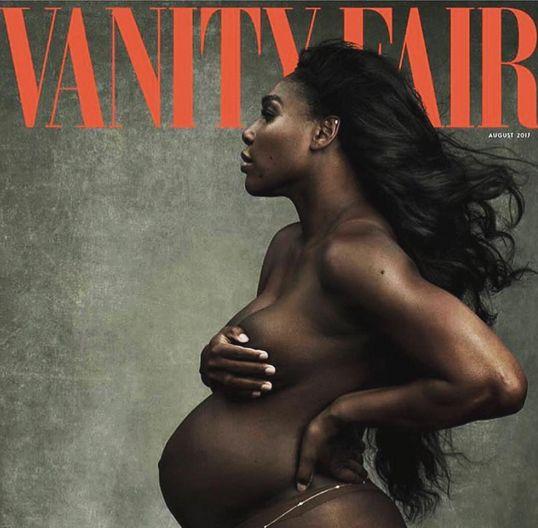 Serena Williams clinched Australian Open when she was two months pregnant. She posed naked with her baby bump for Vanity Fair.

Serena Williams has often mentioned how the news of pregnancy surprised her. Yet she was raring to go and often posted videos of her playing and training the game.
She was two months into her pregnancy when she won the Australian Open in January 2017.
The sports icon intended to return to work in January 2018 but reluctantly announced her withdrawal from the Grand Slam this year stating that she was not ready'.
Kerry Walsh Jennings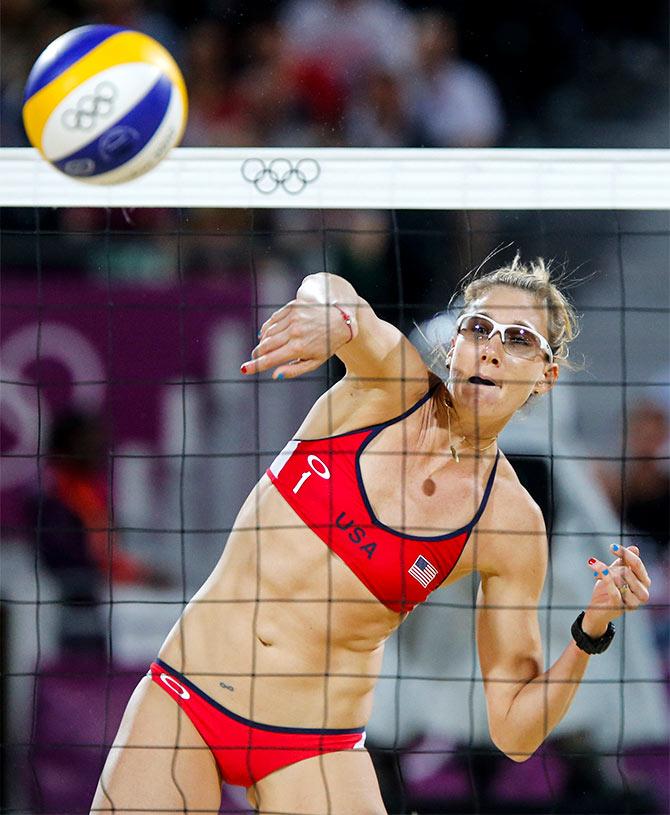 Not many knew that Kerry Walsh Jennings was pregnant when she won gold at London Olympics.
Photograph:

Dominic Ebenbichler/

Reuters
American beach volleyball player Kerry Walsh was five weeks pregnant when she cliched gold at the London Olympics in 2012.
Kerry who delivered her third child that year said: "When I was throwing my body around fearlessly, and going for gold for our country, I was pregnant."
"My job is to be fit and I'm really blessed that I get to go and work out and live a really healthy lifestyle. And I have to in order to accomplish my goals. I want to be the best," Jennings said about her comeback to the game wearing a bikini within months of delivering her child.
Licia Ronzulli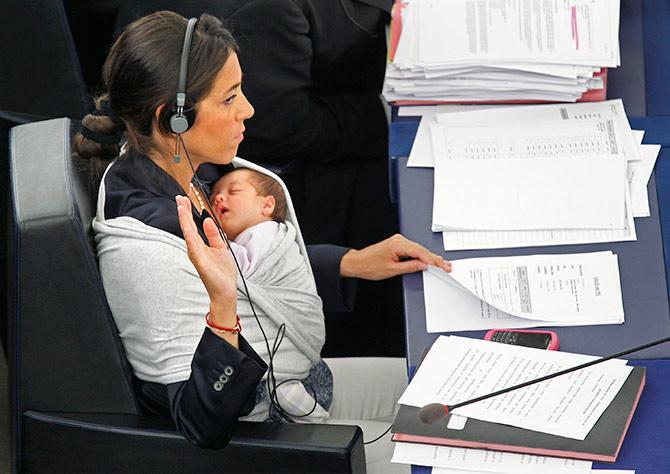 Licia Ronzulli took advantage of the new work policy and attended a Parliament session with her newborn baby girl in 2010.
Photograph: Jean-Marc Loos/Reuters
Italian member of Parliament Licia Ronzulli who was elected in 2009 made headlines when she carried her tiny daughter Vittoria to work.
With Vittoria cradled in a swing and her hair ted up in a mommy bun, Ronzulli looked comfortable attending a Parliament session in Stasbourg in 2010.
Ronzulli was only exploiting the country's new work policy that allowed women to carry their kids to work.
Kareena Kapoor Khan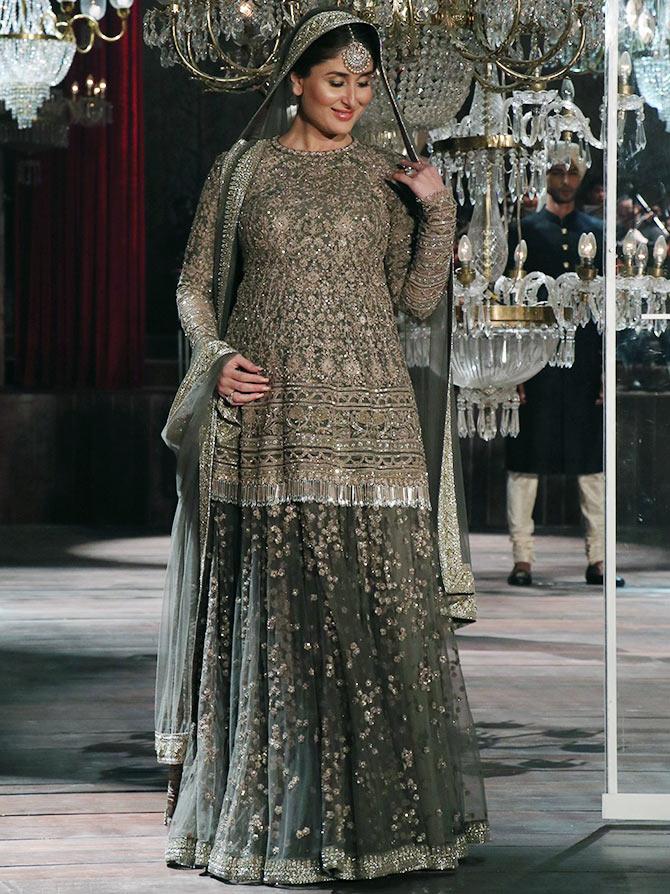 A pregnant Kareena was the showstopper for Sabyasachi Mukherjee at the Lakme Fashion Week. PhotographL Hitesh Harisinghani/Rediff.com
Back home in India, Kareena Kapoor will remain an inspiration as someone who rocked her pregnancy like a boss.
Be it on the ramp or off it, the actor was quite at ease being photographed even in her last trimester.
In fact, she faced brickbats for returning to the Lakme ramp within two months of delivering her son Taimur.
Even before her son turned one, she was out there on the glossies flaunting her fit frame and proving the world that she's here to stay.
Every other woman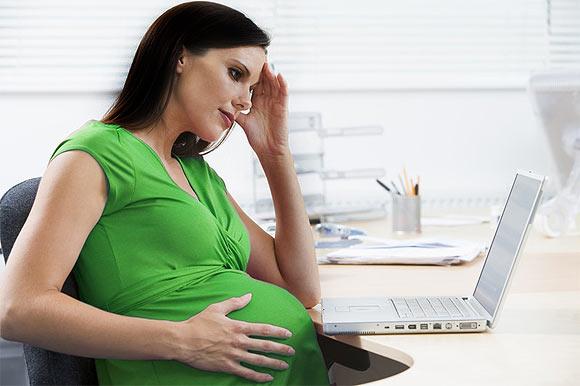 In Germany women can take up to three years of family leave while in India, women get six weeks of maternity leave. In countries like the US, there is no paid maternity or paternity leave.
Photograph: Creative Commons
In India and every other country in the world, there are scores of women who work through the nine months of pregnancy.
In countries where the maternity leave and work life policy is not very women-friendly, women have returned to their jobs within few weeks of delivering their child.
To many, pregnancy is just another phase of life where the woman's body undergoes physical and emotional changes, and post delivery, she's expected to return to business as normal.
Well, there are women who are managing it all with confidence and calling the shots. A huge shout out to all the women and moms-to-be!