Barring a few, most of the B-schools end up as mere fillers for aspiring students, says Ramesh Kailasam.
India needs to have more focused B-schools which are qualitative and practical oriented to churn out students ready to take on the challenge to steer India Inc. and the nation forward.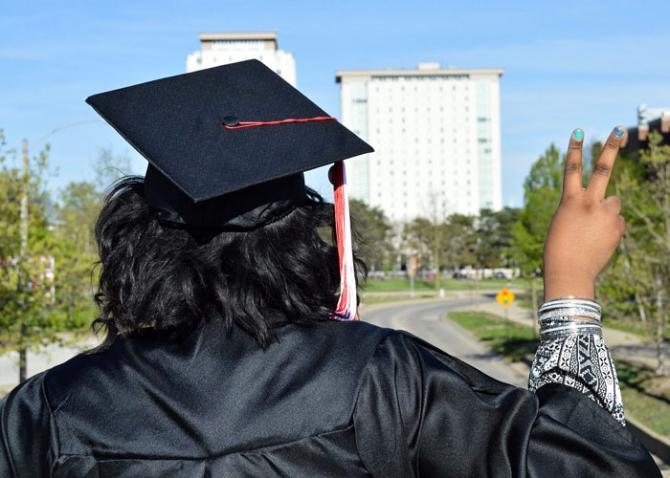 Prime Minister Narendra Modi in his address at the BRICS summit, reiterated that India aims to become a US$ 5 trillion economy by 2024.
The finance minister while delivering a lecture at the Columbia University's School of International and Public Affairs stated that this target was "challenging" but "realisable".
Currently, we are a US$ 2.7 trillion economy and it is amply clear that significant structural reforms need to be undertaken on a war footing with an open mind to break certain regulatory and bureaucratic "roofs and walls" to reach there while continuing to have safeguards wherever strategically required.
Being a large country, jobs and livelihoods continue to be a focal point and hence the need for more job creators in the form of entrepreneurs, start-ups besides existing conventional businesses.
There is an equal need to have quality and skilled human resources coming out of our universities and more so in the form of smart and capable management professionals from B-schools who will be needed to steer these businesses to the next level, thereby contributing to economic growth.
While as a nation we still may not necessarily acknowledge this aspect being a key contributor that can move India towards the aspired $ 5 trillion goal, it is a no brainer that India needs to have more focused B-schools which are qualitative and practical oriented to churn out students ready to take on this challenge to steer India Inc. and the nation forward.
We have more than 3,000 b-schools in the country and if we remove the top few, we are left with a woefully staggering number of 3,000-odd B-schools that end up as mere fillers for aspiring B-schools students many of whom may have either joined it for arming themselves with another degree or an add-on to their existing engineering qualifications which may not have fetched any jobs.
As per estimates a mere 20 per cent from these get placed which reflects their state of affairs in terms of quality and acceptability thereby making the rest take odd jobs.
This is in stark contrast to those in the US, the UK, Singapore etc who are often aspiring for tiers that we can hypothetically place under Platinum, Gold, Silver and Bronze categories.
In India, our 3,000 odd B-schools in equivalence maybe rated as few in gold and bronze, and the rest majority in iron and scrap categories.
This means that while we need to aspire for our golds and bronzes to become platinum, gold and silver, we need more B-schools in India to aspire towards becoming silver and Bronze at least.
This would mean a serious government focus to push towards a practitioner-oriented approach with industry participation and partnerships backed by a faculty who are also practitioners with real world experience who bring dynamic on ground scenarios of teaching.
While the cream of the students in India goes through a rigorous process of getting into top ranked Indian B-schools the next best crop who can afford prefer to go abroad rather than make a futile effort to study in the iron and scrap categories as seats in the top ones are limited.
Therefore, there is an urgent need for systemic reforms and internationalisation of B-schools from India.
Just like we cracked the code on going up in rankings of 'Ease of Doing business,' similar effort needs to be undertaken immediately for bringing up a large number of quality B-schools in India which will contribute to creating management resources to achieve and handle a $5 trillion economy besides limiting the brain drain.
India is uniquely positioned for attracting students desirous of learning and tackling dynamic challenges of an emerging economy and hence, can be a convergence point for business scholars from across the world.
Rankings do matter whether in India or globally and it is time for a national programme to crack parameters and push our B-schools to strive for excellence by bringing aspects of practitioner based approaches backed by faculty and student diversity in gender and nationality, research, qualitative placements, alumni management, administration and management reforms.
We should pride one day for having a large number of globally top ranked B-schools and having produced celebrated alumnus.
---
Rameesh Kailasam is the CEO of IndiaTech.org, the association of Indian Internet Commerce Companies. He can be contacted on ga@rediff-inc.com.
---