Overseas education consultant NNS Chandra shares advice on how to pick the right international education.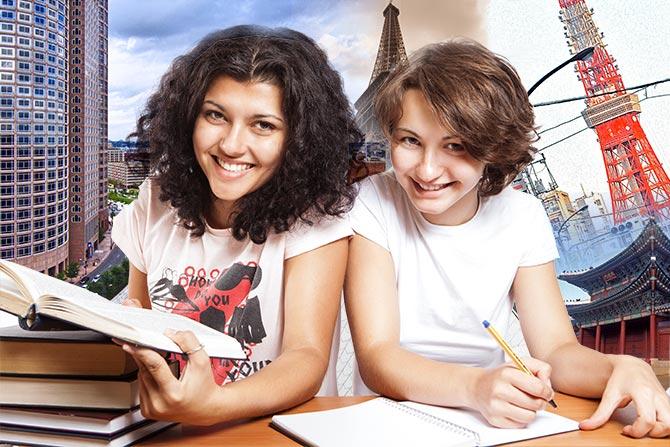 In an online chat with readers every Friday, overseas education consultant NNS Chandra offers advice on how to pick the right course and career abroad.
For those who missed the chat on August 12, here's the unedited transcript:
---
Kiran Sundaram: Sir, can you guide me on how should I move on with college selection? I am in the process of applying for university in USA Bachelors programme.
NNS Chandra: Great question Kiran. Selecting your college is quite important piece in your academic success.
I argue first look at the options available which goes well with your interests, programmes, courses etc.
Start connecting and collecting data on universities which offer the programmes or courses you are interested in.
Most American students, if they get an opportunity, try to visit the short listed universities.
As an international student, this can be a challenge for you. You can look at the location, cost, rank etc. at this stage.
One interesting choice American college selection offers is choice of large public universities to small liberal arts schools.
To private research universities and ivies. Look at what your peers are saying and try to understand what would be best for you. All the best
---
MAINAK MUKHERJEE: I am currently pursuing BTech in civil engineering after completing diploma in civil, got 86 per cent marks on average and have two years of professional experience in the core construction sector.
I don't have any research work. My question to you is whether my wish for studying MS and PhD in USA is apt or I won't get the chance to study the same.
NNS Chandra: You can continue your studies in USA, Mainak.
With masters -- provided you clear GRE and other requirements. You might get some credits for your professional experience but for most admission purposes, your BTECH and graduating year would have more weightage.
You need to get a better understanding of academic life in a research campus and programmes. Masters will give you a structure to think beyond.
---
sameera--rath: Hello sir, my son is in class XI and interested to pursue higher studies abroad.
He is keen about studying Journalism and mass communication, can you suggest some good universities for undergraduate studies in these streams? And how to get admission into them?
NNS Chandra: Sameera - Good to know your son's interest. There are a lot of programmes he can consider. There are several such courses do have accreditation with mass communication and journalism council.
---
Kavya Joshi: Sir, this is a follow up question to the answer you give on MIT question last Friday. You mentioned something like the student they are looking at. I have seen you using that phrase many times in your answers and in your articles. What do you mean by that?
NNS Chandra: Hi Kavya - I am surprised you noticed my usage and I am so glad for that. Appreciate. What I meant is each school got its on culture. And the selection process will focus on right candidate.
In the application process we, admission counsellors accredited in USA, encourage our students to be 'yourself" As the character of Admission Officer of Princeton in the 'Admission movie' when asked by a student "what is the secret of getting selected? says ' Be yourself'
---
Arvind Irani: My brother has done BTech in civil , Now i am searching some university for him for MS . can you help me out ?
NNS Chandra: Hi Aravind, I sure can guide him. But I would need lots of additional info. Like the GPA, GRE score his specific interests. Please ask him to write to me.
---
hitansh: I want to do graduate in Psychology. Which are the best colleges in India and abroad. I am currently in my 10th standard
NNS Chandra: Hitansh, You must be more thinking about your bachelors, right? One of my student from India, currently doing a similar programme in Pen State is enjoying. India offers very interesting option.
---
Anirudh Karthik: Need to do some course in which I can make a career in aviation in ground staff.
Which is the best course and which country would be ideal so as to get job post the course is accomplished? Presently I am doing my 10 plus 2 in Arts stream. Kindly advice
NNS Chandra: Hi Karthik, There are several associate and focused degree/diplomas offered in the area you are interested.
Three colleges associated with the university I am associated with offer the same as short term and long term programmes. In India and in South Asia, lots of new Aviation Schools have come up. Check them out.
I am happy about your focus and interest. All the best. I would recommend doing a three-year associate degree in all aspect of aviation logistics offered in a school closely working with major players. Located in a major hub.
---
M S: Universities in Germany have good standards and are good for science courses like Engineering and Biotechnology etc. This will help me extremely.
NNS Chandra: I am sure Sanghavi. I agree German universities are impressive. I am happy about your selection and all the best.
---
Lead image used for representational purposes only. Image: Collegedegrees360/Creative Commons