Overseas education consultant NNS Chandra shares advice on entrance examinations, admission procedures at international universities.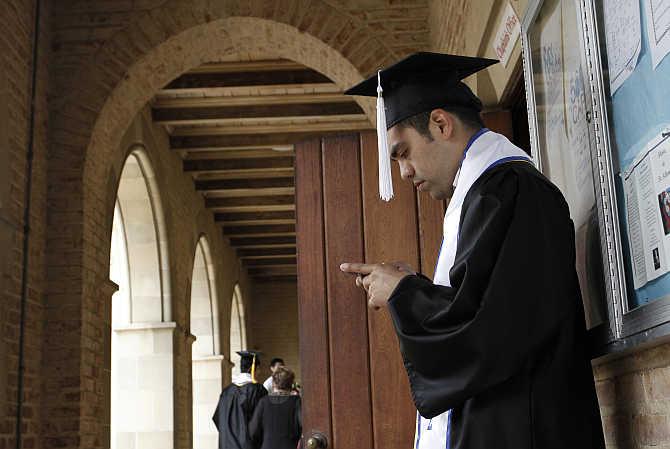 In an online chat with readers every Friday, overseas education consultant NNS Chandra offers advice on how to pick the right course and career abroad.
For those who missed the chat on March 24, here's the unedited transcript:
---
Zaira: Dear Sir, I am reading in New York Times that new instructions passed to US consulates. I am planning to attend summer program in USA. How will this affect me? I am a 11th grade student from Lucknow, India. Your guidance would be most valuable.
NNS Chandra: I agree with New York Time, this is extreme vetting suggested by candidate Trump all through campaign.
The directions seems to be vague and open for interpretations at consulate officer level. But for someone like yourself whose intentions are clearly demonstrated as to coming for a summer course in an university, I do not think this is going to be a challenge at all. But the world we live the cross border travel is getting slightly more difficult than few years ago.
Focus on documentation, process and be confident. You should be fine.
---
Siddharth Jani: I qualified as a CA in Nov 16, and wish to pursue MBA (confused about in which field I should do MBA), I have heard that all universities requires work-ex of 4 to 5 years, so generally whether the CA internship experience is counted for the same? or it can differ from university to university. Please tell me which can be best field of MBA for a CA and which university will you recommend?
NNS Chandra: Hi Siddharth, some universities do accept internships as work. Some may not give equal weightage as a regular paid work in management position.
It is should be natural for a CA to do additional MBA course in Finance, right? There are more specialised courses in the field, for example project finance. Look and do research on what interests you. I may not be able to offer firm recommendations on Universities with out seeing more data on your grades, scores etc. Please send them I am probably give you a recommendation on universities.
---
Karan Bhalla:Sir I am currently pursuing my hotel management degree from India want to do MBA from overseas. Kindly tell how to prepare for GMAT and and Doing MBA in which stream will be beneficial?
NNS Chandra: Hi Karan, is that a four year or three year programme? Which university? Answer to your first question -- GMAT Preparation.
My students generally use books and online courses to prepare. I do not recommend any courses or institutions.
Your question on which MBA stream is beneficial -- in general terms as far as I look at the job opportunities I see more possibilities now with MBA in finance. I am basing that on data from USA. I do not have data from India.
---
Shivai Patel:I am in ninth grade in the best school in Gujarat. I am an American Citizen studying here because my father and mother are working in India now. I want to study in MIT or Columbia. What must I do?
NNS Chandra: Hi Shivai, how are you? I am glad that you are in the best school. Good for you. American citizen or citizen of any country, to get to top schools you must commit yourself, you must demonstrate your intellectual capacity to be in a school like MIT or Columbia.
Apart from your grade, scores, additional academic challenges you need to show that you are a well rounded student too - with your sport, arts, volunteering, leadership etc...be mindful.
Being an American citizen is a privilege, an advantage when it comes to college admissions and at the same time you must show the spirit of America. I am sure you are
---
Lead image used for representational purposes only. Image: Jonathan Alcorn/Reuters
Have questions for NNS Chandra? Post them here!