For a rewarding and long-lasting entrepreneurial collaboration, it is crucial to have your focus divided and defined, so that expectations are clear and well-communicated, says Archana Khosla.
'The secret is that there is no secret.'
That's how Hayes and Jenn Davis, owners of Union Metrics in San Francisco, California put it when asked to define their success story as an entrepreneur couple since 2008.
One couldn't agree more, as there are no set guidelines which ensure prosperous entrepreneurial partnership between spouses.
Couples explore various options to make the journey work as they go along and settle for the most feasible and acceptable ones.
My husband, Vinayak and I started our law firm three years ago in 2016.
It was a difficult decision to abandon our cushy jobs to follow our passions and much against the advice of many well-wishers, we took a deliberate decision to jump into it together as it was always a dream of ours to work full time together -- for our own selves.
The move really helped us take that leap of faith. While, undoubtedly, this has been one of the best decisions, but in the beginning, we were perpetually grappling with bandwidth.
We were both stretched extremely thin and finding balance seemed like a pipe dream.
Instead of being able to wind down at home, work crept up into every aspect of our lives.
Fortunately, over the years and along the way, we have learnt and earned (to some extent) to find the best and most effective ways to make the partnership work without losing our minds.
While managing business with my husband, I have realised that the journey is about busting myths and setting new rules.
While, for us a lot of factors like being best friends first, having complementary skill sets, communication and respect for each other might have been some of the catalysts to making this work beautifully.
There cannot be a cookie cutter approach but here are some of the key lessons I would like to share with everyone intending to or doing business with their spouses.
Have defined roles. Identify and reassess each other's strengths
While, in the beginning due to lack of bandwidth, both may be doing everything, for a rewarding and long-lasting entrepreneurial collaboration, it is crucial to have your focus divided and defined, so that expectations are clear and well-communicated and each person can take ownership without crossing each other's lanes.
If you have separate strengths, you should capitalise on the same.
Also, while you embark upon the journey with a pre-conceived notion on each other's strengths and weaknesses, however, after slipping into the role of an entrepreneur, sometimes you tend to discover some unexplored qualities in each other.
You should be open to each other to discuss those and realign, readjust and recalibrate your responsibilities in your organisation accordingly.
Also, having defined roles proves beneficial from two perspectives.
First of all, it boosts your employees' morale. On the other, it strengthens investors' or partners' confidence.
Categorically defined roles and clear decision-making always create a prospect for attracting investment or interest.
Instability in approach always creates doubts in employees' and investors' and partners' mind.
Create your bespoke equation of work life balance
I personally don't believe so much on work life balance being segmented and I think it is better to be able to find a way that you can blend it all.
I stress the importance of prioritisation, depending on the need of the moment, when it comes to roles and responsibilities, both at work and home.
The beauty and luxury of having your own venture and to top it all, with your spouse is that you can work around time as per your convenience.
I don't think that it is practical to have a switch on and switch off mode to be able to attain a work life balance.
If the need is to attend to an urgent requirement of your client or an important business errand on a vacation, the thought should be to happily do so and if the baby or any other house chores require urgent attention on a working day, you should be able to chart out time to do so.
But for some if you feel that the passion towards your work is gradually taking you away from your moments of togetherness, you should consciously make an effort to take time out to relax.
Relaxation is the key to everybody's lives and during such down time, while it may not be bad to discuss work but discussing stressful work related conversations should be avoided.
Always remember that a burned-out entrepreneur will not be able to create a sustainable organisation. After all, the process of creating a successful business is not a sprint but a marathon.
Hire trusted and efficient people to ease pressure
Although both of you complement each other on the work-front, as you grow in your venture, it is advisable to free up your bandwidth to be in a position to generate more work and expand your earning potential.
This can only be achieved if you hire smart and specialised people who can manage certain areas with clear expertise.
If both of you try to manage everything, it will end up creating unnecessary pressure.
Therefore, smart entrepreneur couples actually hire trusted and efficient people in critical positions to breathe easy and focus on their core objectives.
Communicate
While you may have different ways of doing things, it is important to communicate with each other and discuss opinions and plans of actions.
You will be surprised to see how celebrating your differences will help the organisation grow leaps and bounds.
Have a third partner on board. It helps
There are views and counterviews on the benefits of getting a third partner on board.
However, I believe having a third partner helps in better decision-making.
Entrepreneur couples usually bank on their formidable experiences and expertise in taking critical strategic decisions.
A third partner often expands the outlook and helps them see the bigger picture with his/her know-how.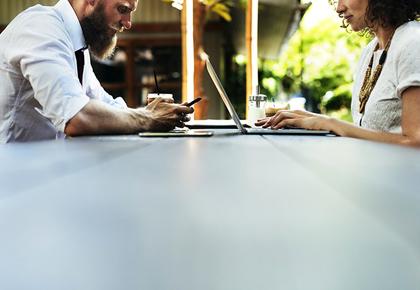 Archana Khosla is founder partner at Vertices Partners, a boutique law firm offering comprehensive legal services.