These men prove that a team is only as good as its leader.
Sport and business have traditionally invited parallels.
Team sport, especially, has thrown up fascinating insights for businesses, both large and small.
Running an IPL team, then, is not very much different from managing a startup in an emerging ecosystem.
When the IPL started in 2008, T20 cricket was new and there was intense curiosity, but little knowledge or understanding of the format.
Nobody really knew how a twenty-overs cricket league with matches scheduled for late evening would unfold in India.
Franchise-owners pouring in millions of dollars at the outset were considered risk-takers.
Good talent came at a price. Franchises took the form of new businesses made up of individuals from diverse backgrounds who had to be moulded into one cohesive unit.
Ten years on, IPL teams have thrown up critical lessons for startups and entrepreneurs. The most important has to do with leadership.
As superstar basketball player Larry Bird says, "Leadership is getting players to believe in you. If you tell a teammate you're ready to play as tough as you're able to, you'd better go out there and do it. Players will see right through a phony. And they can tell when you're not giving it all you've got."
Here are IPL's top five captains since 2008, and each of them teach something about leadership.
(They have captained their sides for a minimum of 45 games across ten seasons, and have won one or more championship titles.)
#1 Rohit Sharma (Mumbai Indians, 2013-17)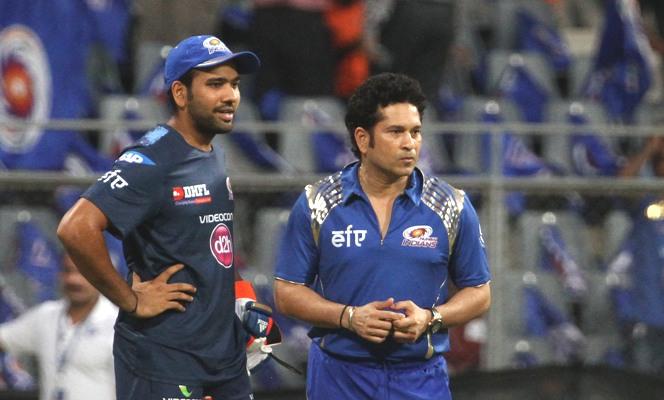 Mumbai Indians' mentor Sachin Tendulkar with captain Rohit sharma.
Photograph: BCCI
Rohit Sharma has the highest success rate (60.66 percent) among IPL captains.
(We are leaving out Steve Smith, who has a win rate higher than 66 percent, but over less than 24 games as captain for three different franchises.)
In absolute terms, Rohit has led MI to three IPL victories in his five seasons as captain.
When Rohit took over captaincy from Ricky Ponting in 2013, there were naysayers.
One, he had no leadership experience (even now, he has limited experience as an international captain).
Two, he lacked the stature he presently enjoys as a limited overs batsman of repute.
But, what worked in Rohit's favour was a string of consistent performances in the IPL itself.
He'd been part of the winning Deccan Chargers team in 2009, and when he was bought by MI for a whopping Rs 11.5 crore in 2011, it was an investment for the future.
Rohit has delivered by leading from the front. He's been MI's highest run-getter in IPL, and has played crucial knocks, including in the 2015 final that took the team to victory against KKR.
In cricket, it is often seen that the best of batsmen crumble under the pressure of leadership. Sachin Tendulkar and Brian Lara are legendary examples. But, Rohit has turned his personal success into his team's.
Not only has got a young, Indian players to perform, but also handled overseas 'stars' like Kieron Pollard and Lasith Malinga with aplomb.
And now, he has become the go-to replacement captain for the national cricket team too.
#2 Mahendra Singh Dhoni (Chennai Super Kings, 2008-15)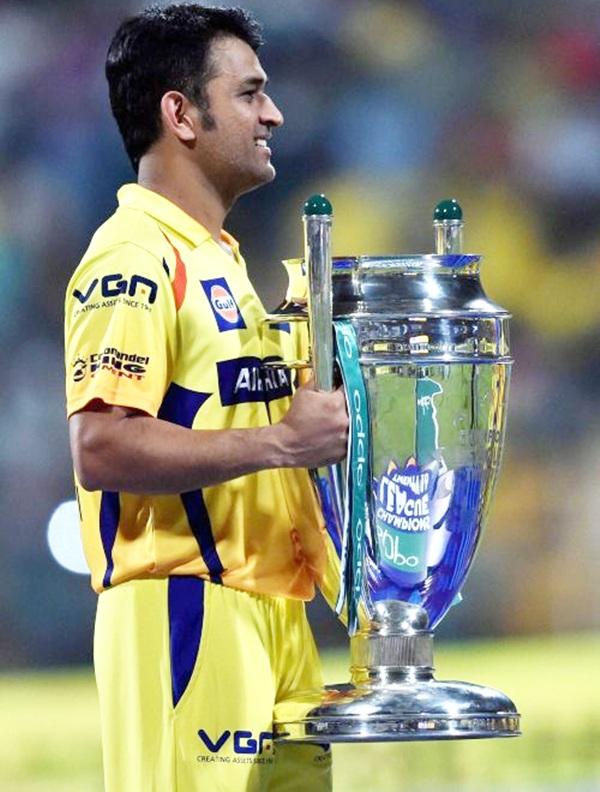 Chennai Super Kings' captain Mahendra Singh Dhoni
Photograph: PTI Photo
MS Dhoni's leadership overshadows every other record he holds as a player.
In IPL, he has been the longest-serving captain. Dhoni has been at the helm of CSK from the inaugural season until 2015, after which the team faced a two-year ban on allegations of spot-fixing. Dhoni, of course, remained unscarred and has returned as the franchise's captain in 2018.
He has captained 143 IPL games -- the highest for any player in the league.
A handsome 58.45 percent success rate, two IPL titles (2010, 2011) to boot, and a team with the highest win percentage in the league, Dhoni has all that any investor, franchise owner in his case, would want to see in a leader.
His experience and vision earn immense respect in cricketing circles. He's walked the talk as an international captain, led India to an elusive World Cup win, and has brought the same approach to IPL cricket. Even if he falters as a player, his game awareness and astute match-reading skills have reflected in CSK's fortunes.
CSK is the only team that has qualified in the knockout stages of the tournament in each of the seasons it has played in. His own consistency has rubbed off on his team. He has also nurtured young talent such as Suresh Raina, Ravichandran Ashwin and Ravindra Jadeja in CSK, and turned them into giant-performers for India.
#3 Gautam Gambhir (Kolkata Knight Riders, 2011-2017)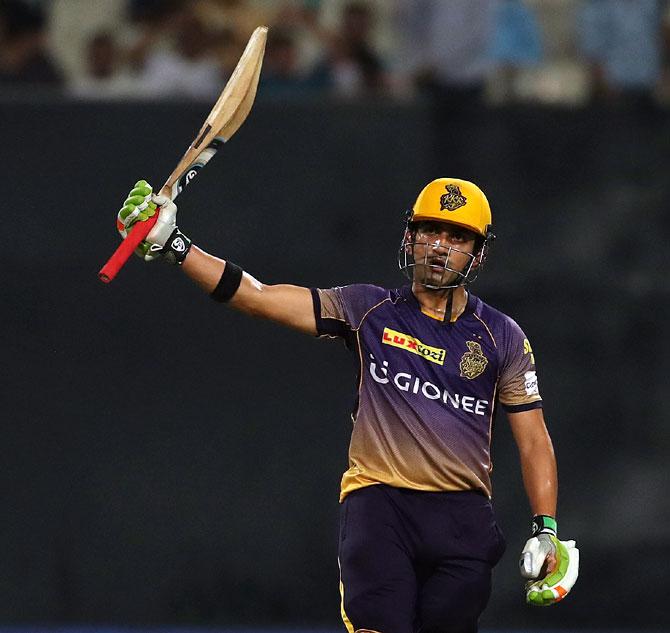 Kolkata Knight Riders captain Gautam Gambhir
Photograph: BCCI
To many cricket-watchers, Gautam Gambhir is the most underrated captain in IPL.
If he's out of form as a batsman, that gets enormous attention. But his fine innings as the captain of a side that languished at the bottom of the points table for three successive seasons before he took over, is worth some hype perhaps.
Gambhir is the second-most experienced IPL captain after Dhoni. He's led KKR in 123 games, including two championship titles (2012, 2014), and has a success rate of 57.31 percent. As a batsman too, he's made significant contributions, and is the fourth-highest run-scorer in IPL history.
But his turnaround skills as a leader deserve particular mention.
Gambhir pulled KKR -- a franchise with a high-profile owner who had been criticised for interfering with cricketing decisions after its erstwhile captain was let off unceremoniously -- out of the pits, moulded a fresh team, utilised resources pragmatically, and delivered results.
Since Gambhir took over, KKR made it to the final four every single time, and also appeared in three finals.
Gambhir managed to earn the unanimous respect of his investor (owner), team members and fans.
Hence, it came as a shocker when he wasn't retained by KKR for this season, and left to swim in the auction pool. His recent dry form as a batsman could have prompted the decision, but Gambhir's leadership remains unquestionable.
4. Shane Warne (Rajasthan Royals, 2008-11)
Rajasthan Royals' captain Shane Warne
Photograph: Getty Images
Rajasthan Royals made news in the inaugural IPL auction for being the most miserly franchise.
They spent the least, and stuffed the team with unknown names, mostly uncapped Indian players. There were no 'stars' save one -- Shane Warne, who was roped in as both captain and coach, a decision that seemed baffling at that point.
Moreover, Warne's flamboyance was the stuff of legends.
Many believed he was a misfit in a team that had young, inexperienced, domestic Indian names. But, Warne has been a maverick genius throughout his career, a phenomenon that stormed the world in the early 1990s and set benchmarks for the next 15 years.
RR wanted exactly that. The franchise owners said of Warne, "We were looking for a legendary cricketer whom all players will look up to. It is this leadership and experience that will develop the success and spirit of the Rajasthan Royals."
The team's utter devotion to their leader's astute cricketing brain and rich experience enabled it to succeed.
To everyone's surprise, RR lifted the first IPL trophy. Warne's inspiring leadership had created men out of boys and jacked up a win rate of 55.45 percent.
He was replaced as captain in 2012 only after retiring from all forms of cricket. The team's fortunes have dipped ever since.
5. David Warner (Sunrisers Hyderabad, 2014-17)
Sunrisers Hyderabad captain David Warner
Photograph: Kind courtesy IPL T20

Warner is the only one in this list who has captained his team in less than 50 games. But, he's among the stable leaders in IPL who is expected to continue in the helm of affairs at Sunrisers Hyderabad for some years.
He's been seen as the "star of Sunrisers" since he was roped in by the new franchise in 2014.
Warner has delivered both as batsman and captain. His success rate as a leader is a strong 55.31 percent.
As batsman, he is the fifth-highest run-getter in IPL, and the biggest scorer for his side.
In 2016, when SRH won the championship, he amassed more than 800 runs, only second to RCB's Virat Kohli. Unsurprisingly, SRH paid a whopping Rs 12 crore to retain him.
The most evident traits in Warner are his confidence and positive energy that has translated into his team.
For a long time in Australian cricket, Warner was this talented opening batsman who could tear the opposition apart on good days, but might come across as brash, careless and irresponsible on bad ones.
IPL allowed him to change the world's perception about him.
He demonstrated that leadership sits pretty on him, and turned SRH into one of the most balanced teams in the league.
The responsibility has brought the best out of him as a batsman too.
His evolution as a cricketer is almost a hat tip to the widely held belief that the most difficult kid in the class ought to be made monitor.