The company hires postgraduate and PhD students from A+ grade institutes to be part of the company's research team.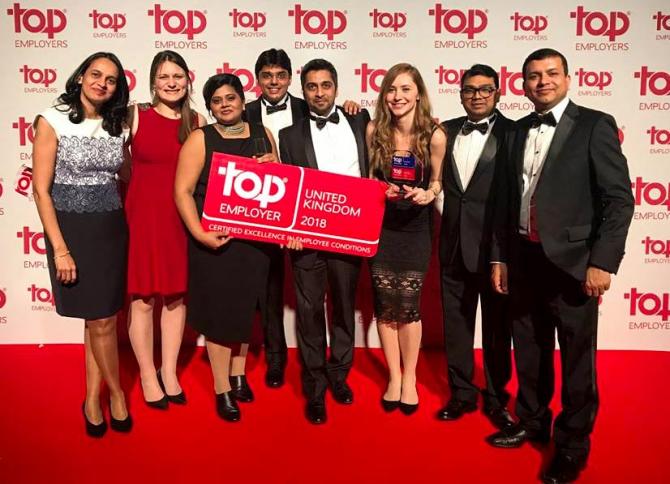 Photograph: Kind courtesy TCS/Facebook
India's largest IT company, Tata Consultancy Services (TCS), is gamifying the learning process for thousands of engineering graduates by offering early joining to those who perform better in the pre-joining online training programme.
The Aspire online training programme is open to final year engineering students who have been selected for hiring by TCS through campus interviews across 400 institutes in the country.
In FY18, TCS had made 20,000 offers to engineering students, who will join the company in FY19 starting from June.
"Over the past couple of years, performance in Aspire courses is helping us determine how soon freshers will get their joining letter. Everybody (with offers) will join TCS but this helps to gamify the process and make sure that people go through fundamental technology courses at the same time," Ajoyendra Mukherjee, executive vice-president and head of global human resources, TCS, told Business Standard.
With the shift in demand pattern and proliferation of newer technologies, large IT firms such as TCS have been encouraging all the existing as well as potential employees to get continuously learn newer skills and technologies.
Mukherjee said the company was yet to start evaluating its requirement of freshers in FY19 which typically gets finalised by September. "However, the acceptance rate of offers are in the range of 70 to 72 per cent and the number of job offers made in the fiscal year takes this heuristic into account," Mukherjee said.
On increasing freshers' salary, TCS's global HR head said the company, couple of years ago, had increased the freshers' salary to approx 3,40,000 per annum. Thus, it does not have any immediate plan to raise the salary. However, the company continues to offer differentiated pay scales for freshers who meet niche requirements or come in through premier institutions for research works, he added.
TCS has a strict accreditation system for engineering institutes based on the kind of facilities they offer, including the quality of teaching staff, backgrounds of students, and JEE marks they score. The company hires postgraduate and PhD students from A+ grade institutes to be part of the company's research team.
Special pay scales are also reserved for niche competencies in engineering services and pure-play digital services such as cyber security as well as for the winners of TCS CodeVita and hackathons.
TCS continues to be a net recruiter in any given quarter even though hiring is going through a slower lane of late, which has also resulted in net headcount reduction in few other companies on quarterly basis. In the March quarter, TCS had added 4,118 new employees to its workforce, the highest ever net addition in FY18.
According to Mukherjee, a large number of offers being made to freshers will not necessarily translate into a change in employee pyramid or change in the mix of senior and junior employees.
"We keep a tab on the distribution of junior, mid-level, and senior employees. Freshers are abreast with the latest technologies but seniors have experience, and this distribution helps to drive employee cost and margins," Mukherjee said. "Certain kinds of service lines such as consultancy and enterprise solutions need more experienced people," he added.
IT firms are facing pressure from their largest market North America to 'Buy American, Hire American', pushing up the local hiring requirement as well as cut down employee visa applications. Experts say, as they step up hiring in onshore locations such as the US, Indian firms are expected to see a pressure on margins.
TCS, however, said the cost difference between hiring an employee locally and deputing someone from offshore was not much, which could dent the margins. "The cost differential is not too much between sending someone to US from India and hiring someone locally. We may hire associates from third-party staffing agencies, but there cannot be too much dependence on this model because you are not growing the competency for the organisation," Mukjherjee added.
TCS cut down the number of visa applications by almost half in 2016 and has filed a similar reduced number of applications in this H1B season. The company does not share global recruitment numbers but like its peers, TCS has stepped up local hiring in the US apart from introducing programmes to improve science, technology, engineering, and math (STEM) skill sets in the country over the past five years.