Sridevi Raghavan, co-founder and CEO of Amelio, a childcare centre that has huge expansion plans, says she wants every working mother in India to have a successful career along with a happy family life.
More than 40 per cent of women quit their jobs after childbirth, mostly because there is no safe place for them to keep their babies.
This statistic prompted Sridevi Raghavan and her husband to start Amelio Childcare.
They opened the first centre of their child care centres in May 2008. There are 14 Amelio centres in Chennai today, each one working at full capacity within six months of its opening.
There are plans to expand into Bangalore and Hyderabad very soon.
Sridevi Raghavan, CEO of Amelio explains the concept and how she built it up into a business.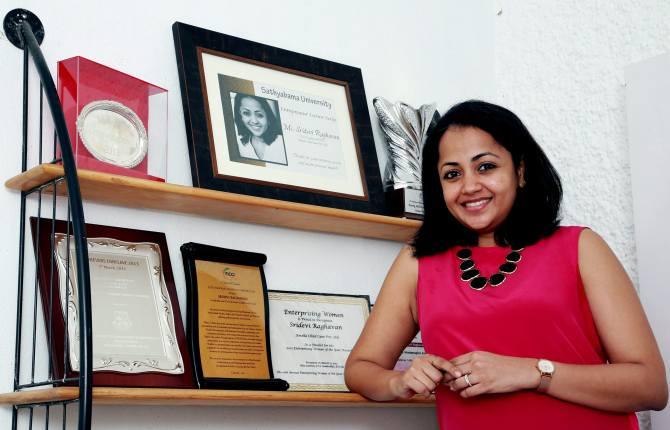 Sridevi Raghavan, an alumnus of Harvard Business School, started Amelio in May 2009.
When and why did you become an entrepreneur?
When I was working as an advertising professional in Bangalore, I found that a number of my senior colleagues found it extremely difficult to manage work and home.
It seemed unfair to me that women have to make a choice between work and family. To my horror, I found that all those who succeeded in their careers were either unmarried or divorced.
I wondered whether a childcare centre at or near the work place could actually help working mothers continue with their careers.
I felt it was a simple but an effective solution, win-win for the woman and the company. The 'Great Places to Work' survey showed that 80 per cent of companies in the US had a child care facility but it is an unknown concept here in India.
It was still the germ of an idea; I had no plans to be an entrepreneur.
I wanted to do an MBA to have a bright career. I got admission at the Harvard Business School (HBS).
Getting admission in the world's best business school gave me a huge sense of achievement.
But I remember my father told me not to get too excited because this was only the beginning of a journey.
How much did studying at Harvard help you to become an entrepreneur?
It was such a cheery group of high performing, highly ambitious and highly motivated people. It was truly inspiring.
HBS taught me that there was no harm in not knowing and it was okay to make mistakes. HBS was a life-changing, perspective-changing experience for me.
The life of an entrepreneur is full of uncertainties and in order to navigate, you need certain skill and mind sets which I got from Harvard. Also, the professors at Harvard encourage you all the time to come up with game- changing ideas.
Did you think about the idea when you were a student?
The seed to be an entrepreneur was sown in 2008, in my second year when I entered the annual business plan contest along with a classmate.
The idea we pitched was the one I had in mind while working in Bangalore. After doing some research, we wrote a business plan on onsite childcare and pitched the concept to the judges.
One of the judges, who ran a private equity firm in the US, was so impressed with the idea that he wanted to actually fund it.
In that sense I was an accidental entrepreneur.
Writing a business plan was more academic than entrepreneurial but in three months, I became an entrepreneur.
You mean you came back to India and become an entrepreneur?
I was supposed to join my husband in Hong Kong but I asked him to quit his job and join me to implement my idea.
We felt we were going to change the way women were going to work in India.
We are proud to have pioneered the setting up of onsite childcare centres in India.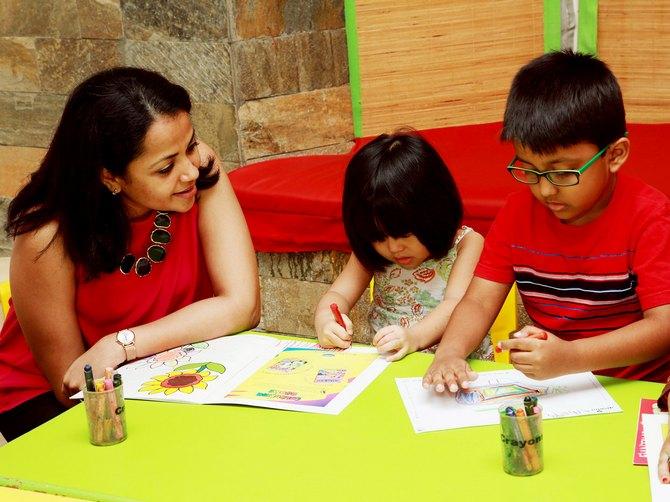 Raghavan feels that onsite childcare facilities help working women contribute and focus better at work.
Why call it Amelio?
The name Amelio was actually the last name we came up with, just the night before we were to present our business plan at HBS.
We were 'ameliorating' the situation for working mothers in India and thus the name Amelio.
Was it smooth sailing to start an enterprise?
Like with all entrepreneurs, it was not a smooth journey. Just when we founded the company, in 2008, the global meltdown happened.
The first six-eight months were difficult because we were not landing contracts as quickly as we would have liked.
The budgets of companies suddenly did not let them have childcare centres in the office.
That's why we started setting up our own centres to showcase what we meant by high quality childcare centres.
We opened the first childcare centre in May 2009, in a 5000 sq ft off-site centre in Sholinganallur on the IT Highway where several IT companies are situated.
Initially there were more teachers than children! Soon, it started picking up through word of mouth.
This is the best advertising we can have. A happy parent will bring in another five parents.
Within six months, the centre was full, with over 60 children. We charge around Rs 10,000 per month.
Were you disheartened when you had to change the business plan?
One of the things we learnt at HBS was that 98 per cent of businesses change the business plan within the first year of operations.
It was reassuring to know that we were one among the 98 per cent. And that we had a better chance of success.
I also understood that these were normal business challenges. It was better to go through these earlier in the business than later when the stakes are higher because you start getting resilient early on.
The early slowed-down environment helped us remain disciplined in our business on all fronts.
How important is it to have onsite childcare centres?
An onsite childcare facility is an incentive for working women because women get to work full time and take care of the child because the mother can see the child a few times in the day.
I think this trend is likely to catch on. Not just big Tier 1 companies but also smaller and medium sized companies are likely to set up onsite childcare centres in the near future.
Till what age do you keep children at the centre?
Most of the children stay with us till they are three-and-a-half years old. That is when they get into Pre KG.
We follow NAEYC (National Association for Education of Young Children) standards.
It's a North American accredited standard for child care with a teacher to child ratio and the amount of outdoor space to be allocated.
We also created our own 'World of Discovery' curriculum with a bunch of experts -- child psychologists and child care specialists.
We have created a specialised curriculum for the Indian environment.
We have a rigorous teacher training programme for our teachers too.
Have you enjoyed the experience?
I have really enjoyed this phase of my career. The entrepreneurial journey is still a continuing one. The challenges I face today are quite different from the ones I faced a few years ago.
It is very dynamic and that is one of the things I enjoy about this entrepreneurial stint.
The most important learning has been to stay the course and be resilient. There are innumerable challenges that we face every day in business. It is extremely important to have the mental toughness and to be resilient.
I would be happy if every working mother in India did not have to deliberate on the point of choosing between work and family, and if she uses Amelio as a way to get ahead in her career.
I would like Amelio to be the largest onsite childcare provider in India. And my hope is that one day every company in India will have an onsite childcare centre at the work place.
What is your message for budding entrepreneurs?
While entrepreneurship is extremely exciting, it is also incredibly tough.
Once you have made the choice to do business, you owe it to yourself to not give up or quit at least for two years because it takes time for you to see the fruits of your labour.
You should not become impatient to grow too quickly and to expect results fast.
It is important to establish the business model first and get the customers to accept your model.
It may take a longer time to do this. But do not give up. Stay the course to make it work for you.
What should women do to manage a career and family/ kids?
Women must assess for themselves their personal and professional goals and understand that everything is a choice, and a valid one.
They should not feel guilty about their personal and professional choices.
Today, women who choose to further their careers do not have to worry because of an ecosystem such as ours which takes 'personal' care of children professionally and in a very competent manner.
Further, these days, increasingly, companies are also very supportive of female employees and offer numerous options to make it work for working women.
What are the main issues women face at work?
The main issues women continue to face is stigma from co-workers.
For instance, a woman who leaves for home on time is still looked upon as a clock-watcher and not as an individual who is competent and efficient.
Women also face the issue of stereotypes -- companies might be more guarded about giving women certain positions of power only because they are not sure women can straddle their families and careers.
The onus rests therefore on the woman to showcase her talents and abilities and really be heard.
What are the general mistakes working women make?
Like Sheryl Sandberg said, women often don't "Lean in".
They stay away from challenging assignments, don't really speak up much and pass on opportunities because they believe they really don't deserve it.
What is your advice to women who work?
Only choose a job you enjoy and because it is a job you enjoy, give it your all.
Get rid of your guilt. Your children are having a whale of a time at our childcare centres so you go ahead and seize those opportunities. You deserve it!
Photographs: Sreeram Selvaraj
ALSO READ Malvika Iyer's amazing story of grit!